California Exotic Lia G caress - Discreet G-spot vibrator from California Exotic

Product Details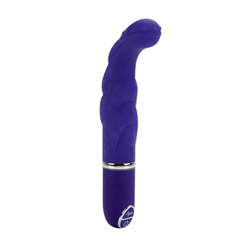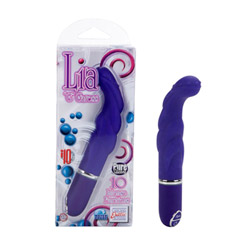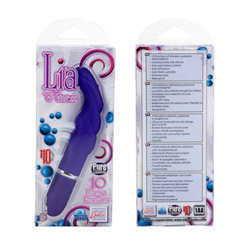 Summary:
I was quite impressed with the Lia "G" Caress vibrator. Not only was it easy to use but it is also perfectly sized as well as waterproof. The ten different functions of vibration, pulsation and escalation allow you to personalize or pick the setting that is right for you. The only negative thing I could say about the product is that it is somewhat noisy.
Pros:
Easy to use
Has a variety of different settings
Powerful
Waterproof
Cons:
Pretty loud (not that discreet)
Best use:
I was super excited when I received my new toy! The Lia "G" Caress vibrator is made from a luxurious body safe silicone material and has a satin finish controller. The purple vibrator is 6 inches long and about an inch thick. It has an overlapping structure giving it a very unique shape and feel. The top of the vibrator is curved to maximize G-spot arousal.

The Lia "G" Caress requires one double A battery which is not included, is waterproof and has ten functions of vibration, pulsation, and escalation. Now don't let the size of this vibrator fool you because this little fella packs a punch. The ten different settings allow for maximum stimulation and arousal. There are two easy push buttons on the bottom (or base) of the vibrator, including an auto off button as well as the button which changes the settings. To change a setting simply press the button below the power button until your preferred setting is selected. Both buttons will light up (purple color) when the vibrator is in use. If the setting is pulsating then the buttons will blink or flash to that specific rhythm or pattern. When one of the three vibrations is selected, then the purple color will progressively get brighter based on intensity. This is ideal for use in the dark or under the blankets because the vibrator lights up the only parts you need to worry about pressing.

The first time my boyfriend and I used this product we were overwhelmed with pleasure and joy. I let my boyfriend take the wheel, so to speak, and told him to "go nuts" while using my new favorite toy on me. You should have seen the look on his face! He took his time and went through every setting one by one until climax was achieved.
Material / Texture:

This vibe is made out of a flexible and water resistant man-made material known as silicone, which is extremely safe. Silicone has a tight molecular structure and retains heat. Since the product is waterproof, you can try to soak the silicone toy in warm water before using it to achieve a nice, warm feeling. Silicone also repels dirt as well as bacteria and doesn't fall apart with extended friction. Silicone is smooth and not porous.

Material:

Silicone

Material safety

Texture:

Nubbed / Ribbed

Safety features:

Food-grade material / Hypo-allergenic / Latex free / Non-porous / Phthalates free

Design / Shape / Size:

The vibrator has a unique shape and is curved towards the top (or end). Since the silicone material is flexible and able to bend, I straightened out the vibrator for measuring purposes during which I found it to be 6 inches long and about an inch thick. The purple vibrator also has a unique design as there is what appears to be an overlapping/wavy structure (similar to being ribbed). There are also 7 tiny bumps on the head (top) of the vibrator.

Length:

6"

Insertable length:

4"

Circumference:

3 1/2"

Diameter:

1 1/2"

Weight:

2 oz

Functions / Performance / Controls:

The Lia "G" Caress has 10 functions of vibration, pulsation and escalation. There are two small push button controls at the bottom (or base) of the vibrator. One is the power button that turns the product on and off. And the other button, directly below it, is for choosing your desired setting. It requires one double A battery which is not included. This little vibrator packs a punch as the vibrations and pulsations are truly intense. With ten different settings to choose from, the Lia "G" Caress provides a plethora of pleasure and stimulation for hours at end!

Functions:

Escalating / Pulsating / Vibrating

Special Features:

Bleachable
Boilable
Dishwasher safe
Multifunction
Multispeed
Premium
Pulsating
Travel
Waterproof

Control type:

Built in control pad

Powered By:

Aa-1

Care and Maintenance:

Silicone can be used with a variety of different lubes (water based lubes are most recommended) and is nearly hypoallergenic. However, don't EVER use a silicone based lubricant on a silicone toy because it may degrade or melt the toy. The silicone molecules from the lube and toy may bond together causing small holes in the silicone toy that may become a breeding ground for bacteria and making the toy impossible to sterilize. Silicone is easy to care for and you can clean this toy with warm water and soap. Be sure to let the toy completely air dry prior to storing it. The toy can easily be stored in the box it came in.

Care and cleaning:

Bleachable / Boilable / Dishwasher safe / Soap and water

Packaging:

The Lia "G" Caress comes packaged in a see-through, clear box with multi-colored swirl designs in the background. The box measures 1.5 inches (length) x 3 inches (width) x 7 inches (height) and indicates that the toy is pure silicone and waterproof. The toy does come with instructions which indicates how to turn the toy on and off as well as how to avoid battery leakage. The box the toy comes packaged in is most ideal for storage.