NMC Ltd Ridged rocker - G-spot vibrator from NMC Ltd

Product Details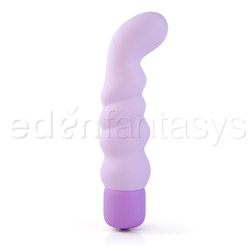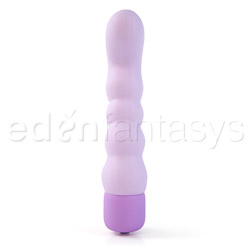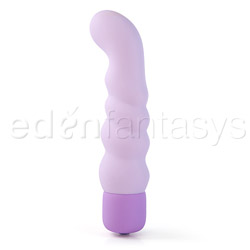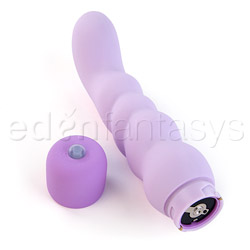 Summary:
Although it looks rather run-of-the-mill, the Ridged Rocker is a good simple vibrator which is especially nice for those looking for a g-spot vibe that delivers. The design and strength of vibration are effective for g-spot stimulation. It is also a good choice for couples who want to use it on one another. While it's nothing fancy, it does what it promises!
Pros:
Great g-spot design, strong vibrations.
Cons:
No master power button.
Best use:
The Ridged Rocker is a g-spot vibrator which valiantly serves it's purpose and then some. It's torqued tip delivers surprisingly intense vibration to whatever area it's applied to and can be used to stimulate the clitoris, g-spot, nipples, or any other area where you desire vibrating massage. Another upside to the kinked design of the Ridged Rocker is that it makes anal stimulation an insertion easy for solo play. While it's not marketed for anal play, the Ridged Rocker is a nice toy for it: the ballooned tip makes a nice plug which you're unlikely to insert too far if you're using care. Because it's made from hard plastic though, some people may find this toy uncomfortable for anything but superficial anal stimulation.

The Ridged Rocker is an effective toy for g-spot self stimulation, whether you're new to it, or an old pro. Or, have your partner explore this erogenous zone for you while controlling the varying vibration speeds and patterns. It can be thrilling to have someone else suddenly change up the tempo of a vibrating toy like the Ridged Rocker while you're on the receiving end.

You could also use the Ridged Rocker to stimulate your male partner's taint and anus. You could do this while performing oral sex or even while you're riding him on top. A little extra stimulation can take your love making to new heights!
Material / Texture:

The Ridged Rocker is made out of had plastic with a velvet texture. The shape and hardness make me think of it as the "Rigid Rocker" because it's just that: completely rigid. While I tend to prefer toys with some give to them (such as silicone toys), the unyielding material is a real asset to this toy because of how effectively it's transfers vibrations through the hard plastic. This is unlike many softer toys which tend to absorb vibration before they're delivered to the user's body.

I truly appreciated that out of the box, this toy had no lingering smell or taste chemical or manufacturing residue.

As it's name suggests, the Ridged Rocker has a texture reminiscent of rolling hills past it's g-spot tip. The deep ridges provide extra stimulation during insertion and removal or thrusting, but once in your body they're pretty inconsequential.

Material:

Plastic

Material safety

Texture:

Ribbed

Safety features:

Food-grade material / Hypo-allergenic / Latex free / Phthalates free

Design / Shape / Size:

Unlike other g-spot vibrators I've used, the Ridged Rocker is designed in such a way that it actually reaches and stimulates your g-spot without having to contort your hand, wrist, back, or legs into unnatural positions. Rather than a gentle curve found on other g-spot vibrators, the Ridged Rocker has an acute arc which is effective for satisfying stimulation.

If you're looking for a discreet toy, this is probably not the one for you. If your brother finds it in your shower, there's pretty much disguising the fact that it's a sex toy. The same goes for traveling to your in-laws'; if you become subject to a random search of your carry on, be prepared to explain to the TSA official that yes, this is your vibrator, and no, it's not a weapon.

Color:

Purple

Length:

7"

Insertable length:

5 3/4"

Circumference:

5"

Diameter:

1 5/8"

Weight:

0.5 lb

Functions / Performance / Controls:

I have mixed feelings about the controls of the Ridged Rocker. They're simple and straightforward to be sure: a single push button on the base of the vibe is the only control to be found. Pressing the button once turns the vibrator on at it's lowest constant vibration setting. Each time you press the button again, you'll scroll through the next of 10 vibrating functions. The functions are surprisingly unique from one another, with a real difference felt between each one. When you reach the end of the 10 functions, the vibe turns off. While I appreciate not having a ton of buttons to futz with, it would be great to be able to press a button once and turn the toy off, rather than having to cycle through all 10 functions.

I was very surprised by how strong the vibrations on this toy are. In part, it's because of the hard plastic shell which does little to absorb any of the vibrations. This is great, but of course comes with the downside which is that hard plastic reverberates that vibrating noise in a much louder way than soft toys. Even on it's lowest setting, your roommate is sure to know what you're doing under the covers with the Ridged Rocker.

The Ridged Rocker is marketed as "100% Waterproof", and although I've yet to have a problem with it after one use in the shower and washing with soap and water, I have my doubts about how long this will last. There is a single, small silicone seal at the base of the battery case to prevent water from entering. If you decide to take the Ridged Rocker in the swimming pool or bath tub with you, you may end up with a non-vibrating dildo before you're done.

Functions:

Escalating / Pulsating / Vibrating

Special Features:

Control type:

Push button

Powered By:

Aaa-3

Care and Maintenance:

Cleaning and care of this toy is fairly straightforward: since it's waterproof and hard plastic, you can use soap and water or a toy cleaner, no special care necessary. Because of the electronics, you can't dish-wash or boil the Ridged Rocker.

Another beauty of hard plastic is the variety of lubes that can be used with it: take your pick of water, oil, or silicone based. Just remember that if you choose an oil based lubricant, you need to take care to wash it off of your body before using a latex condom for sex as the oil can break down the condom.

Packaging:

The Ridged Rocker comes packaged in a plastic clam shell case with a very short set of instructions. The packaging insert is colorful with no nudity or photographs. The clam shell case is not designed for storage and is not very useful for that purpose.