Best use:
Rondo is a curved vibrator that can be used for internal or external pleasure. Whether you're looking for vaginal, anal, or clitoral stimulation, Rondo is ready to please. Its shaft is curved to help with g-spot stimulation, and the wide handle makes it safe for anal insertion. The sturdy plastic handle gives you good control and easy access to the power and function buttons during use. This rechargeable Close2You toy has six vibration functions and comes in tasteful, reusable packaging.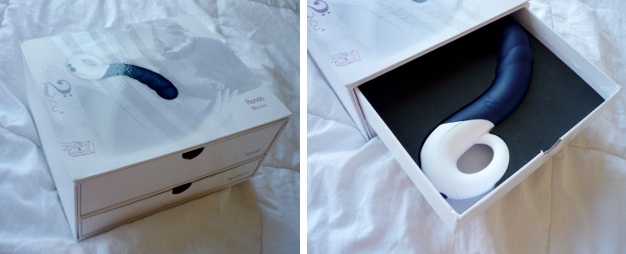 Material / Texture:

Rondo's shaft is made of silicone, and the handle is matte white plastic. Almost the entire toy is very firm except for the curved insertable portion, which has a little bit of give. The smooth plastic handle can get a bit slippery when wet, but the loop of the handle should help you keep a good grip on it. The silicone shaft starts out smooth next to the handle, then has four gentle grooves that add some mild texture along the curve. The whole silicone portion has a seam running down its middle, which sensitive users may be able to feel during use. On the side of the shaft near the handle, there's a raised Close2You logo for decoration.

Material:

Silicone

Material safety

Texture:

Ribbed

Safety features:

Food-grade material / Hypo-allergenic / Latex free / Non-porous / Phthalates free

Design / Shape / Size:

Rondo is shaped like a J with a curled handle and a curved shaft. It's a slender toy, and its 1 1/4" diameter should be small enough for beginners. The buttons on the handle are raised for easy access, and are not easy to press accidentally.

Rondo's shaft widens along the textured portion and has a rounded end. While this toy was designed for dual stimulation of the clitoris and g-spot, it may not meet this expectation for many users. Rondo just doesn't have a very hard curve, so its shape likely won't stimulate both external and internal erogenous zones at once. However, the shaft is curved well for g-spot stimulation, and with the firmness of the toy's design overall, users who like g-spot pressure or side-to-side motion should enjoy Rondo.

Length:

7 3/4"

Insertable length:

5 1/4"

Circumference:

4 1/2"

Diameter:

1 1/4"

Weight:

0.4 lb

Functions / Performance / Controls:

On the white handle are two buttons and a charging port. The two small buttons are an on/off switch, which has a raised power symbol, and a function button, which has a raised dot on it. Pressing the on/off switch turns Rondo on to its first vibration function: strong steady vibrations. Rondo has six total vibration functions, but there is no vibration level adjustment. Rondo has two motors, and the motors vibrate in different patterns to create combination functions. The product manual describes the patterns with two graphs per vibration mode, as seen below:



In general, the patterns become more pulse-like and faster paced as you move from the first to the sixth pattern. Rondo has fairly deep vibrations, and its patterns feel throbby, thuddy, and somewhat diffuse. The later patterns feel a bit stronger in intensity than the earlier ones, but overall, the vibration strength is about the same for all patterns. The medium-strong vibrations should please many users but will probably not satisfy people who enjoy incredibly strong vibes like the Wahl or Hitachi wand.

Rondo's shaft has two motors, and their vibrations travel pretty well across the textured portion of the shaft. The smooth section closer to the handle still vibrates, but the power is significantly decreased.

Functions:

Pulsating / Rollercoaster / Vibrating

Special Features:

Bendable
Gifts
Lubricant included
Multifunction
Powerful
Quiet
Two motors
Waterproof

Control type:

Built in control pad

Powered By:

Rechargeable

Care and Maintenance:

While playing with Rondo, use only water-based lubes, since silicone-based lubes can mar the silicone surface of this toy. The charging port is covered by a silicone plug. Charge Rondo for six hours, and you'll get two to three hours of play time. Rondo has no indicators for low battery or a full charge. While Rondo is listed as waterproof, there's a bit of space between the housing and the plug when it's inserted. You may want to be careful if using Rondo in the shower or bath.

Rondo is quite easy to clean. As long as the silicone plug is covering the charging port, you should be fine washing it with soap and water, then leaving it out to dry. You can also wipe it with 10% bleach to sterilize it, or clean it with toy cleaner or wipes. Check the charging port to make sure water isn't in there after cleaning. Rondo comes with a storage pouch, and its box can also be used for long-term storage.

Care and cleaning:

Soap and water

Packaging:

Close2You really put some thought into Rondo's presentation. Inside a clear plastic bag is a tastefully decorated white cardboard box. The box is thick, like two dictionaries stacked on top of one another. The box top opens like a book cover to give you a peek at the Rondo inside, and it has two drawers on the side for full access to Rondo and its accessories. The top drawer holds Rondo itself, seated snugly between two foam cutouts. Inside the bottom drawer, you'll find the charging cord (not pictured), a velvety pouch, a sample tube of Glissando lubricant, a toy wipe, and the instruction manual.



The Glissando lube is clear and it performs pretty well. It feels slick and slippery without being stringy. Like many other lubes containing glycerin, it feels slightly sticky after it dries. The silicone cock ring is stretchy and wide, and it's meant to be worn around the shaft for no longer than 20 minutes at a time. It provides some erection assistance without being incredibly tight. Unstretched, its inner diameter is about 1.3".

Personal comments:

I'll start with the negative points so I can end on a more positive note. Rondo disappointed me in a couple of key areas. The first one is incredibly personal and may not affect other users: seams on toys really, really bother me. If a toy is in the $100 range, I would like it to be seamless. I can feel Rondo's seam during use, and it doesn't help my experience at all. I can't use it for external stimulation very well for this same reason.

My second disappointment came from the vibration controls. With a toy in this price range, I was sad to discover that I was limited to basically one vibration strength among the six patterns. I like to warm up with lower intensity vibrations and work up to harder, throbbing pulsations when I play. As another reviewer mentioned, the vibrations waver a bit, which for me was odd and didn't help with the experience. The noise of this vibrator is all over the place, too. I'm giving it three bees because that's how it sounds at its loudest, but its noise level changes with pressure and vibration function, too.

On the positive side of things, I've got to give Close2You some credit for their nice box design. This product is more of a kit than just a single product. I love when toys come with storage options, and Rondo has it in spades. Not only is the box itself reusable, but you get a toy pouch, too. My boy and I really liked the included silicone cock ring and Glissando lube. The product manual is informative and includes some tasteful nudity.

Experience:

While I couldn't tell you exactly what each of the motors was doing, I'll concede that the dual motor patterns were pretty neat. The vibrations were throbby and deep, which I like, and when used internally I could really feel the rumble. Usually I'm not a big fan of internal vibration alone, but Rondo is pretty nice. Rondo didn't work as a dual stimulator for me at all. And between the seam and the somewhat diffuse vibrations, my clit didn't really enjoy my attempts at external stimulation. However, my g-spot was pretty happy. The shaft is stiff, which is great for rocking and pressure. I've had some fun with this toy, but I'm not bananas over it.