Evolved Roulette Lucky 7 - G-spot vibrator from Evolved

Product Details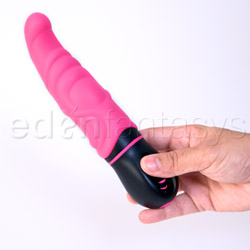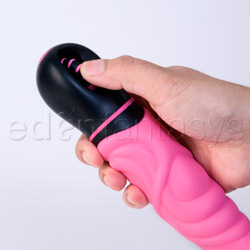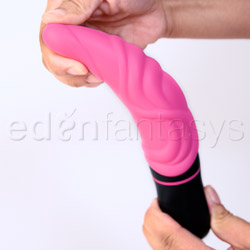 Summary:
The Lucky 7 is yet another wonderful toy from Evolved's Roulette line of vibrators. Made from a soft yet firm silicone, the Lucky 7 is easy to care for and offers powerful and incredibly deep vibrations. While it's designed for G-spot stimulation and excels at that with ease, it also makes for a great clitoral vibrator. Lucky 7 also accommodates those with both shallow and deep G-spots, making it incredibly versatile and a good choice for those looking to explore their G-spot more.
Pros:
Powerful, deep vibrations, easy to use, waterproof, excellent G-spot curve and head
Cons:
Some might find the tapered head not wide enough, could be too small for some,
Best use:
Lucky 7 comes from Evolved's Roulette line of European Silicone vibrators. The moderate length and tapered shaft should make it workable for even a beginner to insertable sex toys. While Lucky 7 is designed as a G-spot vibrator, it also works extremely well as a clitoral vibrator, making it quite versatile.

Lucky 7 works well both with thrusting and also with rocking, the soft silicone makes it an excellent thrusting toy, even for couples use as you don't have to be as concerned with your partner thrusting it a bit too far and bruising you. When you add in the fact that Lucky 7 is also 100% waterproof it makes for a great choice for just about anyone. The only thing it is not recommended for is anal use, since there is no flared base.

While this is not a discreet toy by any means (it's pretty obvious what it's used for an it's hot pink!) it comes with its own case which would make it ideal for travel as long as you're not concerned with anyone coming across it. The case keeps it safe and clean though, which for some is the main concern when traveling.
Material / Texture:

Evolved's silicone is a perfect blend of firmness with just the right amount of squish. The silicone allows the shaft to be somewhat flexible, but it bounces right back without a lot of pressure on it. When you press against the shaft you can feel it pressing back against you, which allows it to conform to the body but still offer decent pressure on the G-spot.

Just about all silicone picks up some degree of lint and such, but Evolved's is on the lower end of that. It will collect some if it's left to sit on something with hair or lint on it, but when drying it off with a towel it doesn't, you don't have to leave this one to air dry to avoid lint! The silicone does have a bit of drag to it, but it does not require a lot of lubrication either. It has just the right amount of drag to work with the body and not turn into a slip 'n slide.

Like all pure silicone toys, Lucky 7 is non porous and does not have an odor. It is not sticky and feels great on the skin.

Material:

Silicone

Material safety

Texture:

Ribbed / Smooth

Safety features:

Food-grade material / Hypo-allergenic / Latex free / Non-porous / Phthalates free

Design / Shape / Size:

Lucky 7 has a delightfully textured shaft with swirls and ribs, and complete with a beautifully curved G-spot tip. The tip tapers off into somewhat of a point, about the size of two fingers. It's nice and squishy silicone though, so don't worry about it being poking you. Depending on what type of G-spot stimulation you like the tip might be perfect, or might be a bit too narrow. If you achieve good G-spot stimulation from fingers then you will likely enjoy the Lucky 7.

The texture itself is rather moderate. It is enough to be noticed, but nothing that becomes uncomfortable, even with only a slight amount of lubrication. The texture also adds bulges at just the right spots for optimum pleasure. The swirls don't only feel nice, they add a lot of visual fun too. The toy in general has a very fun and exciting feel to it, the silicone is hot pink and the dial has matching pink on it as well.

The battery cap is where the dial is located and it's pretty large and make for a great handle for both rocking and thrusting motions. The large and ergonomic size make holding onto the Lucky 7 rather easy, and allows for longer sessions since the hand/arm won't tire as quickly.

The size is pretty average, it's not anything overly large, but it's enough to offer a deep penetration and will fit women with a wide range of G-spot locations. As long as you know where your G-spot is it's easy to stimulate it with the Lucky 7. If you're not sure where yours is the Lucky 7 is also a great choice since it's long enough that it can reach a deep G-spot, but can be inserted less deep for shallower G-spots. With 5" of insertable length and 1 5'8" in diameter at its largest point, this might not cut it for size queens but those who do not need a larger toy would most likely find this to be quite enough.

Color:

Pink

Length:

8"

Insertable length:

5"

Circumference:

5 1/4"

Diameter:

1 5/8"

Weight:

15 oz

Functions / Performance / Controls:

The European motor on the Lucky 7 delivers extremely deep and rumbly vibrations all while being virtually silent. If you need discretion the Lucky 7 is absolutely perfect. It's amazing the depth and power behind the vibrations at such a low noise level. While there is only steady vibration and no patterns, the Lucky 7 is certainly not boring with the absolute throbbing feel of its vibrations.

The vibrations are easily controlled with a dial at the base of the toy right underneath where the bottom unscrews to insert the 2 AA batteries required for use. The dial allows you to choose just the right amount of vibration for you. Evolved calls this "true multispeed" because there are no steps between the levels, it's a smooth dial up from low to high. The controls are also extremely easy to use, the dial is easily felt and since it's so large it's easy to turn even with lubed up or wet fingers.

Lucky 7 performs well in water, no water gets into the battery compartment. The vibrations being deep and rumbly are also better felt under water than some higher pitched vibrations are.

Functions:

Vibrating

Special Features:

Control type:

Built in control pad

Powered By:

Aa-2

Care and Maintenance:

Silicone is easy to care for, it's non porous so you don't have to worry about bacteria building up. Just wash with soap and warm water between uses, or use a toy cleaner. It can be sanitized with a 10% bleach solution if desired. The plastic case that the Lucky 7 comes in makes care even easier since it's the perfect way to store the toy between uses. To keep your toy good as new make sure to use only water based lubricant with the Lucky 7 and take the batteries out between uses.

Packaging:

Evolved's toys always have fun packaging. Rather than a metal tin, the Roulette vibes come in a clear plastic box. They still have the same metal clasps on each side to hold the box closed and are a great way to store your toy. The lucky 7 is suspended mid box by a clear plastic insert. This leaves room at the bottom to store your batteries or to store toys such as bullets or a small pocket rocket.

Personal comments:

I'm in love with the Lucky 7, addicted to it even. The tapered tip is absolutely wonderful for providing me with the G-spot stimulation that I like best. A mixture of slow and rapid thrusts works wonderful. Alternating the depth of the thrust also works well to provide a nice and slow build up, which is something that I need to achieve G-spot orgasm.

For me a clitoral orgasm is something that serves as a nice warm up for G-spot play. The Lucky 7 can bring me from 0 to Orgasm in less than a minute when used for clitoral stimulation. The tapered head works great pressed up against the vaginal opening with the larger ribbed area of the toy against my vulva and clitoris. The vibrations are so deep and throbbing that they feel absolutely amazing.