California Exotic Spellbound G - G-spot vibrator from California Exotic

Product Details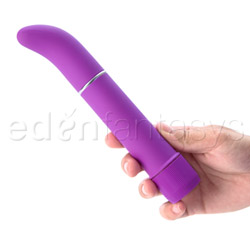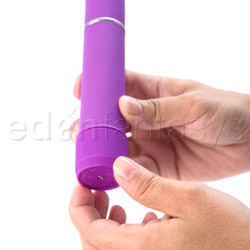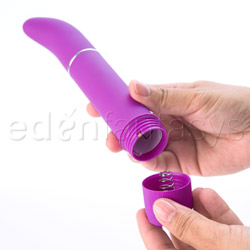 Summary:
Simple and effective, this vibe left me pleasantly surprised by it's performance. Despite it's few flaws I'd still recommend it for anyone looking for something without bells and whistles that gets the job done.
Pros:
Comfortable size, adjustable vibration level, phthalates-free.
Cons:
The dial doesn't stay where you set it, noisy, non-sterilizable, plastic odor.
Best use:
The Spellbound G by Cal Exotics is best suited for anyone wishing for direct G-spot stimulation. Due to the nature of the vibrator itself it's also great for clitoral stimulation and could be used for prostate stimulation. It's on the loud side so not the best choice when stealth is key, but a quiet night at home with your beloved, or yourself for that matter, it works a treat.
Material / Texture:

The vibrator it's self is a waterproof polyurethane covered plastic, the Cal-Exotics trademark Velvet-Cote, which is nice and smooth, and the matte texture is almost silky and a definite step up from the cheap feeling of most shiny hard plastic vibes. It's latex free down to the silicone o-ring that seals the battery housing. It does have and retain that funky "fashion doll" smell but thankfully the odor doesn't transfer.

Material:

PU coated plastic

Material safety

Texture:

Velvety

Safety features:

Phthalates free

Design / Shape / Size:

The design is pretty tried and true. The traditional wand vibe shaft with the waterproof battery housing with the bonus of a tapered hook for G-spot(or p-spot) stimulation. It's 6 inches of usable length paired with it's inch "and some change" diameter make it satisfying without being overwhelming. It reminds me of my very first vibrator, but I actually like this one a lot more! I'd actually recommend this to someone looking for their first vibrator, or someone looking for something that provides good bang for the buck and gets the job done.

Length:

8"

Insertable length:

6 1/4"

Circumference:

4"

Diameter:

1 1/4"

Weight:

5 oz

Functions / Performance / Controls:

The vibration is controlled with a turn dial at the base of the toy. It's the standard gradual increase and it's easy to find your perfect level of intensity. Keeping that level however is tricky, you see the dial turns very easily and we had to keep fiddling with it because it would start to turn itself down and at one point turned it's self off completely. The vibrations range from gentle(squiggle writer pen) to moderate/high (electric tooth brush) and can be fine tuned with the dial to a level your personally comfortable with. The waterproof seal held tight during shower use but I'm not sure if I'd trust it fully submerged in the tub. As with most "basic" vibrators this sucker gets loud when it's cranked up, not to a "wake the neighbors" kind of level but someone on the other side of the door would likely know what you were up to if you didn't have the stereo on. For example, my dog was sleeping in his crate on the other side of my room and it woke him up when I was first testing the batteries.

Functions:

Vibrating

Special Features:

Control type:

Dial-base

Powered By:

C-2

Care and Maintenance:

It cleans easily enough with soap and water but do to the materials porous nature it can't be sterilized. I'm not sure a bleach solution would be safe for this toy so I'd stick to anti-bacterial soap and good toy cleaner. I also would advise against sharing this toy without use of a condom and would recommend use of a condom if using it for both vaginal and anal to prevent bacteria cross over. It runs on 2 C batteries, and with any battery operated toy, never store it with batteries inside. Any good water based lubricant will do just fine, if your not sure how your lube will react do a spot test before use :)

Packaging:

The spellbound G comes in a vacu-formed plastic package with an insert describing the toy, nothing to write home about, and not really great for storage either.

Experience:

My partner really enjoyed the vibrations he felt while using this on me. We found it worked well for DP, the vibrations were pleasant and it's size wasn't overwhelming or uncomfortable for me, usually if I'm having anal i don't want anything near my vag, but this worked well for both of us.