Best use:
The Vibe Therapy Sutra, by Vibe Therapy, is designed for G-spot stimulation. It has a long shaft, which has a generously curved G-spot tip at the end. The shaft on the Sutra is pretty long, so it will work best for women with normal to longer vaginal canals. Anyone can use it, though. You can compare with the measurements that I will provide below with your own.
This toy is designed for G-spot use, but this isn't the only thing that it will work for. It also stimulates the clitoris, nipples, thighs, tummy, and areas on my partner. He likes the Sutra used on his testicles, his shaft, and for the tip of his penis. It really gives him some great vibrating sensations.
This toy is not safe for anal use. It has no flared base, so it can possibly get stuck in the anus. I would suggest against using for anal.
I found the best use of the product to be used for G-spot stimulation. The girthier size helps the tip press deeper into my G-spot.
This is a girthier toy, so women who are not accustomed to toys of this size may find it a little intimidating to use comfortably. Of course, this will not be the case for everyone. A couple of times, I had to warm up with a smaller toy so I could use Sutra.
The Sutra will work great for solo use or partner play. The end is curved and flexible, so it's not painful when thrusting.
The best place to use this toy would be in a dry area. I know that the packaging states that it's indeed waterproof. This isn't the case. There is a seam on the battery cover that is significantly gapped. While I was cleaning the toy for it's first use; water got into the compartment. I was lucky that I caught it quickly or it may have damaged the toy, beyond repair.
The Sutra is pretty long, but it could be taken on travel if it was in a toy pouch. I would remove the batteries because there is no lock feature on the toy, and it could power itself on, unexpectedly.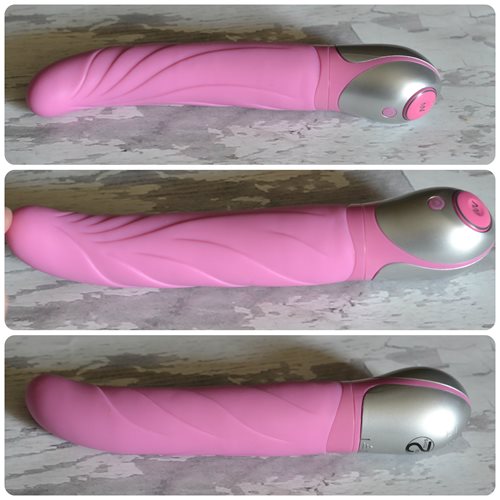 Material / Texture:

The Sutra is made from Silicone and ABS plastic. The shaft is silicone, and the handle is plastic.Since silicone is very safe, it earns a 10 on the Eden safety scale. 10 is the highest ranking that a material can receive. The plastic receives an 8 on the safety scale.

Silicone is hypo-allergenic, latex free, Non-porous, and phthalates free. Silicone is easy to maintain and to care for. It can be washed with warm soap and water, toy wipes, or an antibacterial toy cleaner. You can also sanitize it by using a 10% bleach solution to wipe it down. This is best to do, if you are sharing with a non fluid bonded partner.

Do not use abrasives or harsh solvents on the silicone. It can damage the surface of the toy.

The toy arrived with no smell. Silicone rarely has any odors. The shaft of the toy is mostly smooth, but it does have ripples, or ridges that curve down the shaft. I can slightly feel most of the textures of the toy. I can mainly feel the ones near the tip better. These are deeper than the ones on the shaft. These are also easy to feel, while thrusting. I like textured toys so this toy was a plus for me. I felt the textures more while pushing the toy inside, rather than pulling it out. This is a great toy to thrust with.





The Sutra can be used by beginners or advanced users. Don't let the size scare you off. The G-spot tip is smaller than the shaft, so it's easy to insert. You can gradually work your way up to inserting the full toy.

The shaft and G-spot curve of the toy are really flexible. I was expecting the toy to be very rigid. This wasn't the case. I only feel one very firm area inside the toy. This is at almost 4" from where the handle connects to the silicone portion of the toy. I'm assuming that this is where the motor must be. I can squeeze in on most parts of the shaft with my fingers. The tip of the toy feels to be solid silicone.

When a lubricant is used with the toy, it doesn't become sticky. It glides in and out nicely. There has never been a sticky or tacky feeling on the toy.

With it being silicone, it does collect lint, hair, and dust. The toy also has some drag. Once I add some lubricant, the drag is gone. Speaking of lubricants; only use water-based lubricants with the Sutra. It is silicone. Silicone toys can't be used with silicone lubes. The lubes will damage the surface of the toy, and possibly ruin your Sutra. Stick with water-based and you should be fine.

Material:

Silicone

Material safety

Texture:

Ribbed

Safety features:

Food-grade material / Hypo-allergenic / Latex free / Non-porous / Phthalates free

Design / Shape / Size:

I really like the design of the Sutra. You can automatically tell that it's made for G-spot use, just by seeing the curved tip. I like the indented areas on the shaft. The size can seem overwhelming to beginners, but it's not. The shaft is very flexible, so it's not going to be painful to work up to fitting the shaft inside of the vagina. The shape of the toy worked better for me than I had imagined. As I said above, it took me a little bit to get warmed up to it, but it wasn't so bad after a lot of water-based lube, and a few minutes of slow thrusting were introduced. I felt every inch of the toy. it is a very filling toy for me. There was no extra space left, so I felt the vibrations really well. This allowed for a more intense orgasm because of the size.
The G-spot tip pressed firmly into my G-spot. Mine isn't very shallow, and it still worked for me. I would think that it would work great for shallow and normal G-spots. The vibrations are so strong that it may work for those with very deep G-spots. I honestly think it would work for almost anyone because of the flexibility.

I've included sizes below.



Length: 9 2/3"

Insertable length: 6"

Shaft Circumference: 4 3/4"

Tip Circumference: 4"

Shaft Diameter: 1 1/2"

Tip Diameter: 1"




The toy is pretty long, so you could hide it in a bag or its own packaging. I keep mine in a toy bag that was too big for one of my other products.

For traveling, I would opt for something smaller, but if you had to have it, I would suggest to take out the batteries. The controls turn on easily, and it would be embarrassing to have a vibrator come on, in the middle of transit.
As for traveling on a plane, the TSA will know exactly what this was.

I like that it's non realistic looking. It's great for partner play. My partner used it to thrust into me and he actually did a better job than I did. He was able to angle it a little better, with much less effort.

Color:

Pink / Silver

Length:

9"

Insertable length:

6 1/2"

Circumference:

5 1/2"

Diameter:

1 1/2"

Weight:

1 lb

Functions / Performance / Controls:

The Sutra runs on batteries. It takes 2 AA batteries. The batteries are not included. To insert the batteries, there is a battery cover on the back of the toy. To open it, just hold it upside down with the back of the toy in front of you.
I place both of my thumbs on the cover and slide upwards. I push in slightly with my right thumb near the arrow, because it doesn't open easily. You must use a little force. Once you open it up, there is a slot to slide the batteries into. While still holding the Sutra the same way, add a battery with the positive up in the right slot, and then add a battery with the negative side down, in the left hand slot. To slide the cover back on, it took me a few tries to get it right. You have to press down on the area with the arrow that inserts into the toy. Make sure it locks into place. No matter how I slide it in, there is still gaps on each side of the cover. This does allow for a few drops of water to get inside the battery housing.

The batteries do seem to last a while. When I first tried out the Sutra, I only had some non name brand batteries that had been used before. The power wasn't strong. As soon as I purchased some Energizer batteries, it really gained some oomph!

Most of the vibrations are felt down the shaft and in the tip of the toy. They are actually stronger than I had expected. They are felt deep within my vaginal walls. I think that are about a 4 on the Vroom scale.

The Sutra has 2 areas of controls. The first button is very small. It's a small pink circle and it has a symbol for power, in silver. This button only controls powering it on and off. The larger button below the small one is pink as well. It has a squiggly line on it. It's larger in size; The diameter is 3/4".

To get the toy going, you must first press the small button. After you've done this, you will see squiggly line and circled area on the large button light up. This lets you know that it's ready for use.


1.Pressing once will put you into a low steady vibration.

2.Pressing twice will put you into a medium steady vibration.

3.Pressing 3 times will put you into the highest setting steady vibration.

4.Pressing 4 times will put you into an escalating vibration that ranges from low to high.

5.Pressing 5 times will put you in a pulsing function of low-high low-high low-high, etc.

6.Pressing 6 times will do a faster pulse action than the one before it.

7.Pressing 7 times will have 3 shorter pulses and one longer pulse. This continues back and forth.

Once you go past the 7th press, you will be back at the beginning of the settings, which is the low steady vibration. There is no way to cycle back down to a previous setting. You must cycle through them all again.

There is also no lock feature on this toy. The toy isn't loud. You can hear it through a blanket, but not through a closed door. I give it a 2.5 on the Bee scale.

The toy states that it is waterproof. However, this was not the case with mine. This may not be for all of them, but mine leaked water into the battery housing. Water can be placed all along the shaft and tip. I just had to make sure to not get it near the battery cover.

I did have a problem with the controls. My hand repeatedly knocked them to a different setting when I was using them. It also turned off on me a few times because of where the power button is placed. Once I was used to using the toy, this didn't happen as much.

I really like the higher settings on the toy. I'm a girl who likes power and the Sutra pretty good at giving me what I want!





Functions:

Escalating / Pulsating / Vibrating

Special Features:

Multifunction
Multispeed
Powerful
Quiet
Waterproof

Control type:

Push button

Powered By:

Aa-2

Care and Maintenance:

Since the Sutra has Silicone and ABS plastic, I suggest using warm soapy water and a wash cloth for a regular cleaning. This works well, if you aren't sharing your toys. I always wash my toys when I first receive them. I usually sanitize them if they are silicone. I'm just extra cautious when I receive things that are going to be inserted into me.

I usually hold my vibes upside down and wash them. This allows any water to drain off the tip of the toy, instead of taking a chance and letting water get into the battery housing, if they aren't waterproof. I have better control of washing the toy and getting into the grooves, when I do it this way. With this toy having indented areas, I try to use a Q-tip or soft toothbrush to get into them. Bodily fluids can gather and leave a host of bacteria, so be sure to clean these areas quite well. I always show any ripples or ridges some extra attention when cleaning.

There are seams along the handle, and around the battery cover. Be careful with getting fluids around this area. I just squeeze out the washcloth really well and wipe this area down.

Since the toy is silicone, don't use silicone lubes with it. Use only water based for the best performance.

I keep the toy in a storage pouch that is darker in color. I also store it away from sunlight.

Care and cleaning:

Soap and water

Packaging:

The Sutra arrived in a nice packaging that looks very classy. It has some pretty pastel colors on the front of the box, and there is no nudity anywhere. This is the type of box that I hope all companies will change over to. There is nothing trashy about the packaging. The writing on it looks nice, and it looks like it's a very high end product.

The back of the box has some features listed and they are in several languages. There is also a diagram of the toy on the back.

It also states:

A chic waterproof personal vibe to soothe away all your stress.

The languages included are:

-English

-French

-Spanish

-German

-Russian

-Dutch

Inside the box, the Sutra is nestled in a plastic pink holder. The holder is actually in 3 parts. It's on a plastic holder, and it has a clear plastic cover. This fits together like a puzzle, and fits together perfectly.

Included in the box, there are 2 pamphlets. The first one is for battery and care instructions in English. The other one is to show placement for the batteries in other languages.

I really like the packaging. It would be nice enough to keep for storage, or you could recycle it. It has the recycling symbol on the back of the box.




Personal comments:

I was very thrilled with the power that the Sutra has. I was unsure about how it would work for me, because of the size. It actually worked out better than expected. It wasn't painful, and the vibrations were strong. I used the tip of the vibrator for clitoris play, before I inserted it. This really felt wonderful. Using it on the clit really got me revved up and ready to go. Most G-spot vibrators really get my juices flowing more than usual, and the Sutra was no exception.

This is a lovely toy that seems to have been overlooked. It's not as expensive as some of the other higher brands, but it does the same features that they do. I say if you want to save some money, and have an intense G-spot orgasm, check out the Sutra!

I've included some comparison photos to show the size of the Sutra among some popular toys, and other common objects.






Experience:

Even with its inability to be completely waterproof, I can still have fun using the Sutra in the bedroom. I save all of my fully waterproof toys for the bath or shower, so it's not a total loss for me. I can do everything with it as most of my other G-spot toys.

If you are a squirter, this should be fine to use, as long as you don't get it into the gaps near the battery compartment.