Evolved Sweet embrace - G-spot vibrator from Evolved

Product Details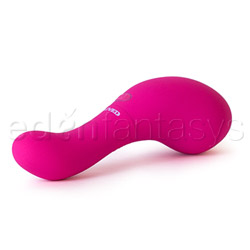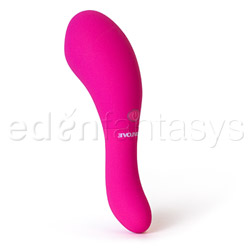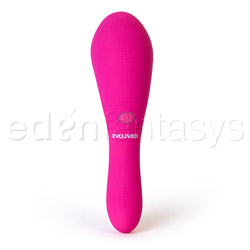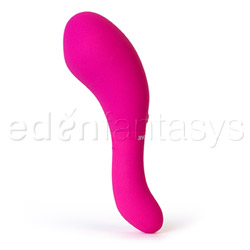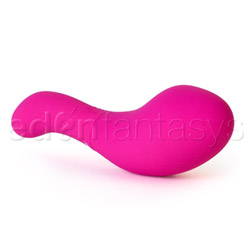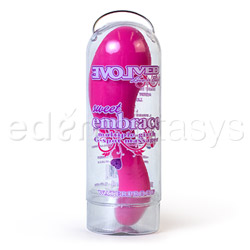 Summary:
Sweet Embrace offers seven vibrations and two ends for lots of variety. Vibrations are buzzy and of moderate intensity. It is waterproof and easy care. It can be used for G-spot as well as prostate stimulation, but feels best when used clitorally. The large end may be too much for beginners and its length sometimes makes it a challenge to hold on to during use.
Pros:
Cute design, appealing color, differently sized ends can both be used.
Cons:
Buzzy vibrations, loud when used externally, difficult to hold when wet.
Material / Texture:

The surface of Sweet Embrace is made entirely of ABS plastic. The single control button appears to be made of a softer material.

Sweet Embrace has no texture, although the words "Made in China", two symbols, the lines to allow you to line up the two halves are raised and might be felt by very sensitive users. You can also feel the area where its two halves meet if you run a finger along the toy in this area. A seam runs up and down the length of the vibrator, but this is quite smooth and shouldn't be a problem for anyone.

It has no scent and has a smooth, matte finish.

Sweet Embrace comes with a one year Warranty. It is waterproof, phthalate free and latex free.

Material:

Plastic

Material safety

Texture:

Velvety

Safety features:

Food-grade material / Hypo-allergenic / Latex free / Phthalates free

Design / Shape / Size:

Sweet Embrace is a very bright, almost day-glo pink color. The word 'Evolved' appears in white near the control button.

It is 6 1/2 inches long and 5 5/8 inches in circumference at the larger end. Either end can be inserted. The smaller end has a circumference of 2 3/4 inches.

The vibrator curves in an S-like shape. The cross section of each end is almost completely circular. The upswelling of the larger end is not pointy.

It is powered by two AAA batteries. Unscrew the neck to insert the batteries. After one battery is inserted into the larger end, the second battery will insert only partially into what remains of the battery compartment of the larger end. Most of the second battery will stick out. Alternatively, the second battery can be inserted into the smaller end. Some of that battery will still stick out. But this doesn't matter. The two batteries will touch and fit perfectly once the unit is screwed back together.

There are two small, raised lines on each half of Sweet Embrace that make it easy for you to know exactly how tightly to screw the two parts of Sweet Embrace together.

Sweet Embrace is completely hard and does not bend.

A rubber gasket at the base of the threads ensures that it remains waterproof during use. After soaking in a sink for several minutes while on, no water entered the battery compartment.

It is a lightweight toy and could easily be taken with you while traveling. You may wish to remove the batteries if you travel with it. Sweet Embrace does not have a lock mode.

Color:

Pink

Length:

6 1/2"

Insertable length:

2 3/4" / 3 3/4"

Circumference:

3 1/4" / 5 3/4"

Diameter:

1 3/4" / 1"

Weight:

5 oz

Functions / Performance / Controls:

Sweet Embrace has three steady and four patterned vibration modes. They are:

1) low steady
2) medium steady
3) higher steady
4) gradually moves from low to high vibrations, then suddenly drops back to low vibrations
5) pulses
6) faster pulses
7) three short, then one long pulse

When you are on the seventh vibration setting, pressing the button again will move it back to the first setting. There is no way to move backwards through the vibration patterns. To turn it off, hold the button down for a few seconds. It will not remember the last setting used. It will always start on the lowest steady vibration setting.

The vibrations are quite buzzy, meaning the vibrator moves back and forth rapidly with a shallow movement. Vibration at the highest steady setting is of moderate intensity.

Vibrations are concentrated in the larger end of the toy. They do transmit to the smaller end, but vibrations will feel considerably weaker on that end.

The end not inserted can serve as a handle. But the toy isn't that long, so only two inches or so is likely to be external and usable as a handle. If the external portion is wet or covered with lubricant, it can be a challenge to maintain your grip on it. You may wish to keep a towel handy in order to keep the handle end dry. You will probably want to use the minimum amount of lube necessary with this product.

Even though the control button is located in the middle of the toy, it's not difficult to access it during use. This does increase the chance that the end used as a handle will become covered in lubricant however.

Sweet Embrace can be used clitorally. This will work for you if moderate vibrations are your preference. It is also much louder when used externally - the level of noise it emits in this case may be more than some users prefer. You will need loud music to cover its sound when used externally.

When used internally, it's much quieter and you can easily cover its sound with music.

Functions:

Escalating / Pulsating / Vibrating

Special Features:

Contoured
Multifunction
Multispeed
Two motors
Waterproof

Control type:

Push button

Powered By:

Aaa-2

Care and Maintenance:

Embrace is a non-porous, easy care product. Simply wash with soap and water after use and towel dry.

Removing the batteries between uses will extend battery life.

Any lubricant is safe to use with Embrace. The packaging states that it is 'lube friendly.'

It can be stored either in its original container or by itself. It appears to be durable enough to not need special handling or storage.

Care and cleaning:

Soap and water

Packaging:

Sweet Embrace comes in a clear plastic, dome-like package that opens near the bottom. Basic use instructions are printed on the back of the package, as well as a product description.

Inside Sweet Embrace is a small piece of paper indicating the direction the batteries should be inserted. Often such instruction sheets are meant to remain inside to provide cushioning for the batteries to quiet the toy. In this case it did not appear possible to insert the batteries with the battery paper still inside.

You could store Sweet Embrace inside its original container if desired, but it does not appear to be fragile or in need of any special storage handling.