Extase Zenith - G-spot vibrator from Extase

Product Details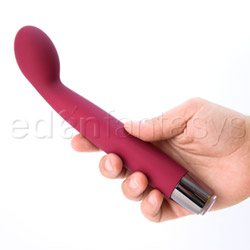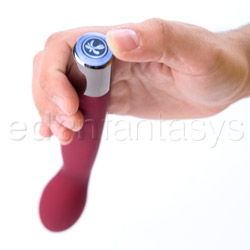 Summary:
Zenith is as effective as it is beautiful. It offers deeper vibrations than most internal vibrators and seven vibration modes. This luxurious toy also comes with a suede-like storage bag. It might be loud and it might have a finicky control button, but it will not disappoint.
Pros:
Deep, strong vibrations, beautiful, effective design.
Cons:
Finicky control button, loud.
Best use:
Zenith is a luxurious G-spot vibrator with a beautiful shape that works well even without vibration. But you'll want the deep vibrations it delivers. It won't be a good choice if you need a quiet vibrator however. Others in the house will definitely hear it when its in use.
Material / Texture:

Zenith is made of hard, phthalate-free ABS plastic with a lovely velvety feel. It doesn't bend at all. It has no scent.

The storage pouch has a soft suede-like exterior. It feels fantastic to run your fingers over it. The bag is not well padded, but should be more than sufficient to protect Zenith. It closes with a drawstring which is a little bit more difficult to close than other drawstring pouches just because the material the pouch is made from is thicker than most. It has a metal bead on the drawstring to hold it closed and two additional metal details on the ends of the drawstring. Extase's logo, tag line and name are stamped on the bag.

The metal parts of the drawstring match the color of Zenith's cap.

Material:

PU coated plastic

Material safety

Texture:

Velvety

Safety features:

Phthalates free

Design / Shape / Size:

Zenith has a beautiful, attractive design. The cross section of the shaft is a triangle with rounded corners. At the end of the shaft is a tipped, egg shaped portion where the vibrating motor is. At the other end is the smoky gray, metallic looking cap that unscrews to allow the insertion of two AA batteries. At the tip of the cap is the colorless plastic control button with Extase's logo visible underneath.

When the cap is unscrewed, a small plastic O-ring can be seen, although Extase describes Zenith as splash proof, not waterproof. There is a slight gap between the cap and shaft when the cap is screwed down completely.

It only takes a quarter turn to remove or replace the cap. Despite the short distance you must twist the cap, it is actually a bit of a challenge to align it correctly to screw it on. Inside the cap, plus and minus symbols indicate which direction to insert the batteries. There is also a silhouette of a battery to indicate this in a more visual manner.

Length:

8 1/2"

Insertable length:

7 1/4"

Circumference:

4 1/2"

Diameter:

1 3/8"

Weight:

13 oz

Functions / Performance / Controls:

Zenith is controlled with a single button at the end of the shaft. It is turned on by holding this button down for one second. The button lights up to indicate that its on. Press the button again to move it through its seven functions. Turn it off by holding the button down for two seconds.

When the battery runs low, the light at the end will flash to indicate this.

The seven vibration modes are:

1) low steady
2) medium steady
3) high steady
4) short long
5) short short long
6) one second low, one second high
7) escalating (a very long escalation cycle)

After the seventh function is reached, if the button is pressed again, it returns to the first vibration mode.

This vibrator is loud. Zenith is probably not suitable for use, except perhaps on the lowest setting, when others are nearby.

It requires two AA batteries, which the product literature state will last for four hours of use and 90 days on stand-by.

Functions:

Escalating / Pulsating / Vibrating

Special Features:

Light indicators
Multifunction
Multispeed
Powerful
Quiet
Splashproof

Control type:

Push button

Powered By:

Aa-2

Care and Maintenance:

Caring for Zenith is straightforward. The instructions recommend washing it before and after each use, then rinsing and patting it dry. Massage oil and hand cream should not be used as lubricants. Cleaning products containing alcohol or acetone should also be avoided.

Both silicone and water based lubricants are safe to use with Zenith.

Zenith is splash proof, but not waterproof so avoid allowing water to seep into the seam where the cap meets the shaft or around the control button. Certainly do not immerse it in water.

Store it in its luxurious storage pouch.

Packaging:

Zenith's packaging is as luxurious as the vibrator and the storage bag. It arrives in a sturdy, glossy cardboard box with a picture of Zenith on the top and a list of product features on the sides. Lift the top of the box off and you'll see Zenith nestled in a firm foam insert with a small booklet describing all of Extase's products on top.

When you lift the foam insert up, you'll find a neatly folded storage bag with cardboard wrapped around the middle like a napkin ring. Next to that and taking up the other half of the box is the instruction booklet. The booklet is inside a small, elegant cardboard package of its own with Extase's tag line (Pleasure Awaits), logo and the product name. These two items are reminiscent of the elegant way expensive hotels present soap and shampoo.

Experience:

When I first tried turning it on and moving it through its vibration modes, I kept inadvertently turning it off. I actually thought it was broken because it kept turning off before I moved through all its modes. Now, perhaps I have the hang of it or maybe it needed a breaking in period. It appears to work as described in the instructions.

The second time I used it, the next day, I also thought it was broken at first because I forgot that you have to hold the button down for a second before it starts. This threw me. Most vibrators are turned on with just a touch of a button. While it was "broken" I tested it out as a G-spot toy without vibration. It worked nicely in that capacity. Even without vibration it worked well.

Eventually I remembered to hold the button down for a second to start it and had an opportunity to test it again with vibrations. The vibrations are fairly deep, more so that most internal vibrators. I require deep vibrations internally to be satisfied. Zenith has them. You can even see it moving back and forth as you hold it.

I noticed one odd quirk with Zenith. When you turn it off, it makes three faint very high pitched beeps, as though its trying to double as a dog whistle. It seems to be able to throw this sound. The first time I heard it I thought a smoke detector was beeping at the other end of the house. Of all the times for a fire.

Zenith works nicely as a clitoral vibrator too, although its quite loud when outside the body. You will have to not be bothered by loud noise to use it that way.