Media Craft Inc Fairy rechargeable wand massager - Wand massager from Media Craft Inc

Fairy rechargeable wand massager videos
Product Details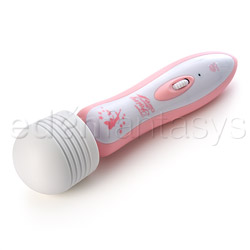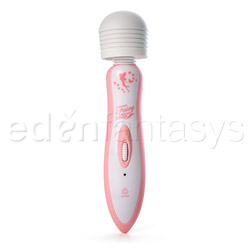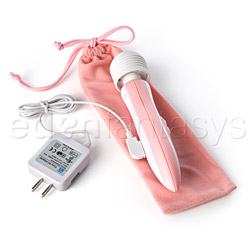 Summary:
This thing is a fabulous toy, and the price should be reasonable if it's similarly priced to the corded version. While it's not discreet, it is more powerful than our old Hitachi and more adjustable. The noise didn't bother either of us. It's compact, and would travel well. In our first session it held the charge for 40 minutes and did not lose any intensity. He gives this five stars while she gives it four stars (she feels it's too strong and could be less intense).
Pros:
Earth moving vibrations, no cord, versatility, massaging, ergonomic design.
Cons:
Would be nice if it could start with a lower vibratory frequency, LOUD.
Material / Texture:

The body of the Fairy wand rechargeable is made of hard plastic while the head is firm rubber(very similar to the traditional Hitachi wand)Phthalates free, Hypo-allergenic ,Food-grade material and Latex free . No odor of plastic was detected when taken out of the packaging.

Material:

Plastic

Material safety

Texture:

Ribbed / Smooth

Safety features:

Food-grade material / Hypo-allergenic / Latex free / Phthalates free

Design / Shape / Size:

The Fairy wand rechargeable is designed similarly to all the other wand massagers. It's got a fluted body (good ergonomic shape to fit your hand), with a round ball attached to a very flexible stem. The stem provides what we feel is the perfect amount of give, bending to 45 degrees with moderate pressure. Its size (8") is a lot more compact than the Hitachi (which is 2 to 3 times larger) and the head is 1 3/4". The round head makes this ideal for hitting depressions, massaging necks, low backs or any other contour. That would include the pubic mound, which Mrs. Greek massaged to a crescendo (more on that later). It comes in pink and white, but that won't stop Mr. Greek from using it as a neck massager. The power cord plugs into the wand on the bottom of the unit and a green indicator light illuminates when connected to the wall. We will post a follow up review as to if the light changes color when fully charged (we wanted to play so we couldn't wait).

Color:

Pink / White

Length:

8"

Circumference:

5 3/4"

Diameter:

1 3/4"

Weight:

9.7 oz

Functions / Performance / Controls:

The Fairy wand is unique in its controls. Traditionally we are used to a toggle button on these massagers providing for hi and low speed. The Fairy has a multi-speed wheel that turns on at a very powerful level. At low speed, when used on the neck, it vibrates your whole head. On high speed it will rattle your eyeballs out of your skull. The variability provided by the wheel is not super sensitive, but it does accomplish the job. It's well placed and doesn't accidentally change during play. The sound that comes from this toy may be a drawback for some. If you covet covert play, look elsewhere. Some may think you're doing yard work in the bedroom because this bad boy sounds like a buzz saw on its high setting. What surprised us both is the incredible power generated by the rechargeable battery. Our first charge lasted over an hour, 40 minutes on low and 20 minutes on high.

Functions:

Multispeed / Vibrating

Control type:

Built in control pad

Powered By:

Rechargeable

Care and Maintenance:

Care for the Fairy wand is quite simple, most will not use this for internal use so a baby wipe or wash cloth should be adequate to get this cleaned up. This toy is not waterproof and should not under any circumstance be submerged. It comes with a storage pouch, which will keep it dust free and ready for the next use.

Packaging:

It comes in a cardboard box with a plastic clam shell, which is useless. The carrying pouch will be used to store this toy by most.

Personal comments:

POWERFUL WOW, we love this thing.

Experience:

We received the Fairy wand and set it to charge for about 5 hours, my two year old saw it charging and thought it was a microphone. Apparently we have not found every use for this just yet. We took the fairy want up to the bedroom to give it a first try.

Mr Greek says: This felt terrific on my neck, shoulders and body. I used it in this capacity for a good ten minutes. With moderate pressure the vibrations were powerful, but less ticklish and much deeper. I noticed the intensity lessened a tiny bit with heavy pressure. After starting to masturbate solo Mrs. Greek used the Fairy wand on my balls and perineum (behind the balls). It was fantastic, on the low setting it was able to vibrate the whole area down to my upper thighs. I wouldn't want it any stronger than that, and I am quite sure it could have made me cum on the spot, but we got this toy for her. I continued to play when Mrs. Greek took over, lubed up and started working it on herself. At first she was tickled by it, but that didn't last. I will now defer to her experience and expertise.

Mrs. Greek says: The vibrations are so strong that you almost can't stand it, but if you can relax yourself and concentrate; it can be amazing. When I came I saw stars.