Vibratex Mini Magic wand - Wand massager from Vibratex

Product Details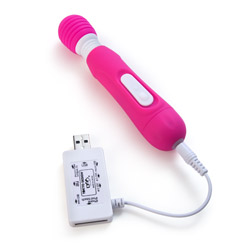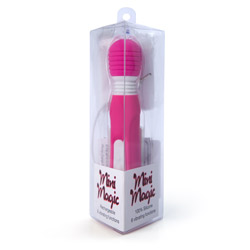 Summary:
The Mini Magic Wand is a wonderful, rumbly, compact vibrator that is great at home or on the go. It is rechargeable with a charger that can take power from many different sources from your IPod to your PC. Let the magic begin.
Pros:
Compact, rechargeable, really cool charger, great power.
Cons:
Noisy rattle sound.
Best use:
The Mini Magic Wand by Vibratex is your typical wand styled vibrator, just smaller. It is used for external stimulation and does a good job of doing so. (Yes, I agree. It should be called the Mini
Mystic
Wand, but it is not.)
With its 6 vibrating functions and body safe silicone head, it can tantalize and tease anyone on any part of the body.
Rechargeable, small, discreet, and very user friendly, it is one that will come out of the toy box quite often. Its various charging options also make it great on the go. It can get a little noisy so just be aware of your surroundings. Or you can always blame it on your sore neck. After all, wands are
supposed
to be used for massage.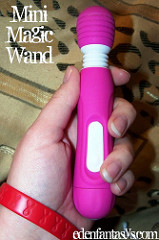 Material / Texture:

The packaging reads that this toy is 100% Silicone. I did some experimentation of my own and it turns out that although the head and accordion style neck are silicone (passed the flame test), the body is not. It seems, as though the body is a velvety plastic. I tried to do some internet research and no information is given on the website. I did write to them but I never got a response.

The entire toy is smooth and velvety soft. It had no smell or taste coming out of the box.

The head of the toy is smooth as silk and has very little drag at all. It has a flexible neck that bends with ease and it does not lose power with flexing.

Material:

Plastic

/

Silicone

Material safety

Texture:

Velvety

Safety features:

Food-grade material / Hypo-allergenic / Latex free / Non-porous / Phthalates free

Design / Shape / Size:

The total length of the Mini Magic is 6.25 inches and the head has a circumference of 3.75 inches. The built in control button is in the middle of the handle. It is very compact and takes up very little space. It is a gorgeous shade of pink with white accents.

The shape of the toy is perfect and fits in the hand very well and the button is easily accessed no matter how you are using it. It has a flexible neck that works really well and does not lose power at all with pressure. I did notice that with added pressure it seems to lower the rattling noise it makes.

Although it is bright pink, it is easily hidden thanks to the handy storage pouch. Everything tucks in there nicely and could easily be hidden just about anywhere.

Color:

Pink / White

Length:

6 1/4"

Circumference:

3 3/4"

Diameter:

1 1/8"

Weight:

5.5 oz

Functions / Performance / Controls:

The Mini Magic Wand has 6 vibrating functions.

1 - Steady low

2 - Steady medium

3 - Steady high

4 - A high short pulse followed by a high long pulse

5 - A series of pulses that go from low to high stopping between each one and starting again at low

6 - An escalating vibration that goes from low to medium, stops, and spits out two quick medium pulses. It then starts again escalating from medium to high, then again, stops, and spits out two quick high pulses.

A single button easily controls these functions. You push it on at 1 and then cycle through to 6 and finally off. The vibrations are rather rumbly and lovely for the most part. Once you hit the high setting they do get closer to buzzy. There is no emergency off for this one and it is rather loud. It has an almost rattle sound to it. Under heavy blankets, it is muffled out pretty well, but not completely.

And now onto the charger. The charger for this toy is rad. It has a USB charging port but also has a bunch of other ports. You can use just about anything to charge this bad boy. IPod charger, Blackberry charger (what I use), most cell phone chargers, they fit! There are 7 other ports for a charger to fit into. It is really a neat feature. It makes charging on the go perfect.



You plug the charger into the bottom of the toy and it will light up the control pad while charging. It does not seem to flash when fully charged. I left it plugged in for over 12 hours and it just stayed the solid blue light.

Functions:

Escalating / Pulsating / Vibrating

Special Features:

Light indicators
Multifunction
Multispeed
Powerful
Pulsating
Quiet
Rechargeable

Control type:

Built in control pad

Powered By:

Rechargeable

Care and Maintenance:

With the lack of information this toy has, I will assume it is not waterproof at all. I do not want to test my theory by submerging it and ruining it for all of eternity.

If you need to use lube, just a little drop of water based will do. With the silicone head, silicone lube will not do. With the little drag it has, I have not needed lube at all.

When cleaning it, be careful. Running the head under warm water with soap works fine. You can also spray it with toy cleaner or a 10% bleach solution. Toy wipes would be ideal in this situation. Just pay closer attention to the ridges in the bottom portion of the head to make sure no gunk gets stuck in there.

It did come with a cute, white storage pouch that happily holds both the toy and the charger.



Packaging:

The toy comes in a simple, plastic container. All it says is "Magic Wand", "Rechargeable", "100% Silicone", and "6 Vibrating Functions". There is nothing crude about the packaging at all but it is see through.

Inside was the toy itself, the charger, pouch, and the Mini Magic battery charger converter manual. The manual is a single sheet of paper that shows you what to do with the charger.