California Exotic Travel teaser 7-function - Pocket rocket from California Exotic

Product Details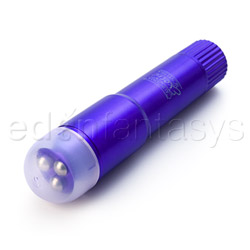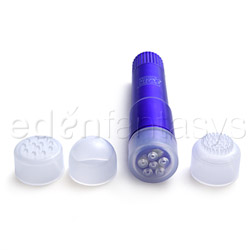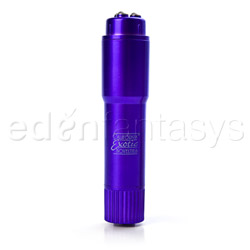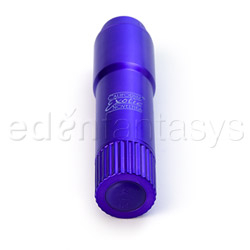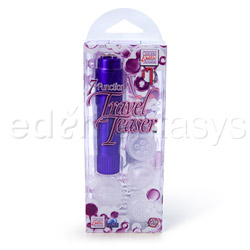 Summary:
The Travel Teaser is a great foreplay item as long as you have another way to finish out the session. While it teases, the follow through was less than satisfying. It can be used anywhere on the body (externally), and can be taken in the shower with you...Overall, as long as you are not looking for Earth shattering vibrations this is a well thought out toy.
Pros:
Quiet, discreet, small, easy to use, push button control.
Cons:
Caps can be uncomfortable, wasn't strong enough for me.
Best use:
Yeah, you know, the ones who hated being teased and left frustrated. I totally get that now (read the experience section for more).

The Travel Teaser is just that, a tease. It is your basic pocket rocket, except it has three different speeds and four differing functions to choose from. It is meant as a clitoral teaser or vibrator that can be taken anywhere discreetly. It is small enough to be tucked away in a bag or purse and go unnoticed by anyone around it. The package also comes with four different caps for the vibrator (and they actually fit) to add texture for anyone who might prefer it (there is also a smooth domed cap for those of you who, like me, hate the others).

Pocket rockets are designed for clitoral use, but many people fins them to be arousing when used on the nipples as well. They are versatile enough to be used just about anywhere. While the vibrations weren't what I needed, I am still giving this a good rating because it is a teaser, and it did just that.
Material / Texture:

The teaser is made primarily of plastic, which is nice because it can be cleaned easily. I would still cover the toy when sharing, especially since fluids can get caught in the raised metal nodules on the top of the toy. It is painted in a metallic finish that looks amazing rather than cheap like some others I have seen. The plastic is smooth and sleek and has no crazy odors that will make you cringe. Now this is a non-bending toy, so keep that in mind [that there is no give at all] while using this toy.

Too much pressure to the clitoris could hurt.

Material:

Plastic

Material safety

Texture:

Nubbed / Smooth

Safety features:

Food-grade material / Hypo-allergenic / Latex free / Phthalates free

Design / Shape / Size:

The teaser is actually quite small, measuring in at about 4.24 inches long (4.5 with the caps on), so you can see how this could be discreet in terms of size and carrying it with you. It is shaped like a typical pocket rocket, long and slender with the vibrating nodules at the end for use. It is very easy to hold during use without tiring out and even easier to hide after the use.

The four caps that came with it are all plastic and each have their own design on top for added sensation. The first is the dome topped one...smooth dome to fit over the top of the toy.
Second: 6 small bumps on the top of the second cap...shaped a little like a flower.
Third: A circle of small pointed things with a triangle of the same pointed things in the center of the circle.
Fourth: Smaller (and there are many more of them) pointed pieces in the center of the last cap.

The caps come in handy when you want a different feeling, but aren't willing to purchase a new toy. And they actually fit the toy. In many cases the caps will be ill-fitting, causing the toy to be deemed less useful overall.

Length:

4 1/2"

Circumference:

3 1/4"

Diameter:

1"

Clitoral attachment shape:

Non-animal

Weight:

2.5 oz

Functions / Performance / Controls:

There are three speeds to start you out:
Low-Medium-High

And four functions after that:
The escalating vibrations - buzz buzz buzz buzz - faster pulsing - three quick buzzes, followed by one long one.

A total of seven settings to choose from, and is it waterproof. I did test it, it did pass the test. Therefore, it is actually waterproof.

As far as noise goes...mine was very quite. Once I had it on the highest setting I just threw a blanket over me and I couldn't hear the vibrations at all. The reason I am wording it the way I am is because I am not sure if mine was a dud, because, the vibrations weren't as strong as I would like either. So it simply could have been the motor on mine, or it could just be a quiet vibrator.

The one thing I really liked was the push button (at the base of the vibrator) control. I can't stand the typical turn-style controls these usually have, so this was a huge bonus to the toy for me. To turn on all you do is push the button, unfortunately you do have to go through all the patterns to turn it back off.

Also, it does only use one AA battery, so don't expect a power house of vibration. You know, now that I think of it, mine still hasn't gone through a full battery yet, and I have used it daily for over a week now...that's a bonus you can add on to my rating.

Functions:

Escalating / Pulsating / Vibrating

Special Features:

Attachments
Multifunction
Multispeed
Travel
Waterproof

Control type:

Dial-base

Powered By:

Aa-1

Care and Maintenance:

Plastic is easy to clean. Waterproof plastic toys are even easier to clean. Just put some toy cleaner on it and wash it off really well. If you didn't use the caps be sure to clean around the top nodules.

To clean the caps I actually use an old toothbrush and the toy cleaner (the pointed ones are harder to clean). Sometimes I soak them (the caps) first. You can also use the wipes, but with textures they are not as affective.

As far as lubricants go you can use any type you prefer, but I don't really see lubricant as needed on this particular type of vibrator.

I just throw mine in a drawer. Since they are so small, I can really keep it anywhere I feel like keeping it.

Packaging:

I will go over packaging because it can be used to store the item more easily. The box is a clear box...you can see right into it. The vibrator sits in a plastic mold along with the caps. The mold organizes and holds the toy and its components in one place. However, since it is in a bulky box, it is harder to store it without anyone seeing it.

There were no instructions included with the vibrator itself, but it is pretty simple to figure out.

Personal comments:

View photos here: http://randomcuriosities.blogspot.com/2010/11/travel-teaser.html?zx=e7d2059677469236

Experience:

While using this toy I felt like the vibrations were a little lacking. It was enough to tease me and get me going, but not nearly enough to send me over the edge. I ended up having to use another toy to reach an orgasm, but I did feel like this is a great foreplay toy.

The caps are not well suited for me, personally. The pointed ones are a bit sharp, and for me that isn't the greatest feeling I have ever had. I felt like sharp sticks were being dragged over me. But, I feel this way about all the pocket rockets I have tried.