OhMiBod Bedroom Kandi happiness and joy - Rabbit vibrator from OhMiBod

Bedroom Kandi happiness and joy videos
Product Details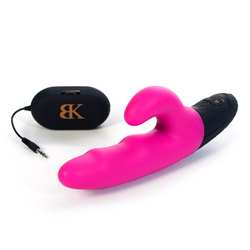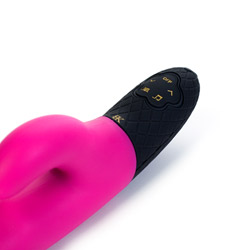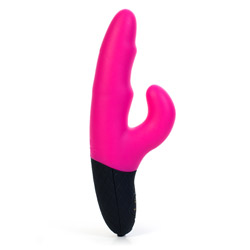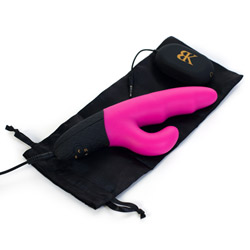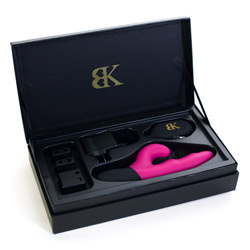 Summary:
The Happiness & Joy is the Freestyle W, after dark. The colors are vibrant and deep, and there is plenty of power to get you going. Plug the transmitter into your favorite MP3 player and you will enjoy up to 25 feet of wireless fun while listening to your favorite songs.
Pros:
Light-weight, easy to handle, powerful, never boring.
Cons:
Might be too long for some women to enjoy comfortably.
Best use:
OhMiBod is an innovative company that has created a variety of options for people who are tired of the same old song and dance when it comes to the types of vibrations offered in traditional vibrators. In this case, traditional applies to any and every vibrator that is not an OhMiBod creation.

The Happiness & Joy is the first branded item in Kandi Burruss's (star of the Real Housewives of Atlanta and two-time Grammy award-winning artist) line of adult products. It is a dual-stimulation vibrator with 7 pre-programmed functions and the unique ability to sync to an MP3 player, laptop/desktop, or other MP3 capable device. Once connected to the device of your choice, a wireless transmitter sends the signal to the vibrator where it then matches the beat of your playlist.
Material / Texture:

The Happiness & Joy is made out of silicone that is body safe, hypo-allergenic, phthalate free with ABS plastic in the handle where the controls are. Silicone is not porous and is a highly durable material. There is no odor and there is no smell to the toy.

The texture of the silicone is supple, but does not have the same consistency as say a Tantus dual-density dildo or a Vixskin creation. Once the toy is well lubricated it glides back and forth with ease. There is minimal to no drag depending on the lubricant you choose. Bedroom Kandi's Natural Lubricant is a great lubricant to pair this toy with. It is also body safe with 100% Vegan ingredients.

Material:

Silicone

Material safety

Texture:

Smooth

Safety features:

Hypo-allergenic / Latex free / Non-porous / Phthalates free

Design / Shape / Size:

The Happiness & Joy is a rabbit style vibrator with an insertable shaft and a hooked clitoral arm to stimulate the clitoris. The shaft has a "W" style wave on the top to provide extra stimulation to the g-spot and vaginal canal in general. The arm is flexible, but does not bend. The ABS plastic handle has a diamond pattern cut into the surface for gripping purposes, and the controls are really easy to use. There is a flexible silicone stopper that prevents liquids from getting to the contact for the cords.

The controls are:

"Off"
^ - Level Up
v - Level Down
Music Note - MP3 Player
n_n - Patterns (The button doesn't actually look like that, it's a more of a stepped figure, but you get the idea.)

There are 7 pre-programmed settings. The first three settings are steady, constant, deep vibrations that intensify with each step up on the control - think of them as low, medium and high - and are more powerful than a standard bullet vibrator. The fourth setting is a pattern that pulses in a frequency similar to a steady, healthy human heartbeat. The fifth setting is a much quicker pulse with a higher vibration intensity: there is less than one second between beats. The sixth setting is an even quicker pulse with much less time between beats, and the final setting is Jingle Bells. But just the first line...Jingle Bells, Jingle Bells, Jingle Bells...it's quite humorous. It is very easy to distinguish one setting from another. They are easy to find and there is a pattern or vibration for everyone.

The wireless transmitter is easy to use and easy to set up. Press the "Music" button on the vibrator and plug the wireless transmitter into any device with a headphone jack, and you are ready to rock out an orgasm to your favorite bands. There is a rotating dial to adjust the sensitivity of the vibrator to the music you have chosen. Bands that use a lot of bass or those with good percussive rhythms go best with the Happiness & Joy.

Color:

Black / Pink

Length:

8 3/4"

Insertable length:

4 1/4"

Circumference:

4 1/2"

Diameter:

1 1/8"

Clitoral attachment shape:

Non-animal

The set includes:

Vibrator
charger
instruction manual
storage box
and international plug in adapters.

Weight:

7.5 oz

Functions / Performance / Controls:

The vibrations in this toy travel throughout, and they are not dampened with light pressure from the pelvic floor muscles. There are two independent motors: one for the shaft and one for the clitoral arm. Though there is a dual-motor system involved, each motor delivers the same powerful vibrations and intervals of pulses at the same time.

The controls are really easy to use - they are at the correct angle and height for changing patterns as well as switching back and forth between music and the patterns. Just a press of a button and you're on your way to orgasmic bliss!

The toy can last for up to three hours on a single charge and does not die out without warning. A complete charge should take no longer than two hours, and it should never be charged for more than 24 hours. The kit includes three different adapters for the plug so that traveling overseas need never be an issue.

The toy can only be heard if you are right next to the person using it and could easily be used in a dorm or shared household.

Functions:

Escalating / Pulsating / Vibrating

Special Features:

Multifunction
Multispeed
Powerful
Pulsating
Quiet
Rechargeable
Splashproof
Two motors
Wireless

Control type:

Built in control pad / MP3 player enabled

Powered By:

Rechargeable

Care and Maintenance:

Splash-proof, not waterproof. This toy requires precision while cleaning around the controls, getting wet will cause the toy to malfunction. The customer service team over at OhMiBod is excellent and replacing a malfunctioning toy should be no trouble at all, but I guarantee you won't want to be without it for long.

Storing the Happiness & Joy is really easy. It comes with a lint-free storage bag for travel or you can store it in the original package. The toy itself does not collect a lot of dust or lint from the air, so leaving it out in the open (if you are able to) is not an issue.

Spot test silicone lubes, but all formulas should be okay to use with the Happiness & Joy.

Care and cleaning:

Soap and water

Packaging:

The packaging of this toy is simply gorgeous. The outer cardboard carton is a rich, matte black with gold printing with the letters KB and Happiness & Joy printed underneath. OhMiBod is embossed in black so that it is only slightly raised and hardly visible if you aren't looking for it.

When you slide the storage box out from the outer carton, you are again greeted with the matte black and gold lettering. Only this time, it's just KB and Happiness & Joy stamped on the outside. This is a flip-top, sturdy box with a molded plastic insert to hold each of the components. The first thing you will see is the instruction manual, also printed in the same matte black. The first three pages are in English and the rest are in a variety of languages. This lies on top of the components.

You will then see the toy, the plug adapters, the transmitter and the charger. If you lift up the charger you will see two additional sets of wires. There is also a 3.5mm connector cable for audio input; it's 12 inches long.

This set could easily sit out on a dresser and no one would think to look at it if you set something else on top of the logo. It's very discreet and classy.

Personal comments:

I absolutely adore this toy. It's my favorite dual stimulation vibrator and I will be very disappointed if something happens to it after the warranty runs out. It's just so easy to use, and it's fun to play around with movies and shows to see if it will respond to those subtle differences in decibels. It works really well with dramatic scenes in action movies where a lot of bass and percussion instruments underscore the action.

Other