Evolved Dream maker night cap - Rabbit vibrator from Evolved

Dream maker night cap videos
Product Details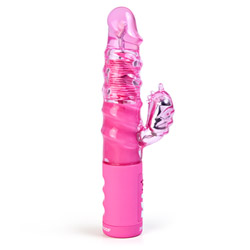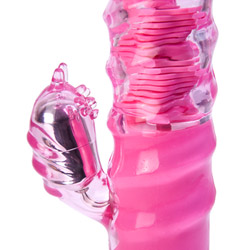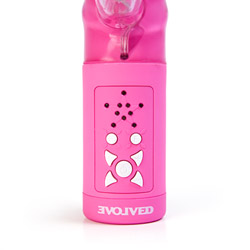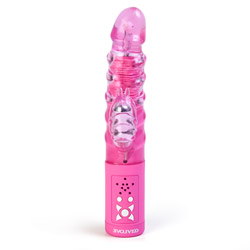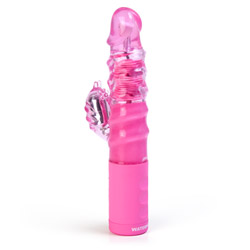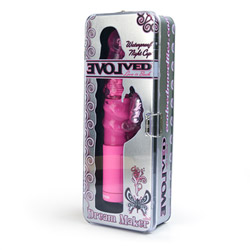 Summary:
The Night Cap is a whole new experience for rabbit lovers. The unique rotating plates give an amazing almost feel feel to the slow penetration that is causes. There are over 600 combinations for vibration types! You don't ever have to have the same experience with the Night Cap and will never get bored.
Pros:
Amazing feeling, dual stimulation, 600 possible combinations, pretty quiet.
Cons:
Packaging & buttons needs a little tweaking.
Material / Texture:

The body of the Night Cap is made of an odorless, smooth, and flexible TPR. This material is safe for individuals with allergies and sensitive skin because it is hypo-allergenic, non-toxic, as well as phthalates and latex free. It is safe for the body, but is not completely non-porous, so be sure to use a condom if you want to share. The base and control housing is made of a solid and sturdy plastic with a matte feel. This makes it a bit easier to hold if it gets covered with lubricant or bodily juices. The TPR does have drag, so using a lubricant is a good idea. It will also help the vibrator move smoothly inside you when the shaft rotates.

Material:

TPR

Material safety

Texture:

Studded

Safety features:

Hypo-allergenic / Latex free / Phthalates free

Design / Shape / Size:

The Night Cap looks like a typical rabbit vibrator. However, doesn't have an animal shaped attachment. The entire length is 9 3/4" long. About 4 1/2" is insertable. The shaft looks really thick, but actually it is somewhat hollow to make room for the moving parts on the inside. It is about 5" in circumference. The head is phallic shaped, while the shaft is not as realistic because it is swirled. Since the pink TPR is clear, you can see that the rotating plates only go down about half the shaft and stop where the clitoral attachment begins. The attachment it 3" long and has little nubs on the bottom and top. It is super flexible and can be moved to where it needs to reach. The base where the controls are looks a tad confusing because there are so many buttons. There is also a star that lights up with led blue lights and looks pretty while in use. The back of the base has 3 finger slots that are really nice for helping hold the large toy.

Because of the large size, this is not great for travel. The package it comes in is metal and large as well, so the Night Cap is best for use at home. The large size also makes it obvious and not discreet.

Color:

Pink

Length:

10"

Insertable length:

5 1/4"

Circumference:

5 1/2"

Diameter:

1 3/4"

Clitoral attachment shape:

Non-animal

The set includes:

Weight:

1.5 lb

Functions / Performance / Controls:

Where to begin?! The Night Cap has so many functions-600 total possibilities. Turning the power button on (largest circular button) will start the lowest level of rotation and vibration. You can turn either of these off by pressing the appropriate - sign button. Using the + buttons will increase rotation speed or vibration level. The rotation has 5 different levels-slow to fast. The unique rotating plates make the shaft not just "twirl" but actually move in three places at once! Pressing the function button will even change the way it rotates.

1. Reverse the rotation direction
2. The rotation alternates back and forth after one turn
3. The rotation alternates back and forth faster after about half a turn
4. The rotation pulses in one direction with short and fast bursts

The bullet has 5 speeds of steady vibration. They range from moderate to fairly high. Even with the rotating shaft, the toy is pretty quiet, especially for a rabbit vibrator of this size. The bullet also has a function button.

1. High speed pulsing
2. High speed faster pulsing
3. Tremor and then steady pulse-repeats
4. Escalation-repeats

Put this all together and you have a large amount of variety at your finger tips! The Night Cap is also waterproof. You can take your dreams to the tub or shower. Just make sure to tightly secure the end cap.

Functions:

Escalating / Pulsating / Rotating / Vibrating

Special Features:

Light indicators
Multifunction
Multispeed
Pulsating
Two motors

Control type:

Built in control pad

Powered By:

Aaa-4

Care and Maintenance:

The TPR material is compatible with both water and silicone lubricants. It is also easy to clean. Just use water and anti-bacterial non-fragrance soap because TPR can sometimes retain fragrances. Remember to remove the 4 AAA batteries from the toy before storing in the package it comes in.

Packaging:

The packaging is very pretty. The Night Cap comes in a sturdy tin and plastic case with a clear top. It has cute swirls and graphics all around. From the side, it is discreet because there are no pictures of the product or graphic writing. The back has a great description of the toy and it's specifications. The way the sturdy top hinges to the rest of the box is not quite strong enough. They will bend if you don't open it carefully. It will still make a great gift.

Experience:

What kind of sweet dreams did the Night Cap produce for me? Amazing wet ones! This is thee best rabbit vibrator I have ever used. I lubed it liberally and slid it in. I had a bit of discomfort at first and then slid the toy in just a little more and it felt perfectly placed. I started with the clitoral stimulator and found that it fit my anatomy, but it could be bent if it didn't hit just right. The vibrations traveled well and the nubs tickled nicely. With other rotating vibrators, I have experienced pain. Not this time! I turned on the rotation. O.M.G. It mimicked a slow penetration with my partner. I was in dream heaven. It was great on all speeds, and I never had any pain or discomfort.

Now here is the best part: This vibrator can probably make me squirt. Okay, I didn't ACTUALLY squirt because I was so caught off guard and in an area where I didn't want to make a mess. But, if I were to let myself go, I would have. It gave me the best orgasm I have gotten from a toy in a long time. I was shocked with how real the motion of the rotation felt. I could literally close my eyes and imagine my partner slowly entering me. It was stellar.

I only have two small complaints. The buttons were backwards when inserted. So, where I felt like the + button would be, is where the - button is. I often turned the toy off accidentally which was frustrating at first. Second is the box. It pretty much got damaged the first time I opened it. The lid is just too heavy for the small and thin metal pieces holding it. It also started to bend and not lie flat for some reason. These two negative parts would never make me not want to buy this. They are easily overlooked. You have got to get one of these! If not this version, one of the other 3 that Evolved has come out with. Sweet dreams!