California Exotic Triple orgasm triple kiss - Triple stimulation vibrator from California Exotic

Product Details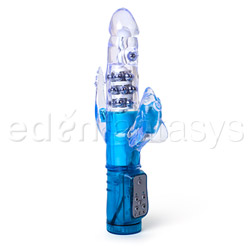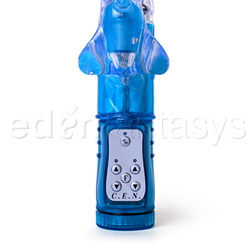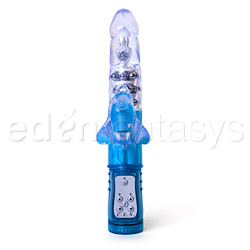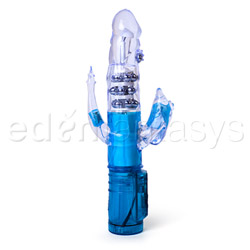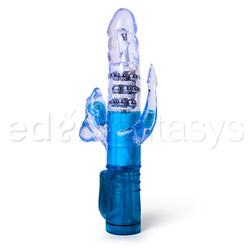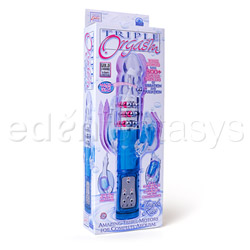 Summary:
The Triple Orgasm Triple Kiss was a type of vibrator that I have been waiting to experience-triple pleasure. The extra anal attachment was a lot of fun, and this vibrator had no problems finishing me plenty of times. I just wish it was not so loud! This is not a vibrator I would use if others were around, but it is a lot of fun to use since it has so many levels and functions.
Pros:
Triple stimulation, silky TPR material, VERY strong power, flexible clitoral attachment.
Cons:
OMG you are so loud!
Best use:
The Triple Orgasm Triple Kiss is thee Holy Grail of rabbit vibrators...almost. It has triple motors with 500+ intense patterns of vibration and pulsation. It even has an extra arm to stimulate the external anal area in addition to the vaginal rotation and vibrating clitoris dolphin. While the main shape is traditional, the Triple Orgasm Triple Kiss has some new tricks of its own, like the magic love bead on the shaft for added stimulation. The size is large, but not too large to only be used by advanced pleasurists. It's a great size for many women. The power can be adjusted to many different variations. There are 8 levels of rotation and 8 levels of vibration! Add that to three different functions and pulsations for all three motors at the same time, and you are on your way to some really intense pleasure. But the fun does not end there. Take this bad boy to the water too. Its only downfall is the loud sound, but that's somewhat expected from a vibrator with so much power and simultaneous function.The name says it all. This vibrator might just be the one to bring you to multiple orgasms.
Material / Texture:

The Triple Orgasm Triple Kiss is made of plush TPR and ABS plastic. The plastic is thick and durable The teal color is unique as well. The TPR says it is unscented, but it does have a faint smell of citrus. TPR is latex and phthalates free, as well as hypo allergenic. This particular TPR is very smooth and silky. While it is not sticky, it does have some drag and requires lube for most. Some might only need water and their own juices. While TPR is a lot like jelly and is much safer for your body, it still is not completely nonporous, so it cannot be sterilized. A condom should be used if sharing and is still a smart idea for solo use. Since the TPR does have drag, it also attracts lint and should be rinsed before use.

Material:

Plastic

/

TPR

Material safety

Texture:

Beaded / Bulged / Smooth

Safety features:

Food-grade material / Hypo-allergenic / Latex free / Phthalates free

Design / Shape / Size:

The size of the Triple Orgasm Triple Kiss is slightly above moderate. It is about 9 3/4" long, but only 5 1/4" of that is insertable. This should be enough for most women, but won't fill the women who like an extra amount of girth or length. The shaft is about 1 1/2" in diameter and about 4 3/4" in circumference. The head is not as large as the rest of the shaft and the thickest part is where there is the added "magic love bead". This metal bead protrudes from the rest of the shaft and has extra TPR nubs on it. The head is about 1 3/8" long and the bead is 2" from the tip.

The middle section has three rows of non jamming beads. The beads have plastic discs in between them that help reinforce their strength. The TPR material is thin here so that the beads can be felt against the vaginal wall. The clitoral attachment is attached at about 5 1/2" down and the tip of it touches at about 3/12" down. It has a lot of flex though. The clitoral attachment is a dolphin shape. Its large size makes it better able to hit more clitoral area. It has its own vibrating bullet inside of it so you won't be skimped on power derived from the shaft.

The anal stimulator is also attached at about 5" down. It will tickle the external anus and has raised nubs on its tip. It is much too loose to be inserted. It also has its own micro bullet inside of it that provides a lot of vibration despite its size.

The control panel is very simple for the amount of functions this baby has-over 500+ combinations! There are 6 buttons. It has a designated on/off button. After that, raise the vibration or rotation level up or down. There is then a function button that will do patterns at whatever level it is on at that time. All of this corresponds with LED lighting! The base unscrews to have a plastic tray slide out. Three AA batteries can be easily inserted and the cap screwed back on.

The design is obviously not discreet due to its size and phallic shape.

Color:

Blue / Clear

Length:

10"

Insertable length:

4 1/2"

Circumference:

4 1/2"

Diameter:

1 1/2"

Clitoral attachment shape:

Dolphin

Weight:

10 oz

Functions / Performance / Controls:

The vibration and rotation of the Triple Orgasm Triple Kiss can be controlled independently. The clitoral and anal attachments have separate controls than the rotation. There are 8 levels of each, plus additional patterns at each level.

-Level 1-4 of the vibration is already strong and loud. This is enough to finish most women and might already be too much for a woman who is very sensitive. The anal attachment vibration can be felt from level one as well.

-Level 5-7 is a major jump in power and will be more than enough for most women, if not all! The vibration is very buzzy however, and therefore might be painful to some. The noise level increases as well and can sometimes rattle in certain positions.

-Level 8 HOLD ONTO YOUR HORSES! This level is not for the faint of clitoris and can only be used by the most adventurous of female genitalia.

The rotating beads also swivel the entire shaft in 360 degree circles. Each level from 1-8 slightly increases the speed of the rotation. Unfortunately, if you have a tight vagina or strong vaginal muscles the rotation can be stopped using kegels. If you are able to relax, the rotation is quite stimulating.

Don't forget that this toy can go in water. It is probably best used in the shower and not submerged however.

Functions:

Pulsating / Rotating / Vibrating

Special Features:

Light indicators
Multifunction
Multispeed
Powerful
Texturized
Waterproof

Control type:

Built in control pad

Powered By:

Aa-3

Care and Maintenance:

This toy is fairly easy to clean. Again, use a condom if you want to share. You should always clean it with soap and warm water and/or a toy cleaner since it cannot be sterilized. The material can retain smells so you may want to use a non-fragranced soap. There is not a lot of contouring to the head or shape, but some attention should be paid to the body of the vibrator. To store, let it dry and then return to the package. DO NOT store next to similar materials. They will melt together. You can use any kind of lubricant though.

Packaging:

The Triple Orgasm Triple Kiss comes in a simple cardboard box. There is no plastic shell to keep the toy in place. There are plenty of pictures of the toy that show the different parts of it. Warranty information is provided as well.

Personal comments:

I love this vibrator! I love it so much that it caused me to throw out two of my older jelly rabbit toys. The material is so soft that I didn't even need lubrication. I have always wanted to try a triple stimulation rabbit vibration, so I was really excited for this. The anal stimulator was an amazing addition to this traditional vibrator. I am not so sure that the extra stimulation bead added all that much, but I loved this vibe anyways. I was surprised that my normally sensitive clitoris was able to handle the middle registers of this vibrator's power. It is VERY loud though. Honestly, that is the biggest con and pretty much the only con. If it were a bit quieter, it would be thee Holy Grail of rabbit vibrators.