California Exotic True love - Rabbit vibrator from California Exotic

Product Details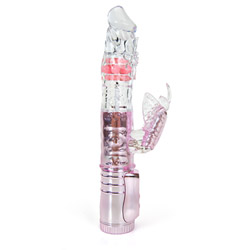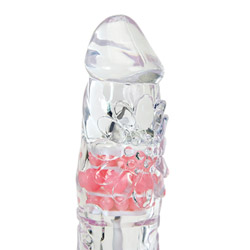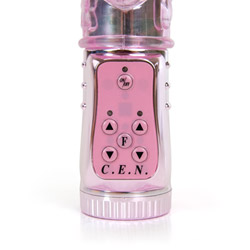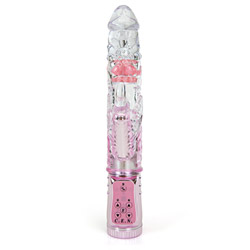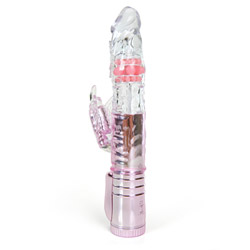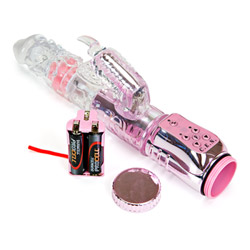 Summary:
True Love is a well designed vibrator which could only be improved by higher quality construction and materials. For ladies looking to stimulate several places at once, this is toy for you. The strength of vibration is great can be combined with the autonomously moving cock for even more fun.
Pros:
Provides excellent stimulation to all the right places, is waterproof and easy to clean.
Cons:
Material quality is less safe than others on the market, the motor could be of higher quality.
Best use:
California Exotic's True Love is a combination clitoral and penetrative vibrator. It's multifunction and multi-speed capabilities make it ideal for someone who wants a slightly "stepped-up" toy with a couple bells and whistles. The shaft has a wider girth and would satisfy someone who enjoys the fullness of thicker dong.

The motor does not simply vibrate this toy, as you would find classic vibrator, but rather rotates three sets of beads within the shaft and causes the end of the cock rotate as well, creating an extra sensation of fullness and internal stimulation. The combination of the spinning beads with the motion of the head creates G-Spot stimulation as well. The vibrations come from a butterfly perched atop the dong and are a perfect accompaniment for clitoral or superficial anal and perineal stimulation. If applied to the clitoris, the butterfly's wings will also spread over the labia for an intensified vibration.

While the True Love is certainly designed for women seeking more than a traditional vibe has to offer, men and women alike may appreciate the rotating beads and cock head for anal play instead. Because it is waterproof, the True Love could just become your favorite all purpose vibrator, to be used solo in the shower or in bed, or with its spinning beads controlled by another lover.
Material / Texture:

The TPR material that True Love is mode of has a slightly sweet smell, and out of the box is coated with an unpleasant residue that is somewhat greasy. Once washed with soap and water, the smell decreased and the manufacturing residue rinsed away. After several uses and washes, the once crystal-clear material that makes up the body of the shaft became a little cloudy and also tacky to the touch.

True Love offers much in the texture department, including a raised daisy pattern at the end of the shaft which provides impressive g-spot stimulation. The butterfly's wings have raised nubs similar to the daisy's pattern which can placed against the vulva for external tickling. These textural features will be appealing to novice or experienced users.

Material:

TPR

Material safety

Texture:

Nubbed / Ribbed / Textured head

Safety features:

Hypo-allergenic / Latex free / Phthalates free

Design / Shape / Size:

I absolutely love everything about the design of this vibe. It successfully provides full vaginal, g-spot, and clitoral stimulation, and can even be flipped "up-side-down" during use so that the butterfly's antenna switches gears from clitoral stimulation to anal tickling. I'd never used an "animal" vibe before, not really seeing the appeal of having an elephant or dolphin diddle my lady parts. However, True Love has converted me with its erogenous butterfly which is eager to please. The butterfly's design is flexible, so the user can apply as much or as little pressure as she desires to which ever area the butterfly is working on.

The fullness of the shaft is very pleasing whether the motor is running or not. I know that even at the beginning of my interest in sex toys, I loved the feeling of a big, fat dildo. So, even for a novice who is isn't intimidated by a slightly larger size, this toy is a great choice. More experience toy users may be deterred by the material (TPR) and the durability of the shaft's motor, which could be of better quality. Personally, I'm not a huge fan of True Love's cutesy design and mirrored base, but that's purely a matter of taste. I know plenty of girls who would embrace the aesthetics of this baby pink toy.

Color:

Clear / Pink

Length:

10"

Insertable length:

5 1/2"

Circumference:

5"

Diameter:

1 3/8"

Clitoral attachment shape:

Butterfly

Weight:

1 lb

Functions / Performance / Controls:

True Love has two main functions: external vibrations provided by the fluttering butterfly, and internal rotation of the spinning beads in the shaft and the head of the cock itself. Each is controlled separately and has 8 speeds. Even the lowest speeds are quite pleasurable, and it's fun to work up to the higher intensities. Additionally, there functions can be set to consistent vibration, slow intermittent vibration, or fast intermittent vibration. The controls are straight forward and easy to understand after a few seconds of experimentation.

The twirling cock head and beads were a new feature to me. I found that by turning the motor on before insertion, the cock would drill its way into my pussy with the just the slightest pressure and support from my hand on the outside. Once in my body, the spinning head provides a gentle fuck without the need for me to even touch the toy itself. Of course, just like any phallic toy, the user can provide her own good old thrusting if she pleases.

One criticism I have of the beads is that the motor that drives them is not powerful enough to stand up to my Kegeling against in. If I squeezed those muscles, I could hear and feel the beads slowing down or stopping. It would be an enormous improvement of functionality for the motor to stand up to some resistance.

True Love is a noisy and indiscreet toy, for sure. While its noise could be covered up by the covers and white noise like a fan, it is sure to be heard across the room or through a lightweight door in a quiet house.

Functions:

Rotating / Vibrating

Special Features:

Multifunction
Multispeed
Two motors
Waterproof

Control type:

Built in control pad

Powered By:

Aa-3

Care and Maintenance:

Because this toy is easy waterproof, it can be easily washed with soap and water. I prefer to wash with soap and water and then wipe down with alcohol, but the second step could be forgone if it's washed antibacterial soap. Wipes designed specifically for toy cleaning could be used with the True Love, but due to the detailed texture, complete with bumps, nooks, and crannies, a spray on cleaner is probably more appropriate.

TPR can be used with water or silicone based lubes.

Because True Love has a slight odor and a sticky surface, it would be a good idea to store it away from other toys, wrapped in its own bag (even an old sock will do). A lint free bag would be ideal, since the sticky cock likes to hold on to stray hairs and lint.

For those concerned about material safety, and especially those who share toys or use them both anally and vaginally, consider using a condom over this slightly porous material.