Summary:
The Silicone Remote Control Butterfly opens the door to so many naughty possibilities. This harness keeps the butterfly-shaped vibrator on all the essential spots so it can stimulate my clit, labia, and vaginal opening simultaneously! With a remote controlling and the seven vibration patterns, solo users can enjoy a hands-free experience, while couples can explore the thrills of discreet public play!
Best use: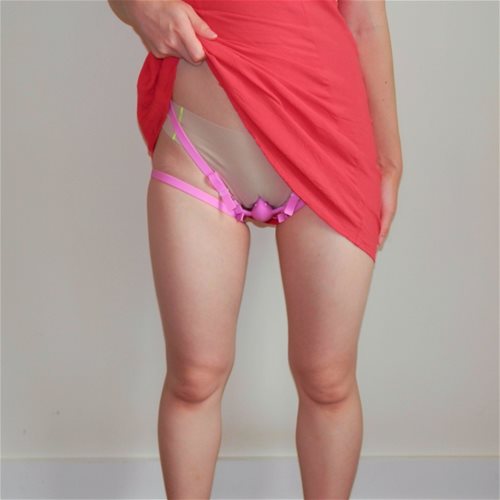 The Silicone Remote Control Butterfly is a harness vibrator. The butterfly-shaped vibrator can be strapped onto your pelvis. Once the straps are adjusted, the body of the butterfly will push your pussy lips apart, the nose will press against your clit, and the tail will stimulate your vaginal opening. Even through panties, the vibrations will stimulate all the essential bits! The remote control activates the vibrations from far away. This toy has so many naughty possibilities. While this toy can definitely be used in a bedroom for a steamy night in with your significant other, this harness allows you to take this toy outside the house. Discreet public play can be sexy – the fear of getting caught doing something naughty is a huge turn on! Whether you're in the grocery store, the mall, or a restaurant, this toy can be worn under skirts or sweatpants without being detected.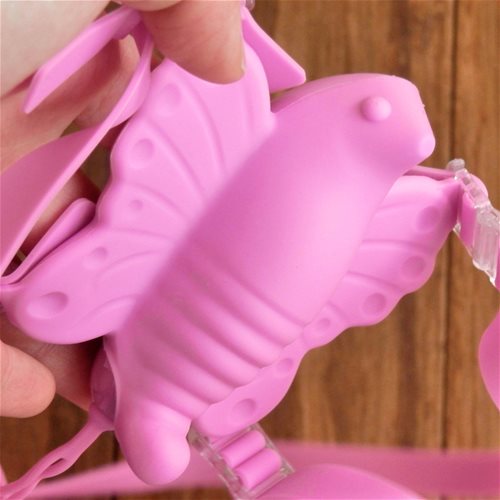 This product is designed for females, so I'm not sure how it would be worn by males. You can control the remote, or you can hand it off to a friend, so this toy can be used solo or by couples. This toy gives you the option of hands-free vibrations! Unlike a wand toy where you need to hold the vibrator to your clit the entire time, your hands can take a break with this toy. Your hands will be available to do more important things like flipping pages in your favorite erotic novel or clicking through the naughty parts of the web. However, I think this toy would be way more fun with a partner. Or better yet, get a bunch of your kinky friends to pass around the remote in a crowded place, so you never know who is in control of your pleasure.
Material / Texture:



This toy is primarily made from silicone. It makes me happy to know that, when I wear this harness without panties, the material against my private parts is body-safe and non-porous. There is a bullet vibrator inside the body of the butterfly vibrator. The bullet is made from plastic. However, when inserted into the butterfly's body, the plastic will not come in contact with your body.



The straps are also made from silicone. In general, I found that the silicone material helped prevent the straps from sliding down my thighs. However, the thin straps twisted easily when I moved around and became uncomfortable after a while.

Click this link to learn more about silicone.

Material:

Silicone

Material safety

Texture:

Velvety

Safety features:

Hypo-allergenic / Latex free / Non-porous / Phthalates free

Design / Shape / Size:

This toy is adorable. The body of the toy looks like a butterfly, with wings and all. I found that the wings spread out the vibrations, so my labia were also stimulated. The harness straps attached to the wings. At first, I was confused by which strap was supposed to go where. I found that the toy fits best when I slipped the long strap around my waist, with the butterfly's face towards my body. Then, I stepped into the leg straps and pulled those up my legs. The leg straps sat high on my thighs, just below my butt cheeks. I thought they helped showcase my butt, which I really enjoyed!



The vibrator fits my body perfectly, hitting my clit and vaginal opening at the same time. Perhaps on smaller women, this might stimulate the clitoris and anus. Larger women may be able to wear this harness and have vaginal sex simultaneously! On my body, I would only be able to wear this harness for anal sex, unless a partner pushed the butterfly up and out of the way to make room for his cock.



The straps were completely adjustable, so they would surely fit most body types. I needed to tighten the straps significantly. However, there was still room to tighten the straps even more. I looped the excess strap around the plastic buckle to keep it out of the way. I found that the straps twisted very easily and the twisted straps caused discomfort and pinching. Wearing tights can help with this issue; however, I preferred to use this toy without a barrier between my pussy and the vibrations. I wonder if wider straps or straps made from fabric would fix this issue.



The bullet vibrator is easy to insert and remove. It comes with a silicone loop on the end that makes removal as simple as a tug. You could even use the bullet as a toy on its own. According to the product page, this toy is waterproof, though I am unsure whether the company expected the user to remove the bullet before washing or not. Imagine all the possibilities with a vaginally insertable, remote controlled vibrator! It would be like getting two toys for the price of one!

Color:

Pink

Length:

4"

Size:

One size fits most

Functions / Performance / Controls:



The remote control on this toy is pretty small, only slightly larger than a contacts case. The remote has two buttons, the function button, and the power button. When you press the power button, the light on the remote turns on, and the butterfly starts vibrating at the first setting. The function button cycles through the seven different settings on this toy. When you're done, a single push of the power button will turn this toy off.



Vibration Patterns
1) Steady Low – This setting surprised me when I first pressed the power button since the butterfly shape covers so many sensitive spots!
2) Steady Medium – This setting awakened my nerves and made me feel all hot and bothered.
3) Steady High – This was my favorite setting. The vibrations weren't strong enough to cause discomfort; however, they offered a great deal of stimulation!
4) Staircase Low to High – Patterns are not my favorite, though I enjoyed how this setting ramped up the sensations every other second.
5) High Pulses – I liked how this setting made me feel like my pussy was throbbing.
6) High Fast Pulses – This setting reminded me of a hummingbird's wings. I liked the thrumming sensation this setting offered.
7) Three Fast Medium, One High – I liked how this toy offered so many variations. However, I found this setting too distracting for me.

Watch the video review to listen to each vibration setting.

I was extremely pleased with this toy's performance. I love the versatility of the vibrations patterns and situations where this toy can be used. I would warn users that this toy is by no means silent. On the highest constant setting, the vibrator emits a sound similar to an electric toothbrush. The patterns sound nothing like phone vibrations, so if you are in a quiet room, you would not be able to use that excuse. When this toy vibrates against a hard surface, the noise becomes much louder, so if you are looking for some discreet public play, make sure you're not sitting on a hard surface when the vibrations are triggered.



I found that the remote could be used from across the building (over 20 feet away)! I tried this remote through concrete walls, clothing, and sheets, and it still turns on the vibrations! The only time that I lost connection was when I put the butterfly harness in the refrigerator and attempted to use the remote through the air-tight door. The harness did not turn on. In fact, even when I opened the door, the harness would not vibrate until I turned the remote off and on again.

Functions:

7 vibration patterns / Vibrating

Special Features:

Batteries included
Powerful
Remote controlled
Removable bullet
Vibrating
Waterproof

Control type:

Remote control

Powered By:

A23-1 / LR44-3

Care and Maintenance:

Since the majority of this toy is silicone, you can remove the plastic bullet and clean the rest of the toy in the sink with warm water and soap. The seal on the bullet seems pretty solid, so I would feel comfortable washing that with soap and water as well. Make sure the toy is completely dry before storing it. I would recommend removing the batteries when storing this toy so that the batteries will last longer.



The toy comes with three L1154 (or LR44) batteries. I found that these button batteries wanted to pop out of the battery compartment, which made replacing the cap difficult. On top of that, the cap had indents that needed to line up exactly for the bullet cap to screw on. I didn't have any L1154 batteries in my house, so I was glad the toy came with batteries included.



The remote uses a single L1028 (or A23) battery. This battery is smaller than an AAA battery, and I don't believe I have ever used this type of battery before. Personally, I would have preferred if this toy used batteries that I had laying around my house, like AAA or AA batteries. The back of the remote has a panel that slides off to insert the battery.

Care and cleaning:

Soap and water / Toy cleaner

Packaging:



This toy came in a plastic bag. When I cut open the bag, small bags of batteries, a remote, and the harness tumbled out.



There were no accompanying instructions. I do think instructions would have been nice to explain how the harness should be worn. However, I managed perfectly well without them.

Other

Closure:

Buckle

Style:

Butterfly