Fun Factory Astrovibes Cancer - Traditional vibrator from Fun Factory

Product Details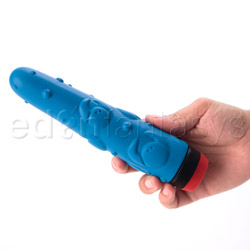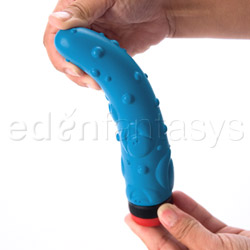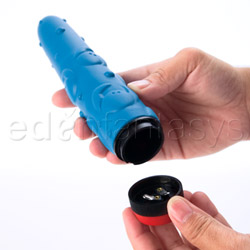 Summary:
FunFactory's Astrovibe Cancer makes a fabulous and exciting addition to the seasoned sex toy expert's collection of playmates or the beginner looking for a toy to help her learn the art of self-pleasuring. It's a well-made, quality toy with a wide variety of vibration intensity to do everything from tickle your feathers to give you the most earth-shattering orgasms of your life. I LOVE this toy. And in the past, I have not been a FunFactory fan, so I feel like that says a lot.
Pros:
Powerful motor; Great texture for added stimulation; Body-friendly; Whimsical, cute design.
Cons:
None that I've found so far, except maybe that this Mister Mister isn't waterproof.
Best use:
Okay, so it's not THAT rare for me to talk about falling in love or lust with my sex toys, but in the past I've been heartbroken by my FunFactory vibes (their motors would randomly burn-out on me like on minute 37 of first-time use), and I've developed some trust-issues and commitment-phobia accordingly. But for all you beautiful people who read these reviews, I was willing to take the plunge back into the scary territory of dating (and sleeping with) an ex. Before I knew it, FunFactory's Astrovibe was in my bed. What sign was he? A dashing Cancerian prince, if you must ask! And we were going at it pretty hot-and-heavy.

I'm sure any woman would adore this Cancer lover. He knows how to stimulate you in all the right places, internally and externally, too. He has a wide vibration range from barely-there to all-the-way-home-baby, and is good for those needing patient lovers (though it should be known that the rumor is true; my-oh-my is he a thick one, girls, especially toward the base of his shaft if you know what I mean!) and those wanting a more experienced play partner to take them on the ride of a lifetime!

The Astrovibes Cancer would also make THE perfect gift for the sex-toy-lovin' Cancerian gal in your life. Just an idea!
Material / Texture:

FunFactory's Astrovibe Cancer is made of high-quality, textured silicone with a plastic spin-dial base and battery compartment. There is no odor to the toy at all, which is refreshing. (I know I hate stinky play-partners!) This Cancerian lover has a fascinating texture and comes in a deep turquoise.

He's covered in little bulged nubs like under-the-sea treasures and the most adorable little cancer crabs that you ever did see! (Don't worry; that adorable cuteness turns into sheer sexiness when he's inside of you, ladies.) And oh my goodness do those nubs and crabs add extra stimulation! I had no idea what I was getting myself into. Seriously. I was so stimulated by the extra texture--at first--that I had to turn the power DOWN on this baby, and that NEVER happens to me!

That said, I would say that this Mister Cancerian Astrovibe lover is probably geared toward more advanced users when you take the texture into account. Unless, of course, you're an extremely, extremely adventurous beginner!

Material:

Silicone

Material safety

Texture:

Nubbed / Smooth

Safety features:

Food-grade material / Hypo-allergenic / Latex free / Non-porous / Phthalates free

Design / Shape / Size:

I adore the design of the Cancer Astrovibe. Mr. SexyCancerLoverVibe is tapered, so he's more narrow at the tip, making insertion easier, and then he flares out to fill up your pussy with his oh-so-delightful (and, at times, oh-so-surprising textured bulges and studs and li'l sea creature patterned design). He has a 6.5-inch insertable length, and another inch leftover for you to hold on to for thrusting and fucking, manipulating his vibration-intensity and all those other oh-so-important things. He has a 5.25-inch circumference, and though he seemed a little big for me at first, once I warmed up with some clitoral stimulation, he slid right in and I was so very happy to have reunited with this lover.

Color:

Turquoise

Length:

7 1/2"

Insertable length:

6 1/2"

Circumference:

5 1/4"

Diameter:

1 5/8"

Weight:

10.5 oz

Functions / Performance / Controls:

The vibrations of this mister man travel from the base of his shaft all the way to his very tip. The Astrovibe Cancer is a multispeed/multi-intensity vibe controlled by a turn-dial at the base of the toy. I love that there are vibration intensity options, because this baby can really bring it (and it's nice to have the choice to calm him down and take a breather for a bit)! The controls are definitely convenient and easy to access, and I haven't had any problems with accidentally turning him off at inopportune moments or changing speeds when I didn't intend to, like I've had with other toys--so yay!

Mister Astrovibe Cancer is noisy if he's not inside of you; but what lover isn't? I mean... it's probably just because he knows where he belongs and that his job is to bring you pleasure; let's face the facts! Inside, he just makes a white-noise hum, similar to if a flesh-and-blood partner was inside of you, thrusting and moaning and moaning and thrusting. Okay, well probably quieter than that. And with less emotional baggage. Easier clean-up. And no STD-testing required. Oh yeah, and you don't have to bring him home to meet the family. Win!

Functions:

Vibrating

Special Features:

Free samples
Multispeed
Texturized

Control type:

Dial-base

Powered By:

Aa-2

Care and Maintenance:

FunFactory's Cancer Astrovibe is hypo-allergenic, latex-free, phthalates-free, and entirely non-porous. Hooray for body-friendly, body-safe toys! Silicone naturally repels dirt and bacteria, but tends to be a lint-magnet, so it's a good idea to store it in the molded plastic case inside the box it comes in or inside some other sort of sealed container. Please use water-based lubes only with this vibe. And if you plan on sharing this toy, use condoms to help prevent the spread of infection. (Note: Make sure that your brand of condoms do not contain a silicone lubricant or they can harm this toy. ONE Condoms, for instance, are incompatible with silicone toys, y'all.)

Experience:

If you're looking for one heck of an orgasmic trip, throw the Eroscillator 2 in with the Astrovibe Cancer. Oh-my-G-d. Yes; it's THAT good. The end.