Evolved Bendable flame - Traditional vibrator from Evolved

Product Details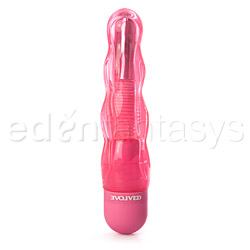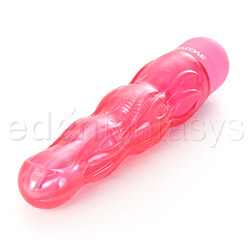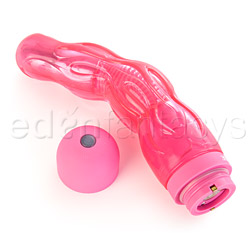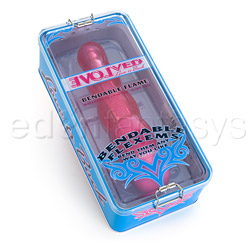 Summary:
When you choose the angle that works best for you, you can't lose! The Bendable Flame is an easy to use, adjustable, 3-speed vibrator made out of a subtly-textured, soft TPR. The bendable joint holds its shape like magic for hitting the g-spot, or even just for more ergonomic external stimulation. The soft, graduated bumps along the length of the toy add yet another dimension to this well-designed vibe. Don't be surprised if the Bendable Flame sets your bed on fire - with passion, that is!
Pros:
Soft material, holds its shape during use, strong vibrations, easy push-button.
Cons:
Too soft to provide firm g-spot stimulation, loud.
Best use:
Whether you're after your g-spot or your clitoris, the Bendable Flame will work with your unique anatomy to bring you the pleasure you've come to expect from your toys in this time of technologically sophisticated sex toys. But the design innovation here is relatively simple: this soft TPR vibrator has a bendable joint about halfway down its length, allowing you to customize your experience.

When used externally, the joint makes it easier on your wrist when you rub the vibrating tip against your clitoris and vulva. The subtly-raised flame texture near the tip of the toy adds to the sensation. Without lube, the TPR has wonderful drag, which can be great for a warm-up. The addition of lube makes this toy surprisingly slick. The three speeds make it easy for all but the steeliest-clitted of ladies to find a level of vibration that will get them off.

But this toy is also a fantastic insertable vibe. Its vibrations are concentrated near the tip. When combined with the bendable aspect of the toy, this makes it fantastic for bringing vibrations directly to your g-spot. Whether your g-spot is shallow or deeper within your vagina, the flexibility of this toy will allow you hit the right spot. The graduated bulges along the toy make for delicious in-and-out thrusting when the toy is pulled straight. It seriously is like having multiple toys in one.
Material / Texture:

The TPR material is translucent, odorless, and slightly sticky to the touch. While it doesn't attract lint as much as some other materials, fingerprints do seem to accumulate on the surface between washes, making the otherwise crystal-clear material somewhat cloudy.

The flame texture that runs along the length of the vibe is raised enough to add some slight sensation, but is not so extreme that it will bother anyone. I personally could only feel it while using it as an external vibe, and it felt great!

Material:

TPR

Material safety

Texture:

Ribbed / Smooth

Safety features:

Hypo-allergenic / Latex free / Phthalates free

Design / Shape / Size:

The bendable joint is magical. Looking at it and playing with it in my hands, there was no way I would have guessed that it would hold its shape during use as a g-spotter. But somehow, it just does. Perhaps it has something to do with the fact that the strong, concentrated vibrations don't require very hard thrusting to be effective.

As far as deep thrusting is concerned, the bigger bulges near the base of the toy would be satisfying for most users. The toy is long enough that I couldn't get it all the way in my vagina to test out the bottom bulge, though!

Length:

8 1/2"

Insertable length:

6 1/2"

Circumference:

6"

Diameter:

1 3/4"

Weight:

1 lb

Functions / Performance / Controls:

The controls are very simple: a single button at the base of the toy cycles through the four settings: off, low, medium, and high. While the low setting is a bit weak for me, there's no reason why someone who prefers light vibrations wouldn't like it. As I said earlier, the high setting is relatively strong for a vibrator of this size, and the vibrations are all nicely concentrated in the tip.

Unfortunately, this vibe happens to be loud. Once inserted, the sounds are dampened somewhat, but I would not recommend this toy to someone who does not have a whole lot of privacy.

While this toy claims to be waterproof, I did not submerge it fully in water. The battery compartment is sealed with an O-ring, which many companies claim makes toys waterproof, though water often leaks in anyway, making them useless.

Functions:

Vibrating

Special Features:

Bendable
Multispeed
Waterproof

Control type:

Push button

Powered By:

Aaa-3

Care and Maintenance:

This toy is made out of TPR, so it should be washed with mild soap and warm water after each use. It can't be sterilized, so do not share this toy with anyone else (unless it is covered with a condom), and do not use this toy anally (even a condom would not make it safe as it lacks a flared base).

Be careful that you store this toy away from others as toys of different materials can sometimes react poorly to one another.

The Bendable Flame can be used with your choice of water- or silicone-based lube.

Batteries should be removed between uses to prolong their life and that of the toy.

Packaging:

The Bendable Flame comes in a nice metal tin with a see-through plastic cover. It doesn't come with instructions or much useful information, but it makes for really nice toy storage. With the molded plastic insert removed, the tin has more than enough room for several toys or bottles of lube.

Personal comments:

I personally don't get as much out of vibrations on my g-spot as others do, but I have had much success with the Bendable Flame on my clit while I use a non-vibrating insertable. The angle of the bent shaft of the Bendable Flame made this a lot less complicated than with some other external vibes.