California Exotic Dr. Laura Berman Ada - Traditional vibrator from California Exotic

Product Details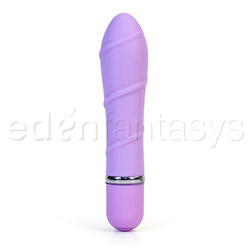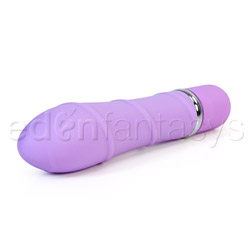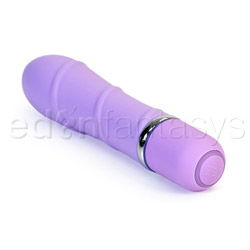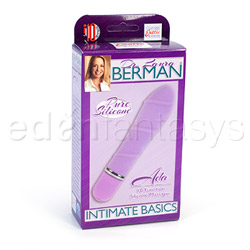 Summary:
Ada is worth every penny! You could use her everyday and not get sick of her many functions and smooth texture. She is made of quality silicone that could last you forever so you're bound to get your money's worth.
Pros:
Powerful
Smooth
Silicone
Cons:
Push button is overly sensitive
Best use:
Dr. Laura Berman ® 10-Function Massager Ada is a traditional vibrator by California Exotics with 10-Functions what's not to love! Ada is targeted toward women for internal and external clitoral use. I would not advise using this toy for internal anal penetration as it does not have a handle or flared base. I have found Ada can be used by men or women in a variety of ways such as: to stimulate breast, nipples, outside of the anus (with care), and even the shaft of a penis. I personally like using Ada for couple's play; Ada can be used for solo play as well. Ada is small enough to carry in a makeup pack and is waterproof this makes her capable of being used anywhere.
Material / Texture:

Ada is made of pure silicone giving her a smooth, velvety feel. When I opened Ada she didn't have any noticeable scents or tastes. Ada has a smooth soft shape and perfectly placed swirled ridges that were designed with a woman's body and hotspots in mind.

Being made of silicone also means she is non-porous and easy to clean. Silicone can retain heat and since Ada is waterproof you can place her in the warm water before using. This will give Ada a get nice warm feeling.

Material: Silicone
Material safety:10
Texture: Swirled
Safety features: Food-grade material / Hypo-allergenic / Latex free / Non-porous / Phthalates free

Material:

Silicone

Material safety

Texture:

Swirled

Safety features:

Food-grade material / Hypo-allergenic / Latex free / Non-porous / Phthalates free

Design / Shape / Size:

I love the design of Ada with her lavender colored silicone and perfectly placed ridges. Ada isn't designed to look realistic. Ada has a bulged tip and I found I can use her for g-spot stimulation. She has perfectly placed spiraled ridges about a 1" apart that aren't very large, which works great for me as they don't irritate but hit my hot spots with fluency.

Being at 5 1/4" in length (with an insertable length of 4") and at her narrowest she has a diameter of 1" and widest 1.25" she isn't too long or wide, but she may be small for some. However she is perfect for me, I would recommend her to beginners or advanced alike.

There is a silver ring and an "O" ring separating the main portion of the massager from the satin finished controller that houses the battery compartment and the push button. The plastic "O" ring is there to keep water out; this is what makes Ada waterproof. You're not supposed to insert her that far. However, it does give her a sleek look!

Ada has a satin finish controller with a push button that allows you to cycle through her 10-functions. Then hold the push button for 3 seconds to turn off.

Ada isn't discreet when in sight. She is easy to hide in a make-up bag or in your bags if you're traveling.

Color: Lavender
Length: 5 1/4"
Insertable length: 4"
Circumference: 3 3/4"
Diameter: 1 1/4"
Weight: 0.2 lb

Color:

Lavender

Length:

5 1/4"

Insertable length:

4"

Circumference:

3 3/4"

Diameter:

1 1/4"

Weight:

0.2 lb

Functions / Performance / Controls:

The battery compartment is located below the silver ring on the satin finished controller. Unscrew the controller and you will see a label inside telling you how to insert your battery. Ada requires one AA battery and it wasn't included. Just slide your battery in then screw the controller cap back on and then get ready for some fun.

Once the batteries and cap are in place press the push button, this controls Ada. You will note when you first press her push button controller lights up and synchronizes with her vibration, pulsation, and escalation.

Ada has 10-Functions that allow you to vary your levels of vibration, pulsation, and escalation. They go something like this:

1. High speed and solid vibration.
2. Medium Speed and solid vibration.
3. Low Speed and solid vibration.
4. Repetitive escalating vibration from low to high.
5. Pulsating (short bursts) low speed, low intensity.
6. Pulsating (short bursts) high speed, high intensity.
7. Pulsating (short bursts) medium speed, medium intensity.
8. Pulsating (long bursts) medium intensity, but thuddier vibration than 5-7.
9. Pulsating (long bursts) high intensity.
10. Ultra low (long bursts) pulsating
*Hold push button for 3 seconds to turn off.

Ada was awesome with her many functions. Most massagers I use on high speed and solid vibrations. With Ada I find myself enjoying and experimenting with all her functions, I do prefer functions 1,4,6,8. I get the best vibrations in the bulged tip. I have found at times the vibrations can make my hand tingly or numb.

Ada is great but her push button can be annoying because it is very sensitive. I like that it's easy to choose a function but you may find yourself accidentally changing functions at the wrong moments.

Ada is a little on the noisy side, but it's easy to muffle the sound. You can't hear her through closed doors.

Performing great in water, there are no complaints here.

Functions: Escalating / Pulsating / Vibrating
Special Features: Multifunction, Waterproof
Control type: Push button
Powered By: Aa-1

Functions:

Escalating / Pulsating / Vibrating

Special Features:

Control type:

Push button

Powered By:

Aa-1

Care and Maintenance:

Ada is easy to care for and can be cleaned using your favorite toy cleaner, toy wipes, or simple antibacterial soap and warm water. For a more thorough cleaning isopropyl alcohol (also known as rubbing alcohol) is safe to use. To sterilize, you may wipe it down with a 10% bleach solution to 90% water. There isn't too many crevices that need to be paid close attention to aside from the area where the control button is and around the silver ring. Ada can be submerged during cleaning.

I have a pouch I purchased to store it in. Ada is small enough to discreetly store just about anywhere.

It is recommended that you only use water based lubricants with silicone toys or you could possibly damage the material. You also wouldn't want to store this vibrator with other silicone toys.

I would like to note that in the box there were battery installation instructions that instructed to remove the batteries from Ada after every session to preserve battery life.

Care and cleaning:

Soap and water

Packaging:

The box that this toy comes in is not discreet, but it is small and can be used for storage. If you store Ada in her box you may want to hide it away as it is not discreet. Ada comes in a purple box with her name, picture, and basics information on the front. On the right side of the box is a picture of Dr. Laura Berman and her information. On the left side is information on some of Ada and her possibilities, and on the back you will find basic use and instructions.

You open the box on the top. You will find the vibrator inside in a sealed plastic pouch with battery installation instructions.


I choose to store Ada in a pouch, since I do not want her touching any of my other silicone toys. This is for the same reason that you do not want to use a silicone-based lubricant.

Experience:

Ada provided just the power and vibrations that I needed. I like this toy for couples play, and I actually used this toy internally while my partner held it in and twisted it around gently for different sensations while using a clitoral vibrator at the same time. This was extremely pleasurable and fulfilling. Ada and my bullet assisted me in orgasmic bliss!

I was able to use it on my partner for full body stimulation, Ada worked great for teasing and foreplay. You could use Ada on your partner's shaft, balls, and do some light anal teasing. Do not use this for anal insertion because it has no sort of flared base. My partner found it thrilling.

Just make sure not to push the button unless you want to change functions.