California Exotic Petite couture Euphoria - Traditional vibrator from California Exotic

Product Details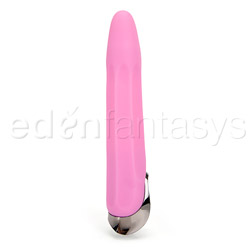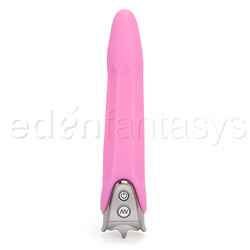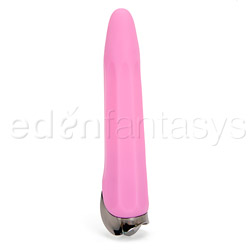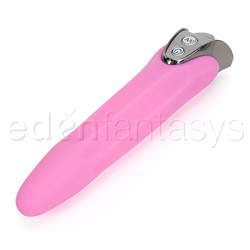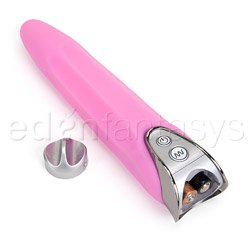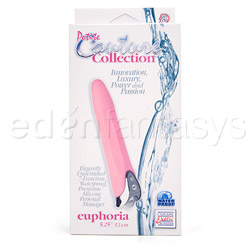 Summary:
The Euphoria is a plush, velvety silicone vibrator with plenty of power to spare. Excellent for any level of sex toy user, it's moderate to slim girth and average length make it non-intimidating to the novice yet easily enough for even advanced users. The Euphoria is waterproof with seven vibrational options, made from hypoallergenic silicone that transmits those vibrations phenomenally. A light up, easy to use control panel with a dedicated on/off button makes using this toy a joy.
Pros:
Silicone, squishy, bendable texture, lots of power, light up, easy push control panel
Cons:
Excessive packaging
Best use:
The Euphoria, from the California Exotics Petite Couture Collection, is everything the full sized Couture Collection is and less. Less large, that is. It's ideal for both penetration and clitoral stimulation and loaded with power and options, just like the full sized; yet it's a bit smaller, a bit more discreet and certainly a bit more manageable for novice sex toy users.
Material / Texture:

The Euphoria is a silicone vibrator made with 100% medical grade Japanese silicone. I did test this by holding a match to it; "real" silicone won't melt or burn at temps under 600 degrees and this one held up without a single spot or marred place. The silicone is soft and matte, with a smooth, velvety, plush feeling. The vibrator is toward the tip of the toy, providing a nice bit of firmness that makes it easy to insert, yet the rest of the shaft is almost squishy it's so soft. The Euphoria isn't floppy in the least but it is highly squeezable and extremely flexible. The silicone ends at the base where you get more firmness due to the motor and a silver colored plastic battery compartment/control panel. Because of the matte silicone and velvety feel, the Euphoria has the exquisite friction and drag against the skin that's often missing with silkier toys. It's also vertically ribbed along the shaft, which makes for subtle but interesting sensations, especially with internal rotation.

Material:

Silicone

Material safety

Texture:

Smooth

Safety features:

Food-grade material / Hypo-allergenic / Latex free / Non-porous / Phthalates free

Design / Shape / Size:

The Petite Couture Collection is designed to be smaller and more discreet than the full sized line and in that it excels. The Euphoria is 7 inches long (five inches insertable) with a 1.25 inch diameter. It weighs in at a third of a pound and is amazingly light even with batteries inserted. Despite feeling light, the Euphoria also feels substantial and dense. The size is perfect for anyone from size queens to novices and anyone in between. There is no curve to the shaft with this toy so it may not be ideal for g-spot stimulation -- though the extreme flexibility may make up for it -- but it's excellent for thrusting penetration and gives amazing clitoral stimulation with just the right amount of friction. The vertical ribbing adds a very subtle texture when using this toy but shouldn't be overly much even if you're sensitive. In fact, using a rotating motion during penetration is quite interesting and pleasant!

Color:

Pink

Length:

7"

Insertable length:

5"

Circumference:

4"

Diameter:

1 1/4"

Weight:

0.3 lb

Functions / Performance / Controls:

The Euphoria is controlled via a light up, push button control panel on it's base. It lights up with a red backlight when in use which makes it easy to see if it's on and where the buttons are, even in the dark. The controls consist of two buttons; a dedicated on/off button (HIGHLY useful if you need to turn it off fast) and a function button. The function button scrolls endlessly through it's seven functions. Batteries (two AAA) are inserted by giving the lid on the battery compartment a twist and pulling it off. Inside, placement of the batteries is clearly marked with + and - symbols and the compartment is sealed with a clear o-ring. To replace the cover, line up the tabs and give it another twist and, voila, you have a waterproof vibrator full of silicone goodness. This toys seven functions range from three levels of straight vibrations (low, medium and high) to four different patterns of vibration. Patterns are fairly standard; a slow escalation, a medium pulsation, fast pulsation and a medium escalation that ends in a steady vroom. Each function performs exactly as it should with plenty of power. I was quite amazed with the level of power this toy gives, especially considering it only uses 2 AAA batteries. It felt every bit as powerful -- though a bit higher and less deep -- as the full sized Couture pieces I own. Vibrations are carried through the silicone very strongly, yet nearly silently, so even thought the vibrator is in the tip, the entire shaft thrums and buzzes merrily no matter what setting you use.

Functions:

Escalating / Pulsating / Vibrating

Special Features:

Multifunction
Multispeed
Waterproof

Control type:

Push button

Powered By:

Aaa-2

Care and Maintenance:

Silicone vibrators can generally be sanitized by wiping down with a ten percent bleach solution or rubbing alcohol and this is recommended if you're going to share between people or orifices without using a condom. If you're not sharing, a soap and water wash is all you need. Silicone tends to pick up lint fairly easily so I'd also suggest a wipe down before use to prevent getting that lint in places you don't want it. Water based lube should be used, silicone avoided unless you do a patch test.

Packaging:

My only issue with the Euphoria (and the petite couture collection in general) is the packaging. It's nice to look at; white with an image of the vibrator, some text and a splash of water. Fairly discreet in that there are no nude women making hot nude women faces but not completely appropriate to leave out in conservative company, either. The real issue, however, is the size of the box. It's fully big enough to fit four or five of these toys inside it and there is no extra packing material to keep the single toy that IS inside of it from banging around. The Euphoria just flopped around in the great big box, all lonely and cold, until I took it out. And though cardboard is recyclable it still strikes me as a waste to use that much material to box a single toy.

Personal comments:

I really can't gush enough about how much I love, love, love the material of this toy. I have a lot of silicone stuff but this one is exceptionally squishy and plushy (thanks Victoria, for the word!) and soft and wondrous and easy to manipulate and bend while still being firm enough to thrust. The Euphoria is also unbelievably quiet; one of the most quiet toys I own. I am highly, highly impressed with California Exotics and their Couture Collections. I would put them right up there with LELO and Fun Factory toys without batting an eye.