Shaki Toys First sight love - Traditional vibrator from Shaki Toys

Product Details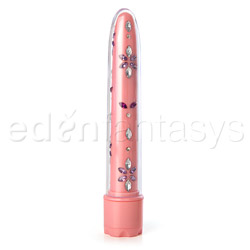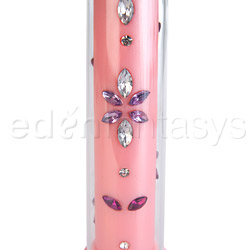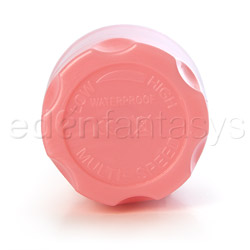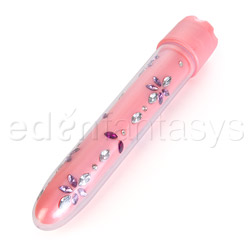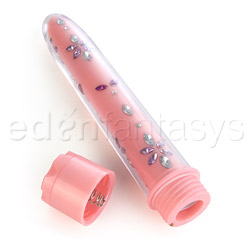 Summary:
This toy will appeal to anyone looking for some sparkly flair on a simple, basic style traditional vibrator. Just keep in mind that this vibrator is more of a novelty item than a well crafted sex toy.
Pros:
Wide range of vibrations, fun design, bright and sparkly.
Cons:
Loud, cheap construction.
Best use:
The First Sight Love vibrator is a traditional style vibrator designed for external clitoral stimulation and vaginal penetration (not at the same time, though). Since it's completely waterproof, this toy can be used in wet locations like the shower or the bathtub in addition to any dry land locations you care to come up with.

With 6 insertable inches and a diameter of 1 1/8 inches this vibrator is certainly substantial enough to be felt. While it shouldn't be overwhelming for the average user, those completely new to penetration or those who are nervous/uncomfortable with penetration might want to check out something a little smaller.
Material / Texture:

This vibrator is made entirely of hard ABS plastic. It is not sterilizable, but it is easy to clean and compatible with any kind of lube your heart might desire. The hard plastic transmits vibrations extremely well, and can provide a nice firm pressure for those who enjoy that sensation. The texture is completely smooth and slick, and the material has no obvious odor or taste beyond a very slight "plastic" scent.

Material:

Plastic

Material safety

Texture:

Smooth

Safety features:

Food-grade material / Hypo-allergenic / Latex free / Phthalates free

Design / Shape / Size:

Overall, the First Sight Love is a fairly standard "traditional" or "wand" style vibrator. The main stand out features here are the pink and white rhinestones studding the bright pink shaft of this vibrator. The rhinestones are glued in little flower-like star-burst designs all along the length of the toy, and there is a clear plastic cover over the stones so that the rhinestones are strictly decorative and the texture of the toy is completely smooth.

The substantial size and bright colors of the First Sight Love make this a vibrator for women who are proud to own a vibrator (or who have a lot of privacy). Good luck convincing your roommate/partner/parent/TSA official going though your bag that this is anything but a (large, sparkly, pink!) vibrator.

Color:

Pink

Length:

7 1/4"

Insertable length:

6"

Circumference:

3 3/4"

Diameter:

1 1/8"

Weight:

4 oz

Functions / Performance / Controls:

The vibration is controlled by a single, very sensitive, dial at the base of the toy. The dial is easy to turn with one hand, which is always convenient. Turning the dial clockwise starts up the vibration at a low hum and moves it slowly up to a surprisingly powerful thump. At the lower settings this toy is fairly unobtrusive - it can't be heard though a thick quilt, for example. But, at the highest setting the noise this vibrator makes rivals a weed-whacker, and it can most definitely be heard though a closed door - even under a blanket and through a closed door.

Turning the vibrator up all the way also causes the inner rhinestone studded shaft to vibrate so violently that the rhinestones actually scratch the inner surface of the clear outer covering, leaving white scratch marks on the clear plastic.

Happily the First Sight Love lives up to its claims that it is completely waterproof. It holds up great to total submersion, which expands the play possibilities for this toy in lots of fun ways.

Functions:

Vibrating

Special Features:

Control type:

Dial-base

Powered By:

Aa-2

Care and Maintenance:

The First Sight Love vibrator is not sterilizable, but it is easy to sanitize. Since it is completely waterproof and made entirely of hard ABS plastic, it is simple to clean with soap and water or a toy cleaner. Hard plastic can also be wiped down with isopropyl alcohol.

The plastic in this vibrator should not react with any other toy materials or lubricants so there are no special storage requirements for the First Sight Love on that count. It is, however, extremely easy to turn this vibrator on accidentally, so it is probably best to store the batteries outside of the toy to avoid draining the batteries and wearing out the motor.

Personal comments:

My first vibrator was a simple wand style vibrator somewhat like this one, and I was quite fond of it. So, I can appreciate the appeal of these traditional style vibrators, even though I have moved on to what I consider more interesting toys. I thought this vibrator was pretty solidly middle of the road in appearance and performance. It would be good for a beginner wanting to try something new. But, the toy lost a star when it started destroying it self from the inside out. It's not nearly as pretty with the clear cover all scratched up by the rhinestones.

Experience:

On the vibrator that I received, the clear plastic cover over the rhinestone studded inner shaft was not attached to the rest of the vibrator. I believe it was meant to be glued in place because there appears to be a thin layer of glue at the contact point between the outer cover and the base of the vibrator, but I could be wrong.

It could be that you are meant to have the option to use just the jewel textured inner shaft if you like a textured surface on you toys, but I really don't think that is the case. I think the plastic jewels have too many sharp corners and are glued down too poorly for it to be a good idea to use this toy without its outer covering. Mine just seems to be broken. Luckily, even without glue the cover doesn't really fall off on its own once it is all the way on.