Doc Johnson Mood powerful vibrator large - Traditional vibrator from Doc Johnson

Mood powerful vibrator large videos
Product Details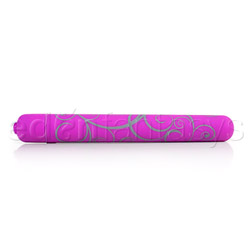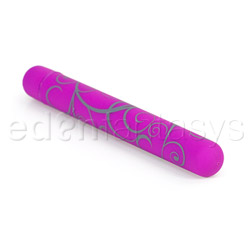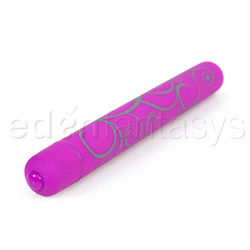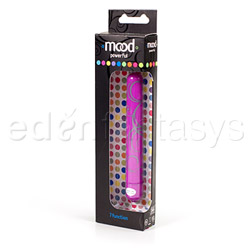 Summary:
While I think there are more powerful bullet vibrators out there and the price may be a bit steep, this vibe does has it's good qualities. Waterproof with unique vibrations and a cool design. The material is body safe and the batteries seem to last a while. I will use this vibe again and I would recommend it to anyone who wanted to add a long, cylindrical vibe to their arsenal. Again, I find this toy to be a great gift idea and/or companion toy.
Pros:
Unique patterns, waterproof, quiet and pretty.
Cons:
Not all that powerful
Best use:
The Mood Powerful is a cylindrical vibe that I feel can be used by anyone. It can be used to stimulate any area of the body, but be careful there is no base to this toy. I think this is a great beginner toy that would serve to pique the interests of women everywhere. It's quite a feminine toy with the colours and designs, I am not sure how many men will gravitate to it.

It is not particularily powerful and the vibrations are not the best when compared to a bullet like the ones that come with Tantus vibrators, but I do find it to be an adequate, waterproof companion toy. The pattern options on the toy are something I found quite unique to my toy collection.
Material / Texture:

This vibe is made of plastic which is latex and phthalate free as well as non-porous. The plastic is smooth, but with a velvet feel to it; similar to the LELO Lily as a comparison. There is very little drag and lube does not slide right off. I believe the velvet texture aids in this which is great if you feel the need to use lube with this toy. The button seems to be a soft rubber-like material; the same as the o-ring on the cap to prevent water from getting in the vibe. There are no seams to be weary of while using this vibe. Because it is plastic, this is rigid toy and care should be used when thrusting.

There was no smell or taste to this product when it was opened; always a plus!

Material:

Plastic

Material safety

Texture:

Smooth

Safety features:

Food-grade material / Hypo-allergenic / Latex free / Phthalates free

Design / Shape / Size:

This vibe is an elongated bullet, though somewhat narrower than the Tantus power bullet I am using for comparison. It is about 5.5 inches long and can be inserted in you whichever orifice you so wish. Be warned, there is no base to this toy and it can and will get lost in your vagina or rectum if you are not careful. The vibe is also quite light. This when combined with the thinness, makes the vibe very easy to carry around in a purse or a bag. It is somewhat discreet, but it is too small to be a toothbrush holder. I'm not sure that you could pass it off as anything else than what it is if someone happened to see it.

The designs on the plastic are gorgeous and feminine. They are simple swirls from the base to the tip of the vibe that vary in size. Quite simply, the vibe is pretty.

A cool design feature is actually the battery compartment. When you open the cap on the bottom of the vibe and give a good flick downwards of your hand, the battery compartment slips out into your hand and shows you exactly how to place the batteries in and then you slip the whole thing back inside. It is super convenient. The hard part is getting it out. The quick wrist flick has been successful for me. You'll also notice a piece of rolled up cardboard in the compartment. I pulled this out and it says to not remove it. I suspect it helps keep the battery compartment where it needs to be.

This toy is one of the best at keeping its inner components dry. The cap screws on tightly and meets the o-ring perfectly. I have not noticed ANY water inside the vibe at all.

Length:

5 1/2"

Insertable length:

4 1/2"

Circumference:

2 1/4"

Diameter:

3/4"

Width:

3/4"

Weight:

0.1 lb

Functions / Performance / Controls:

The vibrations of this toy are buzzy to say the very least, but I do believe that there is room in the toy world for buzzy vibrations. Some people simply prefer them. The least buzzy is the lowest setting and the vibrations get buzzier as you cycle through them.

There are the standard three straight speeds of vibration and then four patterns. And it is with the patterns that I think this toy exceeds any expectations and why the buzzy vibrations are not actually as terrible as they may sound to some. There is an escalating pattern that is also quite standard, a quick thrumming followed by a longer vibration, a pulsing and the same thrumming as before without the break of a longer pulse. It sounds like I imagine a hummingbird's heartbeat would sound like.

The vibrations actually stay pretty even throughout the shaft of the vibe, but once you get to the tip you'll realize that they're actually concentrated there which is great if you use this as a clitoral vibe or to stimulate the entrance of your anus. The button that controls the vibrations is just a tad finicky. While sometimes I feel like the button is almost too easy to push, other times it takes me two of three pushes to switch patterns. If you hit the button dead on, you will not have a problem.

Functions:

Escalating / Pulsating / Surging / Vibrating

Special Features:

Beginners
Multifunction
Waterproof

Control type:

Push button

Powered By:

Aaa-2

Care and Maintenance:

Plastic is super easy to care for. The electronics in this vibe mean that it cannot be boiled or dishwashed. However, antibacterial soap and water or toy cleaner works just fine. This toy does not collect lint, but it never hurts to clean your toys before use either. Any lube is compatible with this vibe and the material makes it very easy to clean lube off.

You can store the vibe in the box if you choose; however it is not very discreet. I chose to put mine in a silk organza bag. This helps keep it safe from dust and lint and other toy materials.

Care and cleaning:

Soap and water

Packaging:

Doc Johnson gets points from me for their packaging on these products. There's no instructions, just the back of the box. The back of the box lists a bunch of features that the toy could have and then a black dot indicates which features the particular toy that came with the box has.

The box is cardboard and the toy comes in a plastic sleeve that fits inside and shows off the whole toy for the world to see. Unfortunately not very discreet, but the box is so modern and classy one shouldn't feel embarrassed if they were to gift this vibe; and I would totally gift this as a first toy to someone like my sister or my cousin. The outside of the box is black, but the inside is white with multicoloured dots. No naked pictures or vulgar words. Just a simple design for a simple toy.

You could easily store the vibe in it's box as previously mentioned. It is quite slender and would fit in a toy trunk or something. However, cardboard does not last forever and I find it too bulky in my toy box.

Personal comments:

I like this toy, I think it should be a staple in everyone's toy box. It can be used on the clitoris, opening of the rectum (be careful!) and it can fit in any toy that has space for a bullet. However, although it fits I did not find it powerful enough to travel all the way through my favourite dildo (Tantus Goddess). The vibe is better suited as a companion clitoral toy while other areas are being stimulated by more powerful toys. As I said before, a perfect intro to the world of sex toys and personal exploration.