Digital Playground Pirates Katsuni's ancient secrets - Traditional vibrator from Digital Playground

Pirates Katsuni's ancient secrets videos
Product Details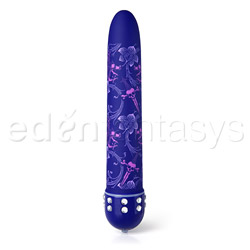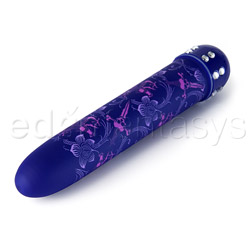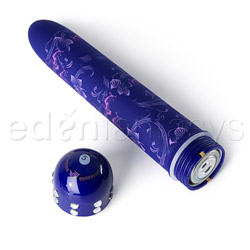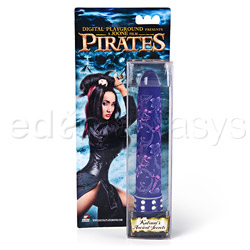 Summary:
Katsuni's Rocket is definitely a powerhouse, and it's loud enough to be one as well. Its design is adorable, all pink and purple dragons and swords, fitting the pirate theme beautifully. It has five settings, two of which are pulsation variables. It's splashproof, so you don't have to worry so much when you're washing it or taking it in the shower. And it's extremely easy to use with its single push-button control on the bottom.
Pros:
Nonporous, cute design, slightly thicker than traditional plastic vibes.
Cons:
Runs on C batteries, loud, paint might be wearing off.
Best use:
Katsuni's Ancient Secrets Rocket can be used for just about anything. Vaginal or anal penetration, clitoral or erogenous stimulation, g-spot or p-spot stimulation, partner play, pirate role play... This toy's just slightly thicker than the average traditional plastic vibe, which makes it a little more interesting to a size queen like me. The possibilities are endless, and anyone can use this toy.
Material / Texture:

This vibe is hard, unforgiving plastic. It's phthalates and latex free, and hypoallergenic. There's no odor or flavor to speak of. And it's nonporous and almost velvety to the touch, which provides a little bit of drag in use.

I suppose plastic is a good texture for everyone, from beginners to experienced toy users. I started with jelly, and actually favored jelly until I realized there were materials out there that are just as squishy with less safety risks. There's just something about hard materials that occasionally makes a toy too much (or too little, if it's really tiny) for me. I can't be the only one.

Over all, plastic is body safe, if that's all that concerns you, and a great material for those who like more rigid toys.

Material:

Plastic

Material safety

Texture:

Velvety

Safety features:

Food-grade material / Hypo-allergenic / Latex free / Non-porous / Phthalates free

Design / Shape / Size:

I don't like rhinestones. I'll probably never like rhinestones. Especially rhinestones that look like diamonds. I'm also not a huge diamond fan. (I know! M got hella lucky!)

I was willing to overlook the rhinestones for the shaft.

The shaft is eight inches long with an insertable length of six and a quarter inches. Its diameter starts at about an inch and flares out to an inch and a quarter at its widest point, but the flare is so gradual that you hardly notice it in use.

The design on the shaft is adorably piratey, if by pirate you mean a scantily clad, sexy female Asian pirate. Though honestly, I'm not sure any of the girls in pirate porn are Asian. I've never watched pirate porn.

On the shaft of this toy are pink and purple Oriental dragons, flowers, and swords with a skull and bone on the handle. There also seems to be some sort of... Celtic? Maybe?... design on the sword handle over the bone. The shaft is purple beneath the design.

Between the battery cap and the shaft is a white rubber washer that protects the toy from water when you're washing it, or in the shower. But the toy's not waterproof, so please don't submerge it in the tub.

The battery cap is encrusted in diamond-like rhinestones. It's a different, more gaudy, shiny purple and has "Digital Playground" printed in light purple around a rubbery button with a black 5 on the bottom.

Color:

Violet

Length:

8 1/4"

Insertable length:

6 1/2"

Circumference:

4"

Diameter:

1 1/4"

Weight:

6.5 oz

Functions / Performance / Controls:

This rocket has five settings: Low, medium and high, one quick, staccato pulsing setting, and one that has two staccato and one long pulse. They're controlled by the button on the bottom of the toy, which works out great for me because I've trained myself not to rest my hand on the bottom of a toy (too many come with buttons there), but others who haven't learned this valuable lesson may find themselves bumping it while using the toy. To turn the toy off, you have to cycle completely through the settings, but since there are only five, that's really not too much of a hassle.

The vibrations are strong, loud and rattly. They're the strongest at the tip, but travel well throughout the shaft. And they're loud. Did I say that already?

Functions:

Pulsating / Vibrating

Special Features:

Multifunction
Multispeed
Powerful
Quiet
Rhinestone accents
Splashproof

Control type:

Push button

Powered By:

C-2

Care and Maintenance:

Wash this toy with a mild anti-bacterial soap but I'm not sure I'd suggest wiping it down with isopropyl alcohol. I'm worried about the paint. Store it battery-less with your other toys. Make sure the rubber washer is in place before washing this toy or taking it in the shower with you. And any lube under the sun is fine.

Personal comments:

There are parts of this toy where the paint is smeared or rubbed off. I can't remember if it was like that when I received it. If not, that means the toy cleaner we use is probably too strong for this toy, and we should be using a mild anti-bacterial soap to clean it instead. However, this would also means that this toy cannot be bleached without the risk of removing the design. That's probably a given anyway.

This toy operates on two C batteries. Why am I putting that in bold? Cause I totally didn't notice and kept forgetting to buy them. I mean, who uses C batteries anymore besides people with toddlers? I don't think it affects the strength much at all. I have toys that run on AAA batteries that are just as strong.

Do I like it? Yes and no. I'm more into squishy stuff for penetration, but this toy is amazing for clitoral stimulation. So it definitely has its purpose.