Evolved Seduction Holiday edition - Traditional vibrator from Evolved

Seduction Holiday edition videos
Product Details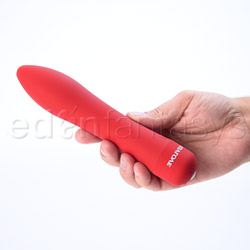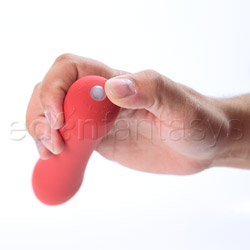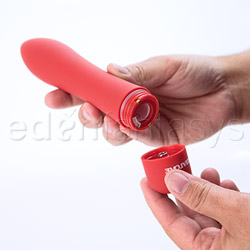 Summary:
The Evolved Seduction Holiday Edition is a body safe and highly versatile vibrator, fit for any user. It is powerful and waterproof, all packaged in a beautiful gift tin ready to be given away - if you can stand to part with it.
Pros:
Bodysafe, waterproof, gift packaging, powerful, versatile shape, smooth finish, $.
Best use:
The Evolved Seduction Holiday Edition is a highly gift-able vibe good for almost any sexual purpose you like. It is basic enough for the beginner but offers enough power and a versatile enough shape for a more experienced user. The wider point near the tip provides greater surface area for clitoral or general vulva stimulation while the narrow point provides pinpoint stimulation to the same areas. It is long enough for insertion without being too girthy and while it does have an interesting shape, has no texture that might bother some. The motor of the vibrator being in the wider portion of the tip may even provide g-spot stimulation for some. The only thing this toy really is not well made for is anal penetration.
Material / Texture:

This vibrator is made of a gorgeous matte red, completely smooth, velvety feeling plastic that has absolutely no taste or odor. It is free of latex and phthalates and is also hypo-allergenic for those with material sensitivities. You can feel the seam in the plastic down the sides with your fingers but not at all with more sensitive areas. It is non-porous and easy to clean since there are no nooks or intricate details to this toy. It is rigid and completely inflexible but not large enough that it's rigidity should pose a problem. The smooth, high quality finish provides very little drag against the skin and really is ideal for any user.

Material:

Plastic

Material safety

Texture:

Velvety

Safety features:

Food-grade material / Hypo-allergenic / Latex free / Phthalates free

Design / Shape / Size:

This vibrator is fairly traditional in shape, except for a small bulge toward the top. It adds a little bit of uniqueness and a little bit different feeling than a slimline, but it's still pretty basic overall. It is 7.5" long with 6" of that being insertable. The bottom 1.5" are the rounded battery cap that screws off to allow for insertion of 2 AA batteries. The cap then screws back on tightly to prevent water from getting in. The cap is also where you'll find the push button control for the toy as well as it's only marking at all - the Evolved logo printed in white.

At the tip, the toy is just 1/4" across and then widens to 1.5", just 2" down the shaft. Another 1" down, the toy narrows out to the 1" width of the remainder of the shaft. The motor is situated in the widest part of the vibrator making it more useful as a clitoral or g-spot vibe, and although it's thin enough for beginning users, the width toward the beginning will make it more interesting for those with more experience.

While this toy is fairly simple looking, it's still pretty obviously a vibrator. It probably couldn't be left out in the open or traveled with without someone catching on.

Color:

Red

Length:

7"

Insertable length:

5 3/4"

Circumference:

4 1/2"

Diameter:

1 3/8"

Weight:

0.3 lb

Functions / Performance / Controls:

This vibrator is very simple, and yet very powerful. It has a push button at the base of the battery pack that cycles the user through three levels of steady and smooth vibration ranging from medium to very high. It should be strong enough for just about anyone. The motor is in the bulb near the tip on this toy, making them easy to feel around the clitoris or on the g-spot when inserted. The button is easy to push and use, but not so easy that it can be switched off by accident.

It is also entirely waterproof and can be submerged with no worry of water getting in. There is a thick o-ring under under the battery cap and the toy closes very tightly. This not only makes it more versatile and fun for anyone to use, but less of a hassle when it comes time to clean the toy.

The sound however, is the only downfall to this toy. It might not be the best choice for those looking for something highly discreet because even on its lowest speed, it can still be heard through covers and even through a pillow.

Functions:

Vibrating

Special Features:

Control type:

Built in control pad

Powered By:

Aa-2

Care and Maintenance:

This toy is exceptionally easy to care for and store. Because of it's non-porous plastic body and waterproof feature, it can be cleaned with isopropyl alcohol, soap and water, or toy cleaner. It can be entirely submerged to be cleaned if you see fit.

It can be stored in its original packaging, but if you don't have that kind of space, any toy drawer, bag, or box will do as long as its kept with other clean, non-porous toys.

Packaging:

Evolved is known for their innovative, beautiful, and useful packaging and this product is no different. The toy comes in a molded piece of plastic for presentation set in a rectangular red and white tin. The tin is decorated elegantly while the back brags some of the features of the toy. The metal clamps on the top and bottom sides of the tin hold on the clear, decorative, and embossed plastic lid. The box is a great showcase and storage solution for the toy, and when adorned with the festive red elastic ribbon that comes wrapped around the whole package, it makes a ready-to-go gift for anyone on your 'naughty' list. It is not particularly discreet however since the toy is plainly visible through the package.

Personal comments:

I love this toy - I wasn't expecting much based on the price tag but Evolved really came through on this one and put forth a simple yet powerful, extremely high quality toy. The noise isn't a drawback for me personally so it really is made of win.