Don Wands Smooth vibrating glass - Glass vibrator from Don Wands

Smooth vibrating glass videos
Product Details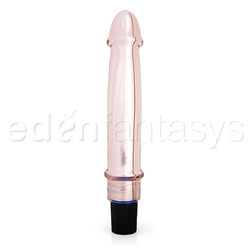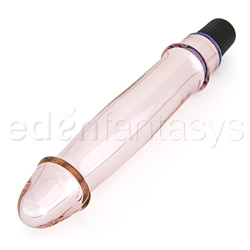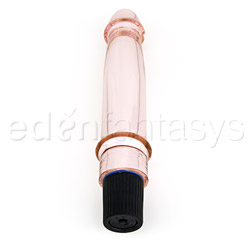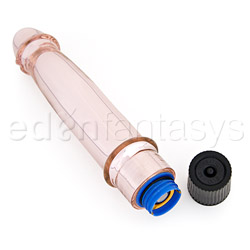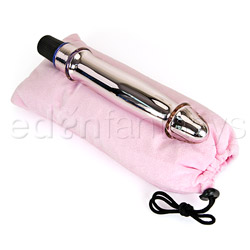 Summary:
The Smooth Vibrating Glass is a nice combination of the pleasures of a vibrator with the convenience and hygiene of glass. It's waterproof and its gentle vibrations will appeal to those who prefer a softer touch. The smooth shaft makes it ideal for frictionless vaginal penetration.
Pros:
durable construction, convenient push button control at base, secure battery case.
Cons:
have to cycle through the entire 7-vibration cycle to turn on/off or change settings.
Best use:
Don Wands' Smooth Vibrating Glass vibrator should be used where, when and how you would use any other traditional vibrator. It's excellent for clitoral stimulation, vaginal penetration, and anal stimulation. Because the vibrator is waterproof, you can also take it into the shower, bath, hot tub, etc.

The Smooth Vibrating Glass is multifunctional and appropriate for any number of sexual scenarios. You're only limited by the laws of physics and your imagination.
Material / Texture:

The material is smooth borosilicate glass - known more commonly as Pyrex®. The smoothness of the glass provides exceptional glide when combined with lubricant. This makes it excellent for both vaginal and anal penetration.

Because the texture is so smooth, this would be an excellent way for those who are curious about wider vibrators to work their way up from a smaller diameter.

Glass is also excellent for temperature play as it maintains its temperature for longer periods of time. Place the toy in a warm (or cold) bowl of water for a few minutes before use for additional sensation.

Material:

Tempered glass

Material safety

Texture:

Smooth

Safety features:

Food-grade material / Hypo-allergenic / Latex free / Non-porous / Phthalates free

Design / Shape / Size:

The metallic pink coloring lends an unmistakably 80s feel to this particular vibrator. Call me crazy, but I was inspired to put on purple eye shadow and Aqua Net my bangs before using the Smooth Vibrating Glass. Apart from these random mental associations, the design is attractive and functional.

The vibrator is based on a pink glass sheath covering a plastic core where the vibrating mechanisms are housed. The vibrations work through a push button control on the bottom of the base. A push of the button cycles the vibrations through eight different speeds/patterns. The vibrations range from a steady hum with varying degrees of intensity to pulsations, to pulsations combined with a hum. There's considerable variety in the patterns and certainly enough range for most to find something to like.

The one drawback of the range of vibrations is that you have to cycle through all eight to either change the settings or turn the vibrator off. If you know what setting you prefer, this is less of a problem. If you're still exploring, it may be irritating to have to continually pressing that button to get the vibration pattern you are looking for.

The push button control is easy to operate and conveniently located at the base of the vibrator.

There are some realistic contours around the head of the vibrator that adds to its stimulating abilities when paired with vaginal penetration. The head looks more like a mushroom cap than a realistic penis, but the overall effect is similar. It provides that essential bit of drag at the entrance to the vaginal canal that some enjoy.

At 1.5" in diameter, the width is a happy medium that should satisfy most users.

Length:

9 1/2"

Insertable length:

6 3/4"

Circumference:

5"

Diameter:

1 1/2"

Weight:

0.5 lb

Functions / Performance / Controls:

Glass conducts vibrations very well and that comes through immediately with the Smooth Vibrating Glass. The vibrations were diffused through the entire shaft and I found it difficult to say whether the internal vibrations were located at the top or the bottom of the shaft. I suspect they're more towards the top, but the base of the shaft still receives a good amount of vibration.

On the palm of your hand, the vibrations are deceptively strong. Against the clitoris or anus, they feel much more gentle than one would otherwise think. This is excellent for those who prefer softer vibrating stimulation or who are very sensitive to vibrations. Those who prefer stronger vibrations might consider this a good warm-up.

The vibrator is most definitely waterproof and actually seems to improve with use in the water. The vibrations radiate through the water and it feels as if the vibrations cover a larger area than they actually do. This additional range does not translate into additional vibrating intensity. The vibrations are gentle and remain so in the water.

Functions:

Escalating / Pulsating / Vibrating

Special Features:

Batteries included
Lubricant included
Multifunction
Multispeed
Waterproof

Control type:

Push button

Powered By:

Aa-2

Care and Maintenance:

Glass is one of the easiest sex toy materials to care for, but in vibrator form there are some additional things to be aware of.

Unlike regular glass, you should not attempt to sterilize your vibrator by boiling it or placing it in the dishwasher. Yes, it is waterproof, but the plastic vibrating mechanisms can't withstand high temperatures. They can take all the heat you can dish out in the bedroom, but boiling water... not so much.

Borosilicate glass is incredibly durable and very safe for most sexual activities, but that doesn't mean it can't be chipped or broken under some very specific conditions: 1) dramatic temperature changes; and 2) being knocked with some force against a hard object.

In the interest of science, I dropped the vibrator onto a hardwood floor from a height of roughly six feet. I think the floor sustained more damage than my vibrator did. Because you just read the above cautionary note about boiling, you won't be moving your vibrator from boiling water to the freezer. Use common sense and the glass will hold up to years of use.

When you're ready to clean your vibrator, wash it under warm running water with antibacterial soap. You can also use toy wipes or any other non-irritating cleaner. Some choose to disinfect by soaking in a 10% bleach solution. Choose what method is best for you and enjoy!

Don Wands provides a padded, pillow-like case for the toy that serves as an excellent place to store it between uses.

Care and cleaning:

Bleachable

Packaging:

If packaging is a big part of a toy's appeal, look elsewhere. The Smooth Vibrating Glass's packaging is functional, but does not score points for luxury or creativity in its own right. The packaging is large and made of clear plastic.

The box contains the Smooth Vibrating Glass vibrator itself (duh!), a soft storage case, two AA batteries, a sample pack of Wet® brand lubricant, and a small informational paper insert.