Caden Enterprises The earth angel - Traditional vibrator from Caden Enterprises

Product Details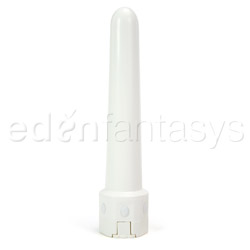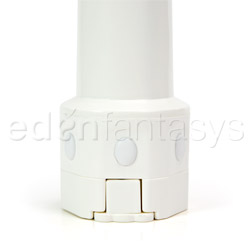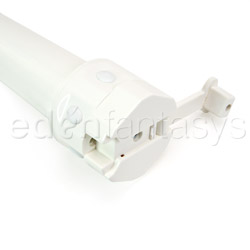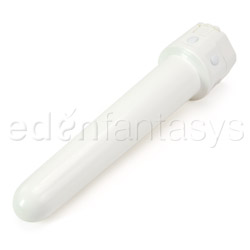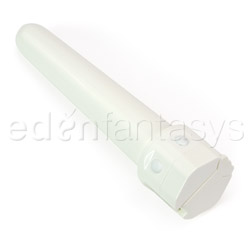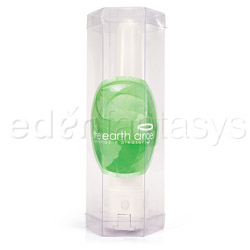 Summary:
This innovative retro-looking plain beige vibe is powered by hand-cranking, removing the need for disposable batteries or electricity use. It's ideal for camping aficionados and anyone committed to a super-green lifestyle.
Pros:
you never need an external power source; it looks retro cool
Cons:
hand-cranking might be a turn-off for some; it's not super strong; it's loud for its size
Best use:
The Earth Angel is the first "green" vibe in a green sex toy line produced by an Irish Company called Caden Enterprises. Because it's such a revolutionary concept, I feel I need to give lots of information about it, much of it drawn from the informative insert. Billed as "the world's first 100% 'green' sex toy", the Earth Angel is made from recyclable, but not recycled, plastic. It comes in simple clear plastic packaging that's also billed as recyclable, but, of course, carrying that out depends on your local recycling facilities.

Nothing can ever be 100% green, but this product comes close. It doesn't take disposable batteries, and it's not traditionally rechargeable. It does come with a USB port, but not cable, that's also compatible with a 5 volt charger, also not supplied (and I myself haven't tried any of these methods). So how exactly does it power up? Hand cranking!

You simply follow the instructions to move the base and pop out the handle and crank away. As you crank, a red light indicates when power is being produced, so you don't crank too slow. Four minutes of cranking gives you up to 30 minutes of pleasure ( a little less if used entirely on the highest setting) and 8 minutes will give you up to 60 minutes of pleasure.

I would definitely take this vibe on an extended camping trip!
Material / Texture:

It's made of hard, beige plastic, that's rather body-friendly and safe. I actually love the fact that it looks like a retro 1980s vibe!

Material:

Plastic

Material safety

Texture:

Smooth

Safety features:

Food-grade material / Hypo-allergenic / Latex free / Phthalates free

Design / Shape / Size:

It's completely straight, not curved, which produces rather unique and hard penetrating sensations. Unlike a penis or silicone dildo, this will not hug your curves. While it's not quite as unforgiving as glass, it's close, so you can't always thrust super hard. It's of a modest girth, starting with a rounded point with a roughly 1-inch diameter that increases to a 1.5-inch diameter near the base. It has about 6 and 3/4 inches of insertable length, not counting the base. It's about 8.5 inches total.

Color:

White

Length:

8 1/2"

Insertable length:

6 3/4"

Circumference:

4 1/4"

Diameter:

1 1/4"

Weight:

0.4 lb

Functions / Performance / Controls:

The vibrations are strong enough, but not out of this world. They are strong enough to get me and most people off, however. If you like the feel of battery-operated plastic vibes usually, then this will work for you, as it produces vibes with about the same strength and feel. It's rather loud in proportion to the strength of the vibes.

The hand cranking process entails about the same level of awkwardness as hand-cranking my self-powered camping lantern. A little plastic handle pops out from the base; it seems too small to be very strong, but holds up well. This is very hard plastic. It's ergonomically made so that you just grab the rotating tip of the handle and make the same type of movement as if you were winding up a spool of thread. Getting the cranking started is the hard part, as there's a little resistance at the beginning, which will resume if you pause the cranking or slow down too much. But if you get your hand in the right position so that cranking can continue without pausing, it's pretty smooth sailing from there. The key is to avoid jerky movements, and it's easy to get a hang of once you get started. The red light confirms that your cranking is powering up the device.

Four minutes of cranking will give you about 30 minutes of vibes, and I've found this to be accurate. Four minutes of cranking will give you about 28 mins of vibes on the high setting. Of course, four minutes of cranking means four minutes with the red light on. The nice thing is that vibes don't lessen in intensity as the battery drains, at least not until near the very end of its life. It can also hold a charge for a while--I went on vacation for two weeks, and it was still charged up. It would be ideal if it had an external meter to show you how much charge it has, but as it is, you have to guess.

Three buttons lined up control the vibes. The central button turns it on and off; the button on the left lowers the intensity of the vibes, and the button on the right increases the intensity. Fortunately, they're not easy to accidentally turn off when holding the handle, but I do find the placement of the buttons a little confusing. It's not ideal for rapidly changing the strength of the vibes until you become familiar with the placement.

The instructions indicate that this toy is not waterproof.

Functions:

Vibrating

Special Features:

Control type:

Built in control pad

Powered By:

Rechargeable

Care and Maintenance:

Hard quality plastic is in one of the top safety ranges, but it's not sterilizeable like silicone. Wash with warm soapy water after use, but take care not to immerse it in water, as the instructions guard against it. Although it doesn't take disposable batteries, it does have an internal "power source" which is a rechargeable battery, so discard safely, or you'll un-green it. It looks built to last though, and I doubt many will ever need to discard it.

Packaging:

The simple clear plastic packaging is recyclable, but, of course, carrying that out depends on your local recycling facilities. It's definitely not a keepsake.