Orion Velvet black vibe - Traditional vibrator from Orion

Product Details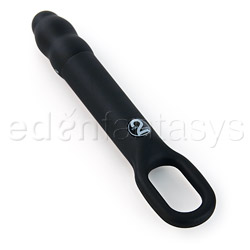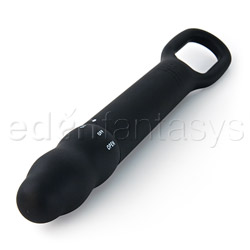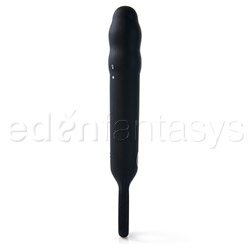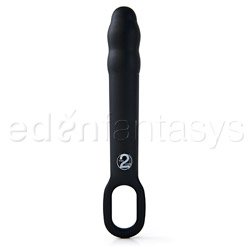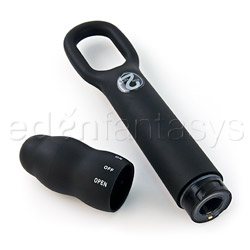 Summary:
This is a uniquely designed vibrator that can be used for clitoral stimulation, vaginal and anal play. It features a single strong vibration level and simple twist controls. It is not a waterproof design, and moderate caution is necessary during use and cleaning.
Pros:
Strong vibrations, cord free, multi-use vibrator and anal toy.
Cons:
Single vibration level. Condom recommended for anal play.
Best use:
This dildo is perfect for anyone that wants medium to strong vibrations (depending on your own sensitivity levels!) and one toy that can do a lot, but do it at a basic level. It has one level of vibrations - Revved up and ready to go! So if you like variations or mild and then increasing stimulation, this won't work for you. It can provide clitoral stimulation, thrusting play and is safe for anal play - either with or without the vibrations. It's not designed as a G-spot toy as it is straight and inflexible.
Material / Texture:

"Black Velvet" is an apt name, and it feels quite soft and silky. It can be used either with water or silicone based lubricant, although I found that I didn't need either. I did notice a mild, but distinctly unpleasant odor. This has not disappeared even after use and cleaning. I'm particularly sensitive to smells though and many people probably wouldn't notice anything.

The texture alone isn't a reason to buy this toy, it's not a texture that is strong enough to be felt through natural lubrication and the smell is going to prevent this from being a toy to suck on!

Material:

PU coated plastic

Material safety

Texture:

Smooth / Velvety

Safety features:

Phthalates free

Design / Shape / Size:

The black velvet has a truly unique design. I don't recall seeing anything like it before. It's almost as if the "You 2 Toys" was thinking about the ways to improve a man's cock and make it a multi-purpose sex toy. It's 8 1/2 inches long with 6 inches that can be inserted. One end has two bulbous bumps, while the other has a ring designed as a handhold or make the toy safe for anal play. The ring can be used for either individual or partner play. It should accommodate two fingers for most hand sizes. It's not a huge toy, but meant to be used in multiple ways.

For two double A batteries, I'm pretty impressed with the strength of the vibrations. I live up in the mountains, and it did remind me of a chainsaw though! The sound changes with each different contact with skin!

Color:

Black

Length:

8 1/2"

Insertable length:

6"

Circumference:

4"

Diameter:

1 1/4"

Weight:

0.4 lb

Functions / Performance / Controls:

Be sure to take a look at the fifth picture on the site. It shows the controls up close. The battery compartment actually twists and pops up with a slight locking mechanism. This accounts for the very tight seam line. The controls are located right after the bulbous ends and next to the battery compartment - it's an unusual location and not convenient for adjustment during play. You only get the choice of on and off so if you're finding the vibrations are too intense, you may just be done with this for awhile. This may be more of an issue with anal play. Due to the location of controls and cleaning issues, I strongly recommend a condom with any anal play.

The vibrations are quite strong. Vibrations travel through entire vibe rather just the bulbous end. It seemed like they were at a frequency that allowed them to travel through my bones. This allowed me to feel the vibrations in a rather unique way with internal use.

Functions:

Thrusting / Vibrating

Special Features:

Control type:

Power switch

Powered By:

Aa-2

Care and Maintenance:

Although smooth and soft this is actually made of a type of plastic with a polyurethane coating. I've never actually encountered this material before, but I admit that I like it. It feels like something between most silicone products and the true silky softness of some of Lelo's products such as the Liv. I did check the recommended cleaning instructions and they indicate to wash with warm water, soap or toy cleaner.

As this does have a seam for the battery compartment only about two inches from the end, I'd use some caution with water. This seam is incredibly tight, but the toy is not advertised as water proof or resistant and there isn't any type of O-ring.

This toy is safe for anal use, but because of cleaning issues, I would only recommend it's use with condoms.

In general, body fluids don't really stick so cleaning isn't much of an issue.

Packaging:

It will never pass as a storage box, but "You 2 Toys" has put a little bit of effort into their package. The Black Velvet Vibe naturally comes nestled in a black box. It's nestled in a molded plastic insert with the vibe itself individually wrapped in shrink-wrap. These are clearly designed to be sold in stores. There is a picture of a naked, sexy and sullen looking blond on the front standing next to the window view of the vibe.

I did find a small set of instructions, which were mostly useful for the battery installation. These would probably be missed unless you're looking for them as they are loose in the box.

I'm sure that it's unusual, but my package was partially crushed. This had no impact on the vibe itself.

Personal comments:

I really like this toy, but it's going to take a while to determine my long term feelings about it. It's a toy that "can" do just about everything, but it's not going to do anything as well as toys that are specifically designed for one purpose. That doesn't mean this isn't a great toy - only that I've had a lot of opportunities to try many things. I would have absolutely loved this as one of my first toys.