Jimmyjane Boy meets girl kit - Vibrator kit from Jimmyjane

Product Details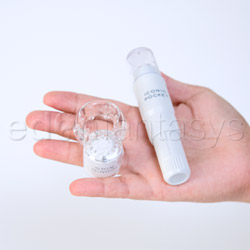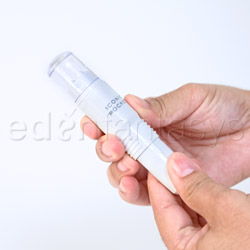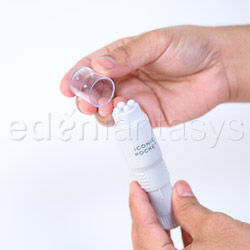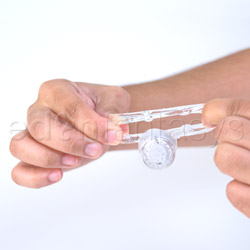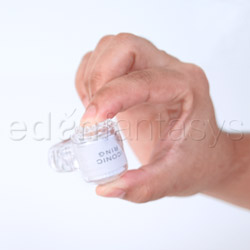 Summary:
The Boy Meets Girl Kit from JimmyJane combines two tried and true favorites from their "usual suspects" line. The Iconic Pocket (or pocket rocket) and the Iconic Ring (a vibrating elastomer cock ring). Both items are extremely portable, easily tucked in a make up bag or a purse, even the inner pocket of a suit coat. They're a great addition to any well rounded collection and a bargain when bought together as they retail of $37 each.
Pros:
A bargain for the two toys, versatile, toychest must haves.
Cons:
vibrations on the pocket might be too intense for some, the rings switch is a little fiddly.
Best use:
This pair of tried and true toy box staples is a must have for someone just starting a toy collection. At an almost buy one get one free price, the Boy Meets Girl Kit is a hard bargain to pass on. They're ravel friendly size and versatility open up a veritable cornucopia of scenarios where you can use them to add a little spice to your everyday love making routine(or your self loving pattern). Both toys are water resistant and great for shower time fun, but only the ring can really withstand any underwater time.
Material / Texture:

The Iconic Ring is made of a super stretchy elastomer with a small vibrating unit inside. It's waterproof and can be fully submerged, which makes it great for "tub time". The ring itself is textured with little bumps around the inside of the ring, which my husband said didn't really add any extra sensation as far as he could tell.

The Iconic Pocket is made of ABS plastic and has the standard rubber ring gasket that makes it water resistant. The packaging says it's submergible, but i'm not so sure about that. The plastic is smooth and odor free.

The best thing about both JJ toys is they come to you with batteries included, fully sanitized and ready to play.

Material:

Elastomer

/

Plastic

Material safety

Texture:

Nubbed / Ribbed

Safety features:

Food-grade material / Hypo-allergenic / Latex free / Phthalates free

Design / Shape / Size:

As far as design aspects of both toys, the pocket has one fatal flaw, well two actually… First and foremost, you twist to the right to turn on and to the left to open the compartment for the battery, so if while playing you turn it off but turn too far, the toy comes open, and if your doing this say in the bathtub your toy opens into the water and your iconic pocket is no more. The second flaw is how loud the dang thing is. Seriously, it's freakish and unsettling that something so small can be so loud. When we first turned it on my hubby said "whats the point of making something that looks like you could use it for stealthy naughtiness but only to find it sounds like a belt sander" it's really really loud.

The Ring is fantastic, it will accommodate a larger variety of sizes(though it didn't quite make it over the Vixskin Randy). The dual mode vibrator is excellent you can have constant vibration or pressure sensitive, which gives you a little buzz whenever the button is depressed(like on the in-thrust). If worn up the vibrator will provide clitoral stimulation and if worn vibrator down it'll tickle his nuts or her perineum(t'aint that fun!).

Color:

White

Length:

4 1/2"

Weight:

4 oz

Functions / Performance / Controls:

Aside from the aforementioned flaws about the Pocket rocket, the vibrations may be too intense for some. It's really powerful(and loud, did i mentioned it was loud? It's really loud.) The four bumps on the top of the rocket, under the cap which JJ considers an alternative vibration option, kind of put your clit in a vibrating bear hug which is very nice for short periods of time, longer periods of time made me feel kind of numb(but that could just be me). I wish it had adjustable speeds since the cap doesn't mute the vibrational intensity any, just provides a flat vibrating surface instead of a nubbed one.

The ring is a little fiddly, if you don't depress the switch on the side fully, instead of constant vibration you get no vibrations, and if you don't release said switch the pressure sensitive vibrations require a lot of pressure. The nubs on the vibrator do feel very nice even if the vibrator isn't functioning as it should. The vibrations aren't as intense and the pocket and are blessedly quite.

Functions:

Vibrating

Special Features:

Batteries included
Hands free
Powerful
Small size
Travel kit
Waterproof

Control type:

Dial-base / Pressure activated / Push button

Kit includes:

Iconic ring, Iconic pocket, batteries: 2 x LR1130, 1 x AA

Care and Maintenance:

Elastomer is porous and so the Iconic Ring should be saved for use with a fluid bonded partner. It cleans easily with soap and water and is friendly with water or silicone lubricants.

The Iconic Pocket can be easily wiped down with a toy wipe or washed with soap and water and toweled dry, provided of course you didn't have the unfortunate bath tub mishap I did. The pocket can be sanitized with either an alcohol or 10% bleach rub down.

Packaging:

The packaging is cute, each come individually boxed in JimmyJane's classic "usual suspect" packaging and bound together with a pink silicone JimmyJane band, were my wrists larger I would wear the band as a bracelet.