California Exotic Gyrating passion kit - Vibrator kit from California Exotic

Product Details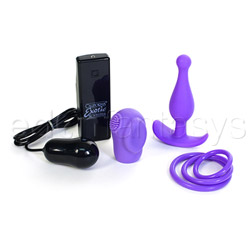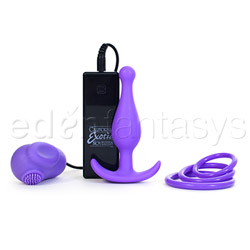 Summary:
A great kit for an excellent price, something for everyone, and power to boot. If thumping and surging is what you like, the gyrator has what you need. Throw in a probe and some stretchy rings, and you have the Gyrating Passion Kit by California Exotic.
Pros:
Powerful, nice kit options, for everyone.
Cons:
Silicone sleeve may take 2 people to get on.
Best use:
California Exotics has released a new kit---the Gyrating Passion kit. It is the quintessential jack of all trades kits for couples. It includes a gyrator/bullet, silicone plug, and 3 stretchy silicone rings.

There are many different uses for this kit, and I am sure you will discover more along the way. The gyrator can be used for both foreplay and during sex: it includes a silicone sleeve for added textures. The silicone probe, which can be used anally, works for masturbation and double penetration, or even prep work for other sex acts. The stretchy silicone rings can be used as cock rings in numerous groupings or ways.

While this may be a great kit for couples fear not, as it can work for anyone.

Material / Texture:

Usually when a kit comes along, they try to save some money using cheaper materials or weaker toys---this isn't the case with the gyrating passion kit. The gyrator and its battery pack are both made from ABS plastic. The gyrator itself is firm and very rigid. ABS is a nonporous and phthalate-free material that can be used with a number of lubrications without worry. Water, oil, and silicone are all safe for the gyrator without the sleeve!! The bonus for the gyrator is the silicone sleeve, which is only safe to use with water based lubrication. This is a really important feature to take note of, since without the sleeve your options for lubrication triple. Take note not to accidentally mix up which can be used with the sleeve.

There are some really interesting textures on the sleeve for the gyrator. It might be a hassle to get it on initially; you might need another set of hands for this snug fit. With the sleeve on, you pretty much have 3 texture options for stimulation. The most noticeable is the one shaped like the pad of a frog finger. It's almost like a suction cup, but not quite. It is about the size of the average thumb when pushed against, and it's raised up from the bulk of the gyrator only slightly. The second is nubs that are found in a circle off to the side of the gyrator. The circle is about the size of a penny, and the nubs are soft but add a different feeling. The third is the back of the gyrator, which is just smooth and follows the contours of the shape.

The probe and rings are all also silicone. Silicone can be boiled for safe and easy cleaning; you can also wipe down your toys with wipes, or spray---whatever method of cleaning suits you. To clean the gyrator, first make sure you unplug it from the battery source, as you will not want to get it wet. Once detached, you can wash it with ease; boiling is not an option for this part of the kit, though.

Material:

Plastic

/

Silicone

Material safety

Texture:

Nubbed / Smooth

Safety features:

Food-grade material / Hypo-allergenic / Latex free / Non-porous / Phthalates free

Design / Shape / Size:

The bulbed gyrator bullet, which looks a lot like a light bulb, falls just short of 2.5" and is 4" in circumference. The cord attached is 32": this gives you a lot of cord to work with during use, especially during couple use. The battery pack is 3.75" in length and just under 1.5" in width---it fits with ease in the hand. Both the gyrator and battery pack are black in color.

The probe, which is purple, is anchor shaped. It is 4" in length, 3.75" of that being insertable. The top is thin, and it fattens up; this makes it easy to insert. After the bulk of it, it thins back down to help stay in place, followed by the anchor to make sure it doesn't pull too far into your body. Though seemingly thin at 3.5" at its largest point, it is incredibly effective as a probe for both men and women alike.

There are 3 stretchy purple rings; from largest to smallest they are sized as follows: 2", 1.5" and 1". They do have a nice amount of elasticity, without being overly tight or terribly loose. You can wear these around the base of the penis, around the scrotum, or around both. Mix and match to find your ideal combination.

Color:

Purple

Length:

2 1/4" / 3 1/2"

Circumference:

4 3/4" / 4"

Diameter:

1 1/2" / 1 1/4" / 1"

Clitoral attachment shape:

Non-animal

Weight:

5 oz

Functions / Performance / Controls:

The gyrating passion kit surprisingly packs quite the punch function and power wise---especially for something run off 2 double A batteries. There are 2 buttons to operate the controller, both incredibly simplistic. The front one turns the gyrator on and off---you'll be notified of its power if the yellow light shows. The back button, which works much like a trigger, controls the 10 functions. This device will start up on the function you last left off on, so there is no definite beginning and end, but the functions are as follows:

1. Low
2. Medium
3. Throbbing
4. Slow Pulse
5. Fast Pulse
6. Quick throbbing
7. Steady throbbing (like a heartbeat)
8. High thumping
9. Low thumping
10. Medium vibrations moving up to High Vibrations

The vibrations are strong and will make you numb. It is on the quieter side of toys: even quieter when pressure is put on it. The vibrations will dampen slightly when pressure is applied, but the toy is strong enough as it is to make up for it. There is also a slight beeping noise to some of the functions; under a blanket they cannot be detected whatsoever.



Functions:

Escalating / Pulsating / Surging / Vibrating

Special Features:

Attachments
Multifunction
Removable clitoral stimulator

Control type:

Control pack

Kit includes:

Bullet, teaser, three rings, and probe.

Powered By:

Aa-2

Care and Maintenance:

A breeze to take care of, all of your toys in this kit can be stored together. Silicone is 100% safe to store next to each other. Since the box is kind of bulky, a plastic baggy might save you some room if you wished to group them.

Care and cleaning:

Soap and water

Experience:

Overall, I really thought this was a great kit. I was shocked at the power of it, and found I really enjoyed the thumping vibrations the toy had. The stretchy rings were comfortable for my S.O., and the butt plug was comfortable as well without falling out. I would recommend this kit to anyone.

Other

Unstretched diameter:

1 1/2" / 1 1/4" / 2"

Cock ring style:

Stretchy ring