Evolved Zero tolerance playing cards - Adult game from Evolved

Product Details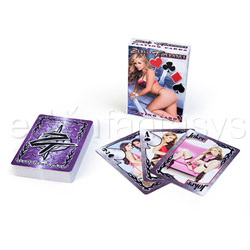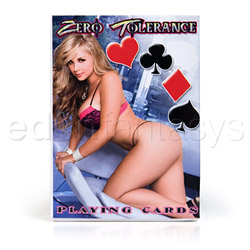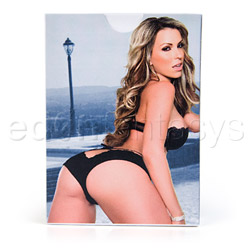 Summary:
This deck of cards is sure to spice things up whether you purchase them for yourself or give them as a gift. The pictures are tastefully done and even users who aren't attracted to the female form should be able to appreciate the beauty of photos.
Pros:
Attractive Photographs. Durable.
Cons:
The names of the actresses aren't listed.
Purpose / Audience:

The Zero Tolerance Playing cards by Evolved Novelties are a classic deck of playing cards with a twist; each card features a picture of a beautiful woman, or women posing provocatively. These cards are perfect for a bachelor/bachelorette party, 18th or 21st birthday gift, or just to spice up the typical card game. These cards are suited for anyone who enjoys looking at the female figure.

Zero Tolerance is an American pornographic film studio. Third Degree and Black Ice are sister companies of Zero Tolerance and each have their own deck of cards produced by Evolved Novelties.

Rules / Content:

This deck features the usual 52 playing cards with two jokers and can be used for any card game that requires a normal deck. The cards come sorted numerically by suit, starting with the king and ending at the ace. The deck doesn't come with instructions, so it's up to the users discretion as to how they want to use these cards. Whether playing an innocent game of go fish, a rousing game of strip poker, or even building a card house, these cards are guaranteed to add a little naughtiness to the situation.

Design:

The Zero Tolerance cards come in a laminated card box adorned with pictures that can be found on the pictures inside. The actress on the front of the box is Sara Sloane, Zero Tolerance's new contract star. The front of the box also has a picture of the heart, clover, diamond and spade in their corresponding colors. The front of the box says Zero Tolerance at the top and playing cards at the bottom. The two smaller sides of the box each feature four rectangular pictures that give a preview of the cards that can be found inside. The back of the box has a unique picture of Sara Sloane that isn't on any of the cards inside the box.

The cards each have a laminated card coating The coating doesn't feel particularly slippery or noticeable, but it could make handling the cards a little tricky for some users. The cards are durable and withstand the wear and tear of shuffling and handling. The back of the cards are purple and have a black flame design framing the inside of the card. At the bottom of the flame design is the website for Zero Tolerance: zerotolerance.com. Inside the flame boarder is a design that looks like a sheet of metal. At the center of the card is the Zero Tolerance symbol in purple and black.

The front of the card has a picture that is framed by a red border and black flames in the top right and bottom left corners. The top left and bottom right corners have the card type and suit. The edges of the cards are gray.

The women on the cards are depicted in varying poses and degrees of undress. Some of the women are wearing skimpy outfits, others bathing suits or lingerie and a few are completely naked. Three of the cards have nude women on them but only one of the cards shows the full female anatomy. Nine of the cards have women showing their bare breasts. Fourteen of the cards have two women posing together.

The cards don't have the names of the models on them, nor does the evolved website. Some of the recognizable women are: sasha grey, jenna haze, Shyla Stylez, Lexi Belle, Alektra Blue, Amy Reid, Stacey Silver, Eva Angelina, Sara Sloane and Courtney Cummz. Like Sara Sloane, Courtney Cummz also has an exclusive contract with Zero Tolerance. Some of the women are featured on multiple cards, while others are only seen once. The photographs on the cards are of good picture quality and the colors are vibrant.

Personal comments:

My boyfriend and I both agreed that our favorite picture was the one of Sara Sloane on the front of the card box. We also thought that most of the pictures selected for the cards were very attractive. I couldn't find one card in the deck that I found particularly unappealing. Although I'm not attracted to women I was able to appreciate the beauty of the photos. I gave the deck to my boyfriend and he likes to use them when he's playing cards with the guys.

My one frustration with this deck was that the names of the models weren't listed on the cards. There were a few women my boyfriend or I didn't know the names of and would have liked to look up. I looked on the Zero Tolerance website to see if I could find some of the names of the actresses, however it wasn't all that useful to my search. I contacted Evolved Novelties to see if they could provide me with a list of the actresses on the cards. In less than a day I received an email from an Evolved representative stating that "Some of the talent on the cards are Kagney Linn Karter, Sara Sloane, Courney Cummz, Monica Sweetheart, Alexis Texas and Sasha Grey." I was very impressed by how quickly Evolved responded to my inquiry.

Other

Special Features:

Bachelor party
Birthday party
Gifts
Office party
Wedding party