52 Sexy Cards To Play With!
These cards overall make a fun gift for someone who might get a chuckle or some enjoyment out of these. To use these cards for professional, or extended and frequent use they are probably not ideal. But if you are looking for some beautiful girls in some sexy clothing on your playing cards, then I suggest you give them a try.
Published:
Pros:
Variety of poses of sexy women, Overall design of card is appealing.
Cons:
Felt the quality could be been better, No list of porn star names.
Like any traditional deck of cards the Zero Tolerance deck is your standard 52 card deck with 2 joker cards included. Obviously the difference here is that these cards are for adults only! I've never done a review on playing cards before, so please bear with me and I will do my best to describe these. To begin with, when I received these in the mail, they were wrapped in a clear plastic seal, much light on a packet of cigarettes. To remove the plastic, I tried to use the small gold strip at the top to peel it off, but that did not work, probably a user error on my part. So I used a nifty little tool called the I-Slice to remove the plastic without damaging the product. The cards are stored inside a thin cardboard box with a preview of what is inside (pictures below). There are no instructions, rules or other relevant information on the packaging, therefore making the box simply a basic storage for the cards. After removing the cards at least 20 times and putting them back, the storage box cover is already showing signs of deterioration.
Removing the deck of cards, the 2 joker cards were on top, followed by each suit of cards in order starting from Ace through to King as the last. The cards measure 3 1/2" tall and 2 1/2" wide and seem relatively thin. It appears as if there is a very light lamination on each card, however it is enough to protect from dirt and minor damage to the cards. Each card feels fairly standard compared to most other card decks out there, as you deal with them, they move and flow in the same fashion. They are not paper thin and want to fly away in the wind so that's a bonus. They are easy to shuffle with and will glide over a smooth surface like any other card deck would. However with that said, I feel these are far from the highest quality. The cards are ultimately not as thick or as durable as let's say "Bicycle" brand cards. Those seem thicker and more durable and will last probably longer. If you plan on using these cards on a regular basis, let's say once a week, I don't think they will last for a long period of time. I think my oldest deck of "Bicycle" brand cards lasted me 13 years before needing to be replaced. Zero Tolerance cards if taking care of and used with respect, may be lucky to last 5 years with regular use.
Now it's time to talk about all the girls on the cards! I'm not generally someone to follow porn stars and remember their names, but it was nice in this deck to see some familiar faces such as Jenna Haze and Bree Olsen. I won't spoil all the fun and show a picture of every card, but I will say the variety is somewhat diverse. Each card is host to a different girl(s) generally in a sexy pose while wearing sexy clothing and/or lingerie. Considering some of these ladies are some hardcore porn stars, they all look relatively beautiful and dressed up. They don't appear to be trashy or nasty looking at all, make-up is obviously apparent along with professional photo shoots. The girls range in age, from what looks like early 20's to maybe late 40's but mostly all young. There are a variety of shots and poses, some girl on girl, frontal and butt shots, you'll see some cards with exposed nipples and breasts, but don't expect to see any vagina! As I said, there is a variety of sexy girls in this deck, so you can expect to see a variety of girls with fake breasts and natural, smaller and larger breasts and different weight! There are no obese women in this deck!
Overall I feel this is a deck of cards more suited for any gender that is attracted to beautiful sexy women in sexy clothes. You can play probably any card game with these cards; build a card tower, or even the fun "pick up 52 game". Whether you want to give these to someone as a gift, use them as just a fun deck of cards to play with some friends or even some strip poker, they aren't a bad buy. I would use them personally for more special occasions or at least when the time calls for something like these. All in all, not a terrible deck of cards!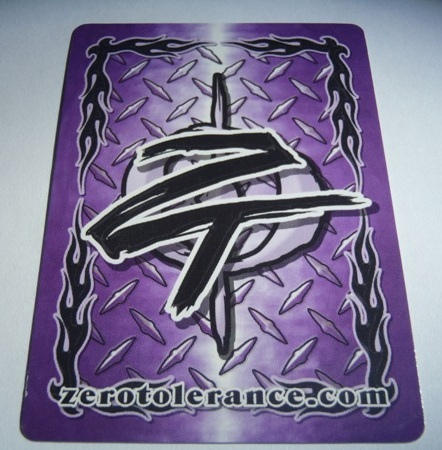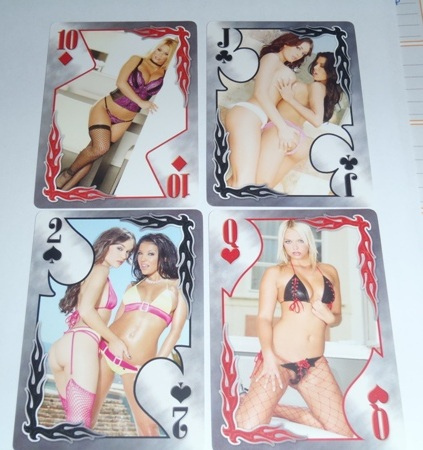 Experience
I have used these cards a few times already with a couple of guy friends. I think it was just nice to have something different while sitting back, having a few drinks and playing some cards with pictures of sexy women on them. Do I get turned on from time to time by these cards when looking at them? Sure sometimes. Could I see myself ever getting turned on enough to masturbate because of them? Highly doubtful. I have however often wondered who some of these porn stars are and only wished that there was at least a small paper included with the cards that has a list of all the girls names.

Sadly though, with using the cards only a few times for a variety of card games, some of the edges and corners are already showing signs of separation or lifting layers of cardboard. I feel extra care is needed in using these, which brings me to the conclusion that for $9.99 I feel maybe these were not worth the cost. Do I regret buying them? Not really. Will I buy these again? That would be a no. I guess my standards on card quality are higher than some others.
Follow-up commentary
5 months after original review
After bringing these cards out from time to time, playing a few games with them I have come to enjoy them a bit more. I do recommend if you don't like perverts that you don't sit down with these cards and play with people you know are perverts. For that matter, I'd avoid them and people who are generally degrading towards women. This will make the deck of cards more fun while still enjoying the sites of sexy women with each card.

In my original review I commented that there were some minor imperfections and defects forming on the edges of the card---I'm happy to report that they have not really increased at all with multiple uses of the deck. The cards seem much more durable than I had originally thought. Plus they can make a fun gag or bachelor gift. For the small price I would recommend you maybe check them out and give them a try.

This content is the opinion of the submitting contributor and is not endorsed by EdenFantasys.com

Thank you for viewing
Zero tolerance playing cards
– adult game review page!