California Exotic First time love beads - Beads from California Exotic

Product Details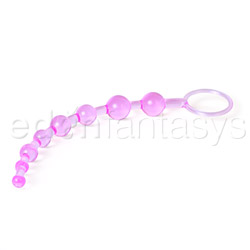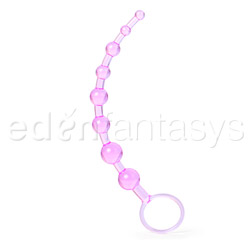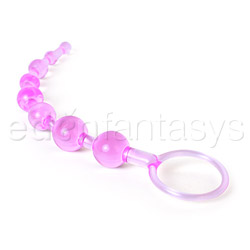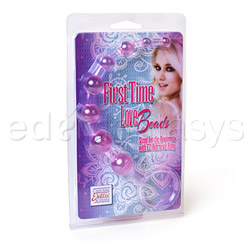 Summary:
The First Time Love Beads were designed as a beginner anal toy for someone wanting to get into anal. The plastic running from each bead might be a bit uncomfortable for some, but not for all. The toy does offer a lot for a beginner and it does not overwhelm someone with functions like textures, vibration, or things along that line. Overall, it does deliver on what the purpose of its design was.
Pros:
For beginners, large retrieval ring, flexible
Cons:
Weak stimulation for some, hard plastic from one bead to the next
Best use:
The First Time Love Beads are designed for a beginner and they deliver on that. Being an anal toy, a lubing of the beads and insertion are very easy. The retrieval rings makes the removal very easy as well. Being that this toy is made of a hard plastic, but is flexible, this you is best used in private, but can be used in some more daring places without fear of "losing" the toy in yourself because of the large ring handle.
Material / Texture:

The toy is made of PVC, which makes it a hard plastic, but flexible. Out of the package, the toy did have a bit of a chemical smell, but it dissipates quickly. The beads molded along the string are very smooth on the outside, but are very hard and firm. There is no odd textures or anything like that either. Just a standard molded bead string here.

Material:

Pvc

Material safety

Texture:

Smooth

Safety features:

Phthalates free

Design / Shape / Size:

For its overall planned design and use, this toy delivers. Coming in at 9 1/2" in length, 8" actually insertable, it offers a lot to someone just getting into anal. Its also great for someone who wants to have a bit more of an adventure outside of the bedroom without it being too big, or causing fear of not being able to retrieve it later. The beads max out in size at 3/4" so the size does not get overwhelming either. The design is not that discrete, but if you were hiding it, or using it under your clothing, no one would be able to tell the difference if you had it or not.

Length:

9 1/2"

Insertable length:

8"

Circumference:

2 3/4"

Diameter:

3/4"

Weight:

0.8 oz

Performance:

There is a lot of good in this toy for you. Its basic, not overwhelming, it is not overly large, or long, and it has a good sized retrieval ring. An all around reliable toy. On the other hand, there are some drawbacks for some people. Being that all women are different, these may be too small for some, not stimulating enough, or too long. Additionally, some may not like that the whole toy, including the material that goes from bead to bead is made from the PVC. Some other material that gave the beads a bit more freedom could have added to the draw of this toy. Every woman has their preference, so this definitely scales on the beginner/weak side of the anal toys, but that is what it was designed to be.

Care and Maintenance:

PVC is an easy to clean material. Some warm water and antibacterial soap does the job nicely. Toy cleaner works well too. The toy is compatible with water and silicone based lubes too. The package it comes in is a pretty good place to store this toy, but being so much smaller than most toys, you could hide this just about anywhere.

Care and cleaning:

Soap and water