Doc Johnson Titanmen anal douche - Anal kit from Doc Johnson

Product Details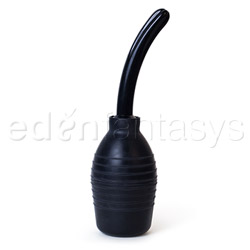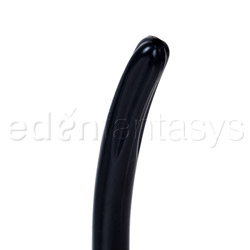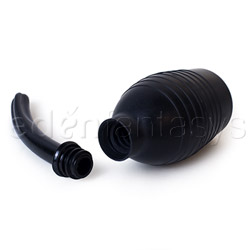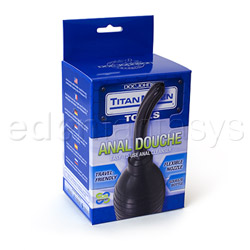 Summary:
This Titanmen "tool" is exactly that. A utilitarian item that can be used for sex play, or as intended, as a tool to prep for anal sex. It is well made, seems durable, and works well.
Pros:
Easy-to-use, comfortable.
Cons:
Strong rubber smell.
Best use:
The Titanmen Series of 'sex tools' seems to be marketed for gay men, however, anyone who likes to do a little anal douche to feel clean before engaging in anal play can use this. It can also be incorporated into anal play, as it holds about 8 ounces (one cup) of water, which is about twice as much as a disposable Fleet enema, but WAY less that a standard enema bag, which can hold three to four QUARTS of water. This is a nice in-between size for rinsing the rectum. The flexible bulb allows for easy squeezing, and allows the user to control the pressure of the flow.

There are no instructions included, but generally an anal douche is used with clean warm water, inserted into the rectum, and gently squeezed until the bulb is empty. The user then eliminates the water into the toilet, possibly repeating this a couple of times until the water runs clear.
Material / Texture:

The TitanMen Anal Douche is a matte black TPR rubber material. It has a VERY STRONG rubber smell upon opening the package. The airborne smell dissipates quickly, but the douche bulb itself continues to smell rubbery when sniffed. The material, however, is very flexible which is perfect for the intended use. The outside surface has small ridges, which will help with grip when hands are wet or slippery from lube.

Material:

TPR

Material safety

Texture:

Ribbed

Safety features:

Hypo-allergenic / Latex free / Phthalates free

Design / Shape / Size:

The design of the Titanmen Anal Douche is simple and effective. It's easy to use, easy to handle, and although the size may seem a little intimidating at first, it is really a great size for practical use. The bulb is a little smaller than a standard coffee mug; about the same height, but a little slimmer. The nozzle is the same length again, and about the diameter of a super tampon, or a large man-finger.

Color:

Black

Length:

10"

Insertable length:

5"

Circumference:

2 1/4"

Diameter:

5/8"

Enema volume:

8 fl.oz.

Weight:

0.5 lb

Performance:

The TitanMen Anal Douche is easy to use right out of the box. Wash it up, fill with warm water, screw in the nozzle, lube up, insert, and squeeze! This works exactly as intended, and the water flow is user-directed. Squeeze hard: stronger flow. Squeeze gently: lighter flow.

Special Features:

Bendable
Free samples
Travel

Care and Maintenance:

TPR toys cannot be disinfected with boiling water, but you CAN certainly clean this up with warm water and disinfectant toy cleaner or antibacterial soap. You could also disinfect with rubbing alcohol. This item can be used with water-based or silicone lubricants.

Packaging:

The packaging is NOT discreet. "ANAL DOUCHE" is printed in large neon green letters across the width of the blue cardboard box, along with a color photo of the product. There is no disguising what's inside! The item itself is in a sealed plastic bag. A single-use sample packet of Titanmen platinum silicone lube is included. The box could certainly be used for storage.

Personal comments:

I'm looking forward to using this with a partner for anal play. The solo test run was a success, now it's time for some fun!