Doc Johnson Big mood naughty 2 - Butt plug from Doc Johnson

Product Details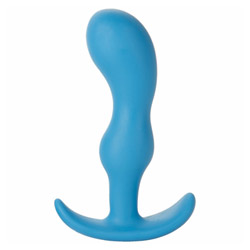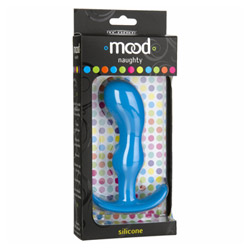 Summary:
Mood Naughty 2 has a lot of great features to it. It's made out of silicone, making it great for those interested in sharing toys with a partner. Simply wash and boil this plug and it can be shared with a partner. The material is soft, somewhat flexible, and hypoallergenic. The toy itself is easy to insert and use. The design allows for prostate and G-spot stimulation. Finally, Mood Naughty 2 stays in during use even when moving about.
Pros:
silicone, easy to clean, easy to insert, good design, doesn't fall out
Cons:
may overstimulate wearer
Best use:
Mood Naughty 2 is designed to be used as a butt plug. The base is flared, making it safe for anal play. The design is for any user in general rather than specifically a man or woman. Since Mood Naughty 2 is made out of silicone it's a great toy to share with a partner (after washing it, of course!). The toy is waterproof as well, making it a good choice for shower play.

Compared to some other butt plugs, Mood Naughty 2 runs a bit on the smaller scale, making it great for beginners. Unlike the more traditional butt plug style, this toy can be easier to insert since it's small in diameter.
Material / Texture:

Mood Naughty 2 is made entirely out of silicone. The back of the packaging states that the silicone is phthalate-free and hypoallergenic. Silicone is non-porous, making it an easy to clean and sterilize material. The ease of sterilization makes silicone toys great for sharing with a partner.

The material is velvety soft to the touch and is somewhat flexible. There is a visible seam running down the sides of the toy, but they cannot be felt by fingertips or during use. The silicone does have a very slight odor when first removed from the packaging, but that goes away once it's been washed and aired out a bit.

The velvety feeling of the silicone does add some friction to the toy. This can make it a bit more difficult to insert if not enough lubricant is used, but it does increase the stimulation. Since Mood Naughty 2 does not have any texture to it other than the velvety feel, I would consider this a good choice for beginners. Stimulation is supposed to come from the shape of the toy rather than any texture to it.

During use, the toy is going to remain mostly firm. Some portions will flex a bit to fit more comfortably but for the most part it will remain in its original shape.

Material:

Silicone

Material safety

Texture:

Smooth

Safety features:

Food-grade material / Hypo-allergenic / Latex free / Non-porous / Phthalates free

Design / Shape / Size:

Mood Naughty 2 has an easy to use and comfortably fitting design. It's not very large, measuring in at just under 5 inches in total length and a maximum circumference of 4 1/4 inches. About 4 1/2 inches of the length can be inserted. The end of Mood Naughty 2 is a large bulb. Further down the shaft is another smaller bulb meant to help keep the toy inside during use.

Mood Naughty 2 is comfortable to wear. The toy stays inside easily so it can be worn while moving around. The base is small enough to keep out of the way and not irritate you during use, yet it is still large enough to keep the toy safe to use anally. The silicone material allows the toy to flex somewhat to fit inside of you a bit better.

I would consider Mood Naughty 2 to be a good choice for the average user. Beginners may want something a bit smaller and those who have been using butt plugs for quite a while may desire something larger, but the average person will find this to be a decent size.

Mood Naughty 2 is not a discreet or realistic looking toy. It's design makes it obvious that it is a sex toy, if not a butt plug. The size does make it easy to hide and a great choice for travel.

Length:

5"

Insertable length:

4"

Circumference:

4 1/4"

Diameter:

1 1/4"

Weight:

1 oz

Performance:

Mood Naughty 2 is a pretty basic butt plug. It doesn't have any vibrating functions or anything, so stimulation only comes from inserting it. The bulbous and slightly curved head allow it to stimulate the prostate easily and may allow for G-spot stimulation as well. I would not consider this toy to be harness compatible since the base has slight curves to it at the edges. These may cause the toy to sit uncomfortably against the wearer while they are penetrating their partner.

Special Features:

Beginners
Ergonomically shaped
Flared base

Care and Maintenance:

The plug can be washed in a sink with soap and warm water or it can be cleaned off with a toy cleaner. It can also be sterilized by boiling it or throwing it in the top rack of the dishwasher. I personally would not wipe the toy dry once it's clean since silicone attracts lint like crazy. Instead, I'd leave it out to air dry.

Mood Naughty 2 can be stored in the original packaging or in a plastic bag. I keep it in a bag since the box is a bit difficult to open and slide the plastic tray out of. I strongly recommend keeping it in some sort of packaging by itself to keep it clean and to keep it from coming in contact with other toys. Some toy materials are not compatible together and may result in one or more toys melting and becoming ruined.

This toy is only compatible with water-based lubricant. Using a silicone-based lubricant can wreck the finish on the toy and often voids the warranty on silicone toys.

Care and cleaning:

Soap and water

Packaging:

Mood Naughty 2 comes packaged in a small black paper box with a clear plastic insert. The box is decorated in multiple colors of dots. The back of it lists some basic features of the toy as well as cleaning instructions and compatible lubricants. Strangely, the list of features does not include that this toy is waterproof, but it is. I found all of the other information to be very informative and a good step towards educating the buyer prior to their purchase. For that reason, I'd consider the packaging to be good enough to gift to a beginner, however the packaging itself probably wouldn't make an ideal gift box unless the gift is for a partner. It's very obvious what is inside the box, so it's not discreet. The box is a bit difficult to open so I wouldn't save it for storage unless you have nothing else to store the plug in.

Experience:

We've tried the butt plug in two different situations: during sex and while he was masturbating. When used during sex, with him as the wearer, he found the butt plug offered way too much stimulation for him to reach orgasm. During masturbation it also took him a long time to get off due to the amount of stimulation the butt plug was giving his prostate. For that reason, I would not consider Mood Naughty 2 an ideal butt plug for male-bodied wearers to use while receiving other methods of stimulation.

I think the angle would make it a good choice for women to wear during sex since it could hit the G-spot from the other side. I personally do not use anal toys, however, so I can't fully comment on that.

My overall rating of Mood Naughty 2 is based on the toy's overall features more than our personal experience with it. This is a good toy, it just doesn't seem to work well for my husband.