NMC Ltd Butt hungry - Butt plug from NMC Ltd

Product Details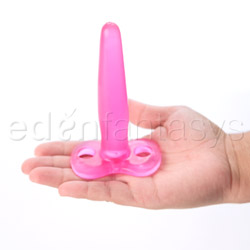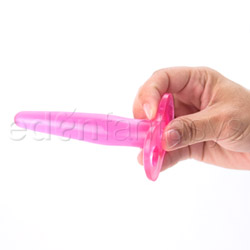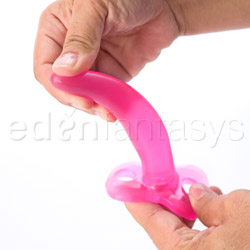 Summary:
Experienced anal players may find that their butts remain hungry after using this toy, but beginners will appreciate its modest design. It's narrow, easy to insert, and has a base that is wide enough to keep you safe.
Pros:
Smooth and rigid for easy insertion.
Cons:
Burr of material at the tip might be irritating to some. Can't fully sanitize the material.
Best use:
The Butt Hungry anal toy would be a good choice for anyone who is just learning the joy of anal play and hasn't become entirely comfortable with penetration yet. It would also be suitable for those who are looking for an inexpensive warm-up toy.

Material / Texture:

This toy is made from odorless glossy TPR Silicone, which is silicone blended with other synthetic rubbers. It doesn't contain any latex or phthalates, and is considered hypo-allergenic.

The surface is entirely smooth and does have quite a bit of drag to it, so be generous when you're adding lube. Butt Hungry is somewhat pliable, but rigid enough to insert very easily.

There is a significant ring-shaped burr at the tip of the toy that was obviously left over from casting, which some users might find stimulating to the anus but others may find irritating or not even notice. If it's a problem for you the burr can be removed with a nail file.


Material:

TPR Silicone

Material safety

Texture:

Smooth

Safety features:

Food-grade material / Hypo-allergenic / Latex free / Non-porous / Phthalates free

Design / Shape / Size:

Butt Hungry has a simple design, starting with a rounded tip no wider than a pointer finger, and then gradually flaring out to a 1" maximum width before tapering back down to 3/4" at the base. When looking at it from the bottom, the base is in the shape of a figure eight with a hole to either side to hook your finger tips in. These holes are barely over 1/2" wide, so if you have large fingers they won't be very useful for you.

Although experienced users might not get much stimulation from it, toys with this shape and size are ideal for beginners or people who enjoy a lot of gradual preparation before more intense anal play.



Color:

Pink

Length:

4 3/4"

Insertable length:

4 1/2"

Circumference:

3"

Diameter:

1"

Neck diameter:

3/4"

Weight:

3 oz

Performance:

Probably the best thing about this toy is how easy it is to insert. A lot of anal toys have to be held near the tip and "worked in" due to their flexibility, but the Butt Hungry is firm enough to be held by the base.

It's comfortable for thrusting to an extent, but if you get too vigorous that same rigidity can cause an uncomfortable poking sensation inside. Just keep things at a reasonable pace and all will be well.


Care and Maintenance:

Butt Hungry can be cleaned with antibacterial soap and warm water, or any toy cleaner. However, there is no way to fully sanitize TPR silicone. For this reason we suggest that you consider using condoms on it, especially if you are going to share it with your partner or switch from anal to vaginal use.

This toy is compatible with any water-based lube and should be stored away from other toys to avoid potential material interactions.


Packaging:

The packaging consists of a recyclable plastic "clam shell" style container that can be opened just by prying the top apart. A thin paper insert is printed with some product info in several languages, and brief instructions in English only.

The container is tough enough to be used as permanent storage or, if you feel it's too bulky, you can store the toy in a Ziploc bag.



Personal comments:

There were actually three different materials mentioned on this toy's packaging: Silicon, Silicone, and TPR Plastic. Based on our experience with sex toys, and with this toy specifically, we're comfortable saying that it's TPR Silicone.


Experience:

Alan says:

I don't have much to add except that the material burr we mentioned was too scratchy against my hole to be ignored. I'm not sure if all of the Butt Hungry toys have the same issue, or if they're all as pronounced as ours was, but if so I'd be inclined to suggest something that more sensitive users didn't have to sand before use. After that was taken care of the toy was easy to insert and felt fine, though anyone who is looking for direct prostrate stimulation should look elsewhere.

Michele says:

For me this toy was enjoyable for anal thrusting but not useful as a butt plug. The base wasn't all that comfortable between my cheeks and the toy didn't want to stay in when I changed positions. It was also too thin and smooth for me to get much thrill out of, but I'm pretty experienced in anal play. I think it would be very useful for someone who is new to it though. Just be sure to have a nail file handy in case your toy has the same prominent casting ring on the tip that we encountered.

In all honesty I'd say that if you are just experimenting and want an anal toy that's easy to take and very affordable, try the Butt Hungry toy. But if you'd like something nearly identical that's of much better quality casting and material-wise, spend a little extra and get a Tantus Slim.