Summary:
An etched, midnight black glass plug with a beautiful white marabou tail best describes the Fashionistas Bunny Tail Butt Plug, but that is just the very tip of the iceberg. The glass plug is solid, hefty, and large enough to please even the most discriminating size queen. The etching is a variety of flowers and vines with fairies and bunnies. There are also two sizes to choose from! Honestly, how can you resist?
Best use:
The Fashionistas Large Bunny Tail Butt Plug by Icon Brands is a marabou feather "bunny tail" attached to a beautiful, dark glass butt plug etched with whimsical flowers and fairies. Yes, I did say it is etched with flowers and fairies - with wings and cute little wands.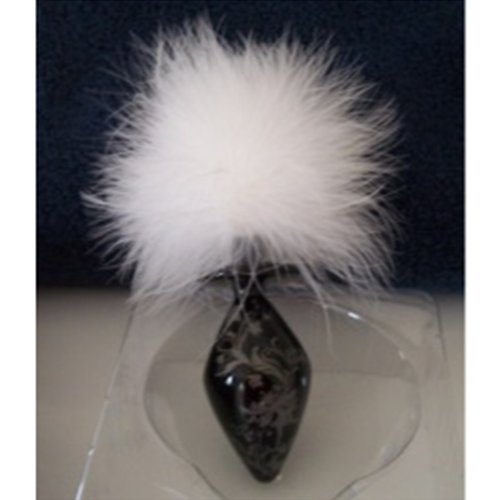 This plug is meant for anal insertion play and can be incorporated into "furry" play quite easily - or it can just be used to doll up a favorite little butt. The feathers are soft and sensual, and can be used to tease a partner mercilessly before the plug is lubed and inserted!
This is not a small plug and it's also glass, which means it has no give. Glass plugs might look small in size, but they can feel much larger when they are being used. This isn't a beginner's plug; for that I suggest taking a look at the
smaller version
.
The marabou feathers don't handle getting wet well. They can mat down and begin to look awful, so special care should be taken to keep them dry. If they do get wet, dry them on low or no heat with a hairdryer and gently fluff with your fingers.
The plug has a perfectly flared base that is as wide as the largest point of the plug. It's safe for anal use, but you will want to go slow and use proper preparation to avoid pain. The plug can be worn easily, and safely, for quite some time, but be sure to reapply lubrication frequently. It's not the best for sitting on, but it'll stay put if you hop around!
Material / Texture:

This is one of the prettiest plugs I have ever seen, and I was really hesitant to shove it where it was supposed to go! The plug is solid black glass that is etched in a beautiful grey color. It is completely smooth and doesn't require a ton of lube to make it super slippery. The user will not want too much lube on his/her fingers, as the feathers don't react well if they get lubed. The etching makes the sides of the plug a touch more matte than the glossy finish of glass would normally be, but a touch of lube removes any drag.

Since this is glass there is no smell, it's 100% non-porous, safe to share after cleaning, made of a food grade material, and is hypo allergenic, latex free, and phthalates free. It is also unforgiving and rather large, making the need for preparation paramount. This isn't a "lube up and go" plug for most users; it's one that will have to be worked up to.

The feather puff is soft, sensual, and actually quite fragile. It sheds, like good quality marabou will, and can excite allergies to feathers. It is, however, a large puff, meaning there is a ton of shedding it could do before it impacts the look of the toy! It's perfect for sensual teasing, even if the user isn't all that fond of inserting the plug. The plug makes a great handle, allowing the puff to be slowly swept all over a partner's body. Care should be taken not to get the feathers wet with body fluids or massage oils.

Material:

Feather

/

Tempered glass

Material safety

Texture:

Smooth

Safety features:

Food-grade material / Hypo-allergenic / Latex free / Non-porous / Phthalates free

Design / Shape / Size:

The glass is heavy, weighing in at roughly 4.80 ounces. That may not seem like much, but the wearer will definitely notice the plug when standing or kneeling! The weight can make for a slight ache that some users will find arousing, but others may not.

The plug itself is a tear drop shape with a flat disc on the top of the drop. There is a glass cup in the center of the disc which is where the marabou feathers are attached. The feathers are attached very firmly, and won't pull off without some really excessive tugging or pulling.
The plug measures 4.5 inches in total length; the puff measures roughly 4 inches tall and 6 inches wide. This plug has a rather large girth, measuring 5.5 inches around at the widest point. The tip of the toy begins at 2.25 inches, and it takes about 2 inches to reach the largest point, so the increase is gradual and pretty smooth. It tapers just under the flared disc to about 2.5 inches, and it takes about the same amount of space to taper to this size. The last half inch incorporates the flared disc and cup holding the feathers. The flared disc measures 5.5 inches around, making it the exact same size as the largest point of the girth on the toy. This will stop even the hungriest butt from continuing the meal!

It bears repeating that this is a plug that should be attempted after warming up for most users, and probably shouldn't be a beginner's first choice! This is a girthy plug, and one without any give whatsoever. It's gonna feel larger than its actual girth. On the upside, glass doesn't require much lube.

This is one of the most unusual and beautiful pieces in my collection. It's soft, feminine, and very graceful. The one thing it's not is discreet; it looks like a bunny tail attached to a very beautiful glass butt plug!

Color:

Black / White

Length:

8 1/2"

Insertable length:

3 1/2"

Circumference:

5 1/2"

Diameter:

2 3/4"

Weight:

0.5 lb

Performance:

The plug works exactly as it is meant to work. It is a filling and challenging plug with a gorgeous design and whimsical bunny tail. It takes just a bit of lube, and you can use any type you prefer, but I suggest a thick anal lube. The bunny tail looks really cute, and we had a lot of fun playing with it, but I am not gonna show the world my butt with a bunny tail. Sorry, I know this will cause some disappointment but there ya have it.

The toy is a bit difficult for me to use, but that's mostly because I have an uptight and skeptical butt that doesn't believe me when I say this is going to feel great! So long as I take the time it takes to properly warm up, though, I am able to use it with no problems. It stays put once it's in place, and you can hop around, crawl around or even walk around. Sitting is problematic as the feathers can break and be mangled. I also don't think that it would be very comfortable even if there were no feathers. The plug base is round, not contoured; so while it is fairly comfortable for play wear, long term wear might become painful.

The bunny puff is soft, and feels really great being run all over the body especially on the erogenous zones. It is great for sensual torture type play or just for teasing a partner. It does tickle when the plug is inserted, but not in a twitchy sort of way - sort of a brushing way.

Care and Maintenance:

Taking care of this toy requires some special precautions. The feathers don't do well when they get wet, as I have mentioned before, so what I do is wrap the feathers with a small fingertip towel before I wash the plug. The glass is non-porous, so it can be washed with hot water and soap, a commercial toy cleaner, or even a toy wipe. I actually prefer a good toy wipe and a careful rinse, but I usually end up washing it in hot water and soap as well. It really only takes a few minutes and a little bit of extra care, and I do believe it's worth it.

This toy is compatible with all types of lube, but be really careful that you don't get lube on the feathers. If you do, wipe them gently with a dry towel and fluff after dry.

This is one toy I store in the container it arrived in, because it's so damn perfect. There's even a little round piece that keeps the feathers in place and unbroken. The box isn't way over sized either, so it will fit into a storage box easily without taking up too much space. The box will keep the glass plug safe from breakage from being dropped or from rolling around in a wooden drawer. It will also keep the plug from bumping up against other toys.

Care and cleaning:

Soap and water

Packaging:

The package is a light plastic box that is completely devoid of the usual pornographically posing woman or couple. As you can see, it's tasteful and not threatening in any way. You can clearly see the toy, but the toy doesn't look lurid or even heavily sexual. It's kinda perfect for storing the toy.

The box doesn't have any care or maintenance directions on it, or even any serious directions for using the toy. I mean, the toy is fairly intuitive, but it wouldn't hurt to have some instructions. On the back of the box is a picture of the entire line, and I intend to grab up all of the pieces!

Personal comments:

The design etched into the plug is whimsical and very fey. The center of the design on both sides of the plug is a fairy and a bunny rabbit; with blue bells and other stylized flowers. In fact, it is so pretty I was a bit put off on whether to use it as a butt plug! I am a Faery Wiccan (I have studied the lore and have a great affinity with the Unseely Court), and the thought of shoving a fairy up my...well, you know, kind of weirded me out!

I did eventually work up to using the plug, and I do like it, but the fairies cavorting all over it is still a bit odd. Beautiful, exquisite even, but strange to my sensibilities. Not strange enough to keep me from obtaining the whole set, though!