Y'all can call me Thumper
I bet there are lots of folks who would love to see their partner all dressed up in a Playboy/girl out fit, what could be better to go with it than a bunny tail plug? The Fashionistas large bunny tail butt plug is a perfect tail style plug for those fantasys. The tempered glass is perfect for temp play and the etching is down right awesome. The feathered bunny section is large enough to be seen while not getting in the way to much and the over all look is very erotic.
Published:
Pros:
Great addition for a bunny costume, Great size, Stays in, Very whimsical.
Cons:
Feathers require care during use and cleaning.
Fresh from Icon Brands is the Fashionistas large bunny tail butt plug, a plug for the bunny fans out there. It is just one of the new offerings in the Fashionistas line. According to the packaging, this line is "All part of the approach to life and love...where pain meets pleasure, and orgasmic bliss is just a sting away." Now this plug will not sting much (Unless you can't handle the size) but it sure is some eye candy and it WILL tickle your fancy in more ways than one.
Let's take a look shall we?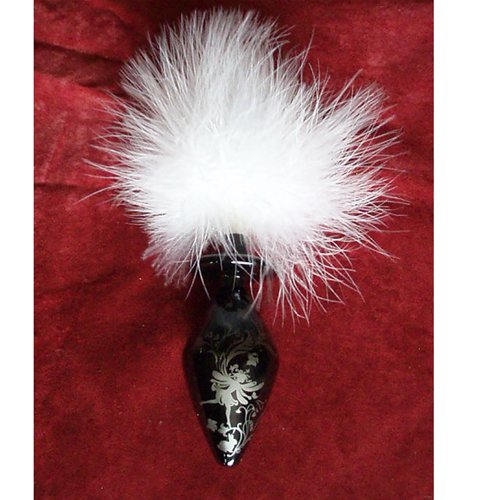 Gorgeous is it not? A pitch black
tempered glass
is used to make the plug and a whimsical fairy design is etched onto the surface. This adds a bit of texture but is more for looks than anything else.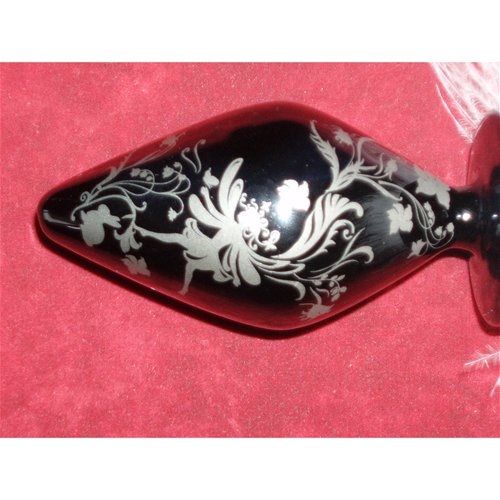 After the somewhat small base (Compared to the plug portion) the glass forms a small tube that the real "Feather Puffs" attach too. This is where my only complaints are but will get to that in a minute.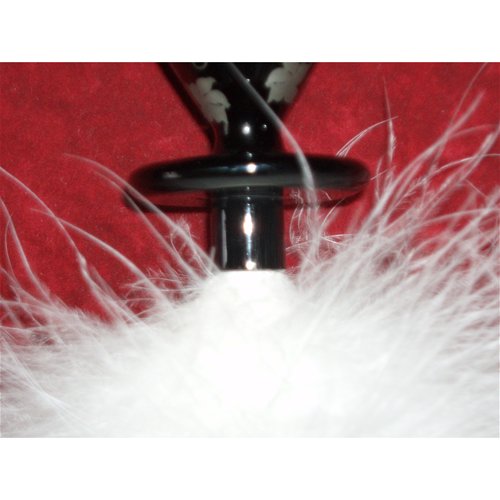 This plug does what a good plug should do; it provides a nice full feeling and stays in during use. I wore it around the house for a good hour and during sex with the wife with no worries. The neck area could be a bit longer so it would better hit my prostate but feels good nonetheless. The etching can be felt upon insertion but not after that.
This plug comes in at 3 1/2" long and 1 3/4" diameter. The tip is tapered for nice gradual stretch and is nicely blunt to prevent poking. After the plug tapers down to the 1/2" neck you will only get about a quarter of an inch of relaxing room before the base, once again I wish the neck was longer. The base is a rather small 1 1/2" diameter, I prefer a base to be at least as big as the insertable portion but I had no problems with it. It just does not look right to me. Also, the base is somewhat thin. This worries me a bit as I am sure if it was dropped the base might break. Furthermore, the tube for the feathers is also pretty thin; these are areas that could/should be thicker for better strength. It does fit between the cheeks nicely which makes for better long term wear comfort. After the base is the tube where the feathers attach. I can't tell how they are attached but I assume they use some kind of glue to hold them in. So far, after four washing's I have only noticed two or three feathers come out so it seems to be good glue.
Speaking of the glue, this brings us to cleaning. Now, glass can be boiled, bleached, cleaned with an antibacterial soap or placed in the dish washer. Due to the feathers though you are left with only the soap or a toy cleaner to clean it. The bleach might still work since the feathers are white but I am not sure if the bleach will degrade the feathers. Also, heat may affect the glue used for the feathers so I advise to stick with warm water, not hot.
The question everyone will want to know is how you clean the feathers, right. Well, according to the
feather
material page "Don't get liquids or oils on products made of feather as those will ruin the feathers.", now this is a
butt
plug, surely we know that uh...stuff might find its way onto the feathers. Even with careful use at the least, lube will get on them and possibly vaginal fluids (If worn by women) so cleaning surely will be needed. I threw caution to the wind and washed them, and the plug, with Climax Burst toy cleaner. I have yet to see any problems so far, just stay away from harsh cleaners and use some care when cleaning (Like don't bend them) and they should be fine. I have to say though; it looks kind of cool when it's wet, sort of like a "Rat tail".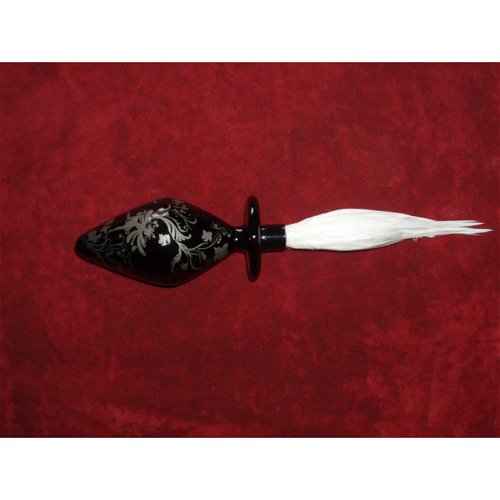 This may work as a different type of tail, eh?
There are a couple of ways to dry the feathers; you can just leave it out to dry or use a hair dryer (Low heat please) to dry them off it time is short. I tried both ways with no difference noticed, after all, birds get wet too, eh?
Storage may be a bit hard due to the feathers; I use the package it comes in even though it is somewhat large. I think this is the best way to keep the feathers looking good.
Experience
All I need now is some bunny ears and I'll be all set for Easter, eh? This was one of those products I chose to tease the wife with, I told her I had a toy coming for me that should get a big kick out of. Needless to say, she laughed her ass off. I waited until she was ready for sex and snuck off to the bathroom and put it in. I used my pair of
Spider fishnet shorts
to cover the tail up and headed for the bedroom. I did a little strip tease for her and after I had the shorts off I turned around and bent over so she had a good view of the tail. Fifteen minutes later we were able to get down to business. I also used it to tickle/tease her body with the feathers, she is VERY ticklish so this was a fun time as well. What a funny time we had with this plug.
I figured that folks may like to see what said plug would look like when worn. Since my wife did not care for the idea of my naked butt being shown I came up with other ways to show it off.
First, the plug in a woman: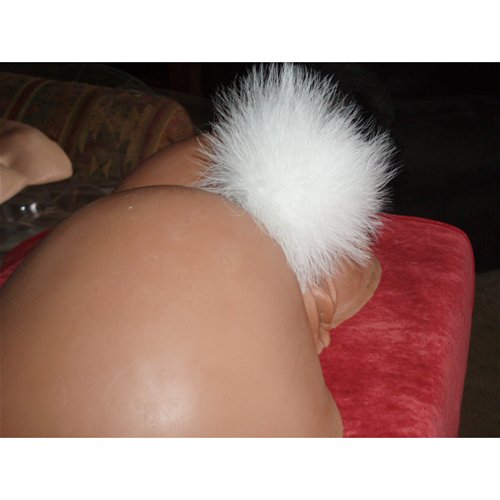 In a guy: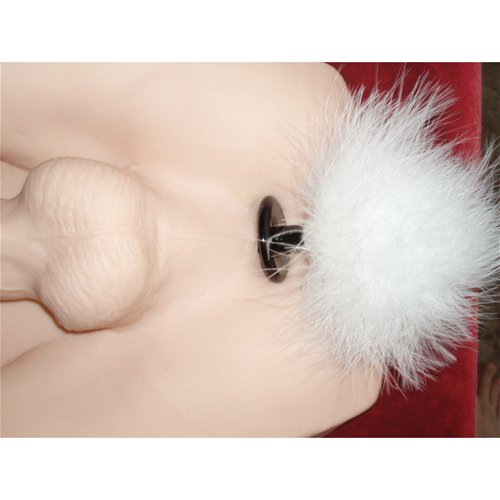 Damn sexy, eh?
One thing I figured I should mention, if it is to be worn by a female bodied person. The feathers may get in the way of vaginal sex. They just kind of float around as they please, ya know? Not that they will cause problems but they can and will tickle your partner. Even when I ware it the tend to tickle by perineum and balls. You can see what I mean in this picture.
I would not recommend sitting with this plug. One, you may deform the feathers and two, the tube that holds the feathers will not hold up to to much abuse. Better to be safe and not sit on it.
Yup, this is one fun plug, perfect if you have a bunny outfit to go with it or just want to surprise your partner with a tail style plug. Five stars and one tail up from me.
This product was provided free of charge to the reviewer. This review is in compliance with the FTC guidelines.

Thank you for viewing
Fashionistas large bunny tail butt plug
review page!