Icon Brands Fashionistas small bunny tail butt plug - Butt plug from Icon Brands

Fashionistas small bunny tail butt plug videos
Product Details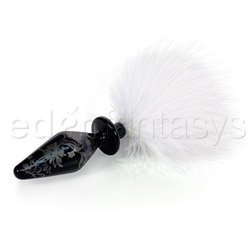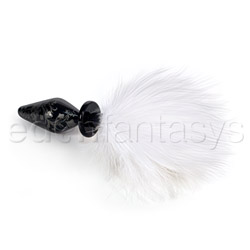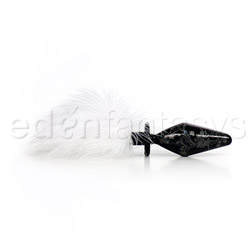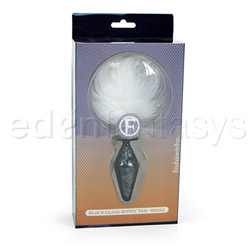 Summary:
This is a delightful tail plug and perfect for anyone who likes petplay or is just interested in certain sexy bunnies. It is very professional and well-made, and I would recommend it for anyone interested in anal play or whimsical fantasies.
Pros:
Cute and sexy design
Plug shape is very comfortable to use
Glass
Cons:
Tail puff may be difficult to clean
Material / Texture:

There is absolutely no scent to this Bunny Tail Plug. If you are not careful during use and got it dirty, the puffy tail fur would likely hold scent as it is made of light feathers. They are also porous and cannot be completely sterilized, so you would not want to use this with multiple partners. The glass end however is not porous and can be very well cleaned. The glass will not hold scent.

The tail itself feels very soft and fluffy. It's delightful against the skin and could also be used as a tickler for sensation play.

The plug's insertable end is made of glass with a very pretty golden design in the shape of a fairy with swirls and leaves around her. It is completely rigid with no give whatsoever. You will want to be careful during insertion to be sure your body can handle the size and shape well, and work it in slowly if you feel any resistance.


Material:

Tempered glass

Material safety

Texture:

Smooth

Safety features:

Food-grade material / Hypo-allergenic / Latex free / Non-porous / Phthalates free

Design / Shape / Size:

This is a very attractive design that has a lot of sexiness and roleplay potential if used with a partner, or could provide the basis for a fantasy if used alone. This can be just the thing to spice up your love life without getting a whole costume together and is ideal for playing love games while travelling, as it is small enough to tuck into a medium or large purse and would hardly be noticeable packed into a backpack or luggage as long as you put it into a discreet box or bag.

The golden print on the plug itself adds whimsy and a touch of magic, and seems to be printed on very well so it should not come off during use and will remain in place if you wash with something gentle and not corrosive.

The tail's feathery bunny puff is just the right size to look adorable on a person and be noticeable and very rabbit-like without seeming excessively large. It's soft material contours to the buttocks and tickles just a bit when grazing your skin. It's not distracting but it can be very stimulating at the right moment!

The plug has more taper at the tip than toward the base, which helps it to provide a very slow stretch on the way in and make insertion easier. Since the base isn't strongly tapered there isn't much chance of it accidentally coming out. The size is good for beginners who have taken a plug before or can easily insert their finger without discomfort, but for someone who has never used any sort of toy anally or is still uncomfortable with anal play, I would recommend getting accustomed to it a bit more before using this toy.


Color:

Black / White

Length:

8"

Insertable length:

3"

Circumference:

4"

Diameter:

2"

Weight:

0.3 lb

Performance:

This is a very comfortable plug and a good size for someone who likes a slightly 'full' feeling without being constantly distracted from everything else by the sensation in their rump. While the complete lack of flexibility in glass means you will notice it if moving around or changing position, the contours of the plug fit well in the body and it shouldn't be uncomfortable in any way.

The Bunny Tail Plug is very easy to insert and as long as you lube both the toy and yourself, you should be very easily able to slide it in without discomfort. Just go slow and be sure you're completely comfortable with the current sensation before you push it in a bit more. Never force anything into the anus if you feel any level of discomfort as the tissue there is very thin and you want to be sure not to put yourself 'out of commission' for healing.

Anyone who is accustomed to anal play will find this toy to be an absolute delight and very easy and satisfying to use. If you like something on the larger size you may want to get the bigger model of this same plug.

Care and Maintenance:

This is a very easy plug to clean as long as you do not get the tail dirty during use. The glass plug can be washed with soap and warm water and then toweled dry, or you can use a toy cleaner of your preferred brand. I use Swiss Navy toy cleaner because it is antifungal, antibacterial, and antiviral. Just spray it on, wipe off any extra, and allow the plug to dry.

Now the tail itself would be a lot harder to clean if dirty. Since it is puffy and made of feathers, washing it could give it a rather dirty and ratty look. You really want to make sure it never gets any body fluids or anything else on it and then you can just let it air out to keep it fresh.


Care and cleaning:

Soap and water

Packaging:

The Fashionistas Black Glass Bunny Tail Plug comes in a very beautiful packaging. Even though it is made of the thin plastic I have grown familiar with when purchasing sex toys, the layout is impressive. Everything is printed straight onto the package instead of just throwing a printed piece of paper behind it.

The colors (black, dark purple, and gold) match the plug itself very nicely, which makes everything seem even more sophisticated. The font on the box is unusual and sort of gothic noir, which I like very much.

All in all, it is an unusually nice package for a sex toy and while the box cannot be used for storage and isn't very discreet, it does showcase the toy beautifully and provides information such as the company's website and their other sexual products.


Experience:

This is a great plug, and I was very pleased the first time I tried it out. It was very easy to insert once it was well lubed even without warming up with another toy or my hands. It took a few minutes to fully work the bunny tail plug into my anus but once I did it was very comfortable and I had a pleasantly full feeling.

I went over and looked into the mirror, pleased to see how cute the little rabbit tail looked on my rump, and appeared completely natural like I had just sprouted a fluffy bunny tail. I hope to see more toys like this in the future, because it is a lot of fun even just to wear even before starting to play with my partner.

Another thing I love about this plug is that it has a bulge in just the right place. My g-spot is very shallow so with this inserted, it takes up some space internally and makes the vagina feel tighter during penetration, so my partner's penis was rubbing right against my g-spot. Not only was this toy very stimulating anally, it actually made vaginal sex feel better while it was in, so I will certainly be using this more in the future!