Tantus Flirt - Butt plug from Tantus

Product Details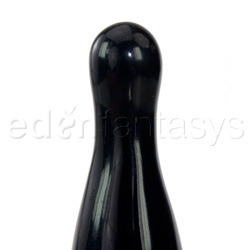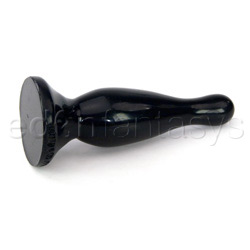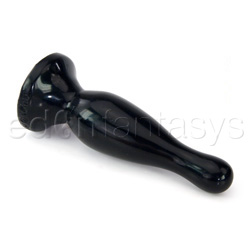 Summary:
The Flirt is, in my opinion, a great choice for a 2nd plug. While it may be a bit large for absolute beginners, it's also not a beast of a toy that would take years to work up to. Low-level intermediate users rejoice! Made of gorgeous Tantus silicone and designed to please and plug butts of all sizes, this is a winner of a toy that I recommend to anyone looking for a smallish yet satisfying intermediate plug.
Pros:
Tantus' 100% silicone, great shape and size, feels wonderful when worn
Cons:
Not comfortable for long-term wear
Best use:
This 100% silicone toy is an awesome butt plug. Let's just say that right off the bat. The material is brilliant, the shape is comfortable and ergonomic, the size is satisfying. And of course, a nicely flared base makes this completely safe for anal insertion. Further, my experience has been that once this is in, it's staying in. Your butt, as one would hope with this kind of product, will be plugged. Success!

There's no reason not to take this into the bath or shower if that's where you so wish to play because the Flirt has no mechanical parts that could be water-harmed.
Material / Texture:

Tantus' platinum medical grade silicone is really one of my favorite materials and at this point it's pretty much the only thing that goes in my butt. It's just that good. It's firm enough to be in charge of the penetration situation, but giving and flexible enough to allow everything to go as easily and comfortably as possible. There's also no taste or odor to be found at all. And, of course, it's completely non-porous and sterilizable. For anal toys, this is a huge bonus for obvious reasons.

"No silicone lube with silicone toys" has been the mantra for some time now but some interesting developments have been coming about on that front. Check out this lube and toy compatibility workshop that Dwtim did back in April for more details.
To be safe, water-based lubes are always the best bet but if you're dying to use a silicone lube with this you can always do a patch test on the base of your toy to make sure all is properly compatible.

Material:

Silicone

Material safety

Texture:

Smooth

Safety features:

Food-grade material / Hypo-allergenic / Latex free / Non-porous / Phthalates free

Design / Shape / Size:

Size-wise, this is a beginner/intermediate toy. It might be the perfect 2nd plug for one's collection. I wouldn't recommend it to someone who's never tried an anal toy before, because the wider bulge will probably be a bit big. If you've tried a smaller plug (or say, the Little Flirt) and feel ready to move on up, this would be a great next step. That said, this isn't a monstrous toy – advanced users aren't going to find this any kind of a challenge.

The very tip of the toy has a circumference of about 2½" and then slims down to 2¼". This thinner bit (which is about 2" long) makes for a nice, easy introduction to the plug before it widens out again to a decent sized bulge of 4½" at the biggest point, which is quite nicely filling without being too tight of a stretch. Picture a little silicone bowling pin with a conical base stuck on the bottom and you've got the Flirt. After the main bulge the circumference dips down to 3¼" before flaring out at the base. I found that this dip was adequate for my bum to hold onto after insertion, but more on that below.

Length:

5 1/4"

Insertable length:

4 3/4"

Circumference:

4"

Diameter:

1 3/8"

Neck diameter:

1"

Weight:

4 lb

Performance:

Reading up on other Flirt reviews it seems that some folks had issues with this toy slipping out during play. For me, there were no such problems. The Flirt did exactly what a butt plug should – it plugged. I found no risk of it popping out during orgasm, no matter how strongly my muscles contracted. My best guess is that maybe my less-experienced ass had trouble stretching over the bottom bulge and so it stayed put. Or else maybe I just used less lube. Either way, I had no trouble retaining this toy but if you're someone who uses larger plugs on a regular basis then you may have a different experience.

Being a plug and not a probe, this toy isn't going to be all that great for thrusting. Sliding it in and out slowly does feel nice, but generally the Flirt works best as a stable presence. The filling size and length means that it won't be easily forgotten about. I've personally found that small subtle movements are quite pleasurable, either by contracting my muscles around it or wiggling/tapping the toy's base and feeling the small movements echo in my butt. The feeling of fullness made for extra intense orgasms, especially if I pulled the plug out just slightly as I came. No complaints there.

Long-term wear isn't going to be particularly workable with this one because of the circular base's inability to fit between the buttcheeks. On that note, I found that this wasn't a very comfortable plug to be up and walking around with anyway. The thickness of the plug makes it hold its shape rather than conforming to your body if you're moving with it so you definitely aren't going to forget it's there. I much preferred using the Flirt when flat on my back so as to not feel the awkward stiffness of it during movement, but others may find said stiffness less annoying. I found that sitting with it was a bit better, though only for short periods of time because of the base.

The Flirt is not very good at transferring vibration, sadly. Holding a bullet to either the base or the shaft of this plug did pretty much nothing.

Not being a dude, I can't really say how this one would fare for p-spot stimulation. I did throw a condom on it to check out if it did anything g-spot-wise and the conclusion was that no, it didn't do a whole lot. So, I'm going to extrapolate that this won't be a big winner for the prostate, either. Tantus does make some really kickass toys specially designed for such things though, so check out the Pro Touch or the Prostate Health if that's the kind of toy you're looking for.

While this section may seem like a list of things the Flirt doesn't do, it really just points at the fact that the Flirt is just really good at the thing it's made for. It's a non-vibrating butt plug best used during masturbation. It feels wonderful, it stays put, and that's that.

Special Features:

Beginners
Flared base
Handmade
Waterproof

Care and Maintenance:

Care of this toy really couldn't be easier. Wash it up with hot water & soap or toy cleaner for the everyday maintenance routine. You can boil it for 3 minutes or wipe it down with 10% bleach solution for full sterilization, which means that the Flirt is totally fine to share if you happen to be on a tight butt plug budget and don't want to buy more than one. Hurray!

As silicone often does, the Flirt tends to collect dust and lint if you have it out but a quick rinse before playtime will solve the issue.

Care and cleaning:

Boilable / Dishwasher safe

Personal comments:

For a lass who's been using plugs for some years now, I really haven't upgraded the size of my anal toys much. Until recently. I ordered both Tantus' Flirt and B-Bomb at once, sort of jumping right into the slightly larger diameter club and hoping for the best. I must say that I really appreciate the thinner tip of the Flirt and for the first couple uses I didn't even insert the toy all the way. As I became more comfortable with the size over time it became easier to use the full length of the toy - I like that this was a toy to grow into rather than something I'm going to quickly outgrow. The Flirt is just the challenge my butt needed as a step-up and it really was just the right shape to allow me to make the size increase work.