Eden Toys Eden silicone anal probe - Probe from Eden Toys

Product Details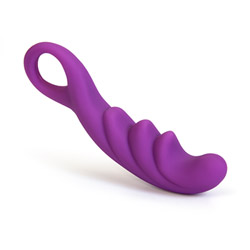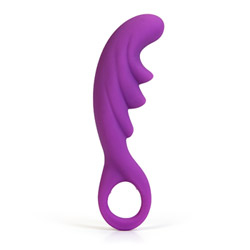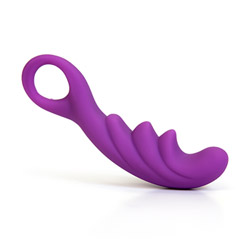 Summary:
The Eden Ridged Silicone Probe is not your ordinary anal toy. The head and ridges of this probe are very pronounced and efficient. This toy will sensually pleasure the pickiest prostate or G-spot. This is a marvelous toy!
Pros:
Distinctive texture
Slick silicone
Ergonomic shape
Cons:
This heavily textured probe is not suitable for inexperienced anal toy users
Material / Texture:

This probe is a toy made from body-safe, hypoallergenic silicone. The material is nonporous and free of latex and phthalates. This toy earns a perfect 10 on Eden's safety scale. The particular silicone of this probe is slick, does not attract lint, and only requires a small amount of water-based lube if you use the toy anally. The silicone is odorless and will not pick up smells even if you used it in anal play.

Though this toy is solid silicone, the body is bendable and the tip of the ridges has a slight give. Nonetheless, the loop handle is exceptionally pliable.

Besides the perfectly angled head, the other textures on this probe are the three unique ridges on the front of the toy. The ridges are thick and prominent; users who favor extreme texture will love this distinctive feature.

Material:

Silicone

Material safety

Texture:

Smooth

Safety features:

Hypo-allergenic / Latex free / Non-porous / Phthalates free

Design / Shape / Size:

This probe is in lilac purple and looks like a child's small toy. This piece is not like an ordinary anal probe that has a long shaft and subtle texture. This toy has a 45-degree head and three prominent, wave-like ridges closely and evenly placed along the front of its short shaft. The loop handle, sufficiently roomy to fit a thick finger, makes it easy to maneuver the toy. The wide loop also prevents the toy from over-insertion during anal play. This probe only measures 5 ½ inches long with an insertable length of 3 ½ inches. Its body is narrow and measures only 1 inch across, but the first ridge closest to the head has a depth of 1 3/8 inches. The detailed dimensions of this probe are listed in the picture below.





As you can see, this contoured probe has the ergonomic shape and quintessential components for ultimate prostate and G-spot fun.

This small probe is ideal as a travel toy. Its whimsical appearance should not cause any embarrassment during baggage screening at the airport.

Color:

Purple

Length:

5 3/4"

Insertable length:

4 3/4"

Circumference:

3 3/4"

Diameter:

1 1/4"

Performance:

The Eden Ridged Silicone Probe is an amazing toy. The perfectly angled head and closely arranged ridges rub your special spot constantly while the toy is in motion. (Think four fingertips taking turns stimulating you!) You can enjoy edging by sliding this probe slowly, or you can thrust it fast to achieve a mind-blowing orgasm within several minutes.

After you have tried this toy, you might not want to use another probe again, especially on the G-spot. No other probe can compare with this one, let its remarkable features ravish you!

Special Features:

Bleachable
Boilable
Dishwasher safe
Premium
Texturized
Waterproof

Care and Maintenance:

This silicone probe is easily cleaned with antibacterial soap and warm water or a toy cleaner. Please pay extra attention to clean the recesses between the ridges where grime could hide. You can disinfect this anal probe in a pot of rolling boil water for 3 minutes or soak it in a 1:10 bleach solution (1 part of bleach and 9 parts of cool water). You can also run this toy on the top rack of your dishwasher using the high-temperature cycle (please wash the probe before you put it into the dishwasher). For storage, ensure the toy is dry and bag it in a snack-sized Ziploc bag.

To keep this silicone toy in pristine condition, use it with only water-based lubricants. You should also keep this probe away from other silicone toys to prevent possible chemical reaction between two silicone materials.

Care and cleaning:

Bleachable / Boilable / Dishwasher safe / Microwave safe / Soap and water / Toy cleaner

Packaging:

This probe has no fancy packaging. It comes in a plain plastic bag within a brown shipping box.

Experience:

The first time my husband inserted this cute and appealing toy in my backdoor, it shocked me slightly. I had to make him leave the probe alone, so I could get accustomed to its shape. After that, my husband gently slid the toy back and forth in me, I moaned at the sensation!

The day after, I disinfected the probe and asked my husband to use this lovely toy in my pussy. My gosh, the incredible texture wowed my G-spot in the most delightful way! I also had a pleasant surprise: every time my husband pushed the insertable portion fully into me, the probe's soft handle flexed and pressed my clitoral region, this stimulated me even more. I had an earth-shattering orgasm within minutes!