One Probe to Please Them All
I would highly recommend this toy for anyone looking for G-Spot stimulation. For those wanting an anal toy, this works great but would not be a good place to start. I'd recommend starting with a smaller butt plug and then maybe moving to a toy with less texture to see if that's something you enjoy.
Published:
Pros:
Silky smooth
Attractive
Multi-purpose
Cons:
Stiffer handle
This lovely probe is designed for prostate or G-spot stimulation. When tried with my girlfriend, she told me it felt best when she was lying on her back and inserting the Eden probe, curve facing up, into her vagina. Instead of fast in-and-out movements, fully inserting the toy and making smaller movements felt best. Providing some clitoral stimulation with my tongue and fingers led to an amazing orgasm.
I also tried the probe in my ass. I had been wanting to find a toy to stimulate my prostate for some time now. It was...a little tight. Lots of lube is recommended! I personally love coconut oil. I lathered the toy up as well as my anus. I tried a variety of positions but found that on my back with my legs spread and elevated was easiest for insertion and control. It felt best one of two ways, either all the way inserted and sort of rotated so it massaged against my prostate, or when inserted repeatedly halfway in and then out. I previously used a 1" butt plug, so this probe was definitely a bit of a stretch. Even though the maximum diameter is only 1 1/4", apparently that 1/4" makes a difference. See the picture below for reference.
Take your time when inserting. If you encounter pain, back off and insert again. It takes longer but is worth it so you do not tear anything.
The ridges on the Eden probe are the most unique feature on the toy. When inserted vaginally, my girlfriend told me they did not add a lot of additional pleasure. They were certainly noticeable but more neutral than positive. Anally, the ridges were a bit too large for my liking when inserted fully. However, they felt very nice when inserted halfway and thrust in and out.
Overall, the quality of this toy is great! The silicone is silky smooth and we both agree the color is nice. I do wish the handle were slightly stiffer as I think that would make it easier to control. Inside of a tight hole, it's a little more difficult to maneuver, especially if you are using it solo. This does not really take away from my enjoyment of the toy, but if improved, it would make the probe all the better.
I love that the Eden probe is silicone because I want it super clean when moving between the anus and vagina. After removal, I immediately wiped it clean and scrubbed the toy down using hot soapy water. You need to be sure to clean under the ridges as particles can get trapped there. Then, I boiled the probe for 8-10 minutes to sanitize. You can also spray or soak in a bleach solution of 1 part bleach to 10 parts water. Soak it for 15-30 minutes, then rinse in cold water.
The packaging that the Eden probe came in was very basic. It was in a plastic bag and surrounded by air cushions inside of a plain brown box.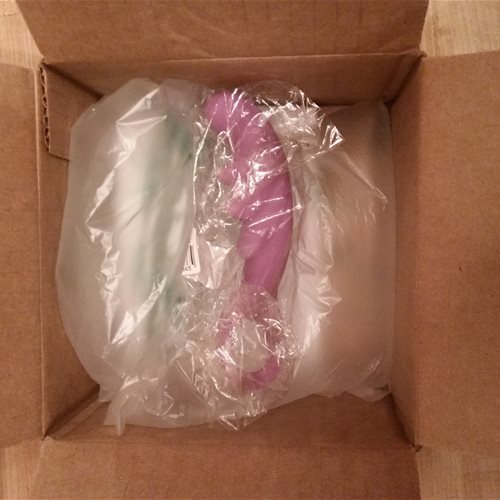 This product was provided free of charge to the reviewer. This review is in compliance with the FTC guidelines.

Thank you for viewing
Eden ridged silicone probe
– anal probe review page!