Doc Johnson The big guy - Probe from Doc Johnson

Product Details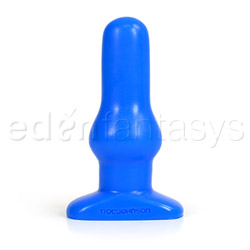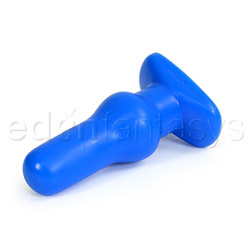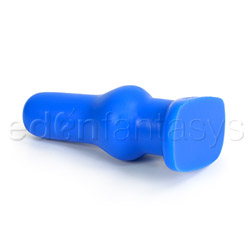 Summary:
The Big Guy from Doc Johnson presents a pretty unique design in a butt plug. It is 100% silicone, so it is non-porous, easy to care for, and very durable. It provides three different sizes of shaft to play with. The full 2" is about 2/3 of the way down, but smaller sections are provided before and after. This allows for a great staging area, as well as helping it stay in place once it is in. The large diameter provides a very full feeling and can be useful in warming up to larger objects.
Pros:
Silicone material, large diameter, smaller top and smaller neck.
Cons:
Large base not ideal for long term wear.
Best use:
My first inclination of the Big Guy from Doc Johnson was that it was just another 2" butt plug, but as I was searching around I found that there really isn't anything just like this that is widely available. Two inch diameter, silicone butt plugs can definitely be found, but one that has a start like this is pretty unusual. I have some competitive plugs listed as similar products, and you'll notice that all of them are more pointed and transition quickly to large diameters. This is more like a Ryder (which I love) with a 2" bulge in the middle of it, for those of us that want a little more stretch than the Ryder provides. Now the neck doesn't narrow down as much as Ryder's neck and the base is larger than Ryder's, so it isn't as good for long term wear in my opinion, but this is filling a decidedly different niche.
Material / Texture:

The Big Guy is 100% silicone. The texture is very smooth. It is certainly not a matte texture like some silicone manufacturers tend to produce, but it still requires some lubricant to keep things moving. It is more pliable than glass or metal, of course, so it may be the perfect alternative if you don't like the rigidity of those materials. Other than the bulge, the material is essentially featureless until you get to the base, which has DOC JOHNSON impressed into it. This is not noticeable during wear, but it is there. The silicone color is a marbled gray which is handsome, in my opinion. Not as "bad boy" as black, but more subdued than a red or pink. A very nice presentation, overall.

Material:

Silicone

Material safety

Texture:

Bulged / Smooth

Safety features:

Food-grade material / Hypo-allergenic / Latex free / Non-porous / Phthalates free

Design / Shape / Size:

The Big Guy starts out with a rounded shaft with a diameter of 1 1/2", which then increases to 2" about 2/3 of the way down and then drops back to a neck about 1 5/8", before going to a base that keeps it from slipping inside. Having the smaller diameters before and after the peak gives one the ability to get it inside and relax on the start of the shaft before going for the full stretch, and then having a nice neck to relax back on to. The neck isn't too long, so the plug doesn't slide out very much while being worn. The shape is pretty unique among butt plugs but really seems to function well.



Length:

5 1/4"

Insertable length:

4 1/2"

Circumference:

6"

Diameter:

2"

Weight:

0.4 lb

Performance:

How the Big Guy performs for you is going to depend a lot on your anal play experience. If you are used to accepting large objects, then he should be no problem, but if you are used to smaller items, then the Big Guy will present more of a challenge. The Big Guy certainly was a challenge for me, but I haven't played with a 2" diameter plug in quite some time, so I was a little rusty. The nice thing is that I don't really need a separate warm up toy as I can take 1 1/2" pretty easily. The first part of the shaft then acts as its own warm up and allows you to work toward the 2" bulge at your own pace, to some degree. Once lubed up, the Big Guy doesn't stay in at the smaller starting diameter unless it is held, but you can definitely use that smaller diameter to remain staged as you slowly work toward the larger diameter. It ends up working very well for me.

Care and Maintenance:

100% silicone is a great material for anal toys, as it is non-porous and can be completely sterilized. Regular cleaning can be accomplished with soap and hot water, but deeper cleaning options include wiping with a 10% bleach solution, boiling for 3 minutes, or throwing it in the top rack of your dishwasher without soap. Once it is clean and dry, storage is simple; just keep it from touching other silicone based toys. Water or oil based lubes are fine to use with 100% silicone. Silicone lubes may degrade the material, but if you really want to, spot test somewhere on the base of the toy with the silicone lube, as an immediate reaction will result if the lube is incompatible. The glossy finish of this toy makes a silicone lube reaction very obvious.

Care and cleaning:

Bleachable / Boilable / Dishwasher safe / Soap and water

Packaging:

Doc Johnson chose to package the Big Guy in a clam shell container meant for hanging. There is a cardboard insert behind the plug which lets you know that it is made out of premium silicone. The Big Guy is clearly visible, so you certainly know what you are getting. There are no pictures of men or women on the packaging, however, so I would consider it to be discreet. I suppose the packaging could be kept for storage as long as you don't mind the extra space it takes up. I keep mine in a muslin bag and recycle the packaging.