Cake Beauty Satin sugar hair and body powder for darker hues - Powder from Cake Beauty

Product Details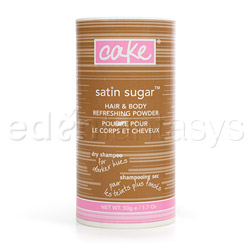 Summary:
Satin Sugar Hair & Body Refreshing Powder is far superior to other dry shampoos. It doesn't feel sticky, it smells subtle and clean, and it can be used on the whole body. The tinted powder helps it to blend seamlessly into the skin, with tones to match from the lightest to darkest complexions.
Pros:
Smells fantastic, freshens hair and body, great for travel.
Cons:
Small bottle, won't last long, may not be dark enough for black hair.
Best use:
The best use for Cake's Satin Sugar is as an occasional refreshing powder. It is used the way baby powder is typically used between showers, but is so much better. First, it smells amazing! Yet the scent is clean rather than strong, so it doesn't necessarily smell like you've been using something, just like you smell great all the time. It works on both the hair and body, and because it is tinted to skin tones, it blends in great. While there is no reason a man couldn't use this product, the scent is slightly more feminine than masculine.

The second suggested use for this product is for women with dry hair. Daily shampooing removes the hair's natural oil, creating a dry and frizzy mane. This product takes the place of every-other daily shower, keeping you fresh feeling and smelling, while not over-drying the hair or skin.
Texture / Consistency / Thickness / Viscosity:

Satin Sugar is a powder ground as fine as the best face make-up powder. The texture is as soft and velvety as the skin itself, and blends in perfectly, without feeling like the skin has something caked over it. In the hair, it relieves the feeling of lack-luster, oily locks. With the extra oil removed, hair returns to feeling of being just washed. However, care does need to be taken not to over-saturate the hair with the powder, as it may dull the hair and make it slightly harder to manage.

Ingredients:

Zea Mays (Corn) Starch, Silica, Parfum (Fragrance), Caprylyl Glycol, Proylene Glycol, Aqua (Water), Chamomilla Recutita (Matricaria) Flower Extract, Calendula Officinalis Flower Extract, Benzyl Benzoate, Limonene, Eugenol, Coumarin, Citral

Taste / Aroma:

The scent of Satin Sugar is very subtle and clean. The manufacturer claims the fragrance is lemon-sugar. However, while the sugary perfume finds its way to the nose, the lemon scent is somewhat lost. The result is somewhat like the barest whiff of cookie dough, mixed with a hint of feminine sweetness. On the skin, the scent is only detectable within inches from the source. While it does refreshen and cancel odors, it is not over-powering or highly fragrant.

Performance:

You might wonder what this product has to do with sexual needs, but feeling fresh and ready at a moment's notice is the epitome of a woman's needs. For the hair, start with a nickel-size amount of the powder and disperse it evenly between both palms. Work the powder into the roots of your hair, finger-combing it from the roots into the first couple inches of hair. Immediately you will notice the greasiness being absorbed, and in about 20 minutes it fades in completely, just leaving a silky, soft feel and fresh scent. These results are consistent for about 12-24 hours, depending on other products used on the hair and the amount of physical activities done.

For use on the body you can either sprinkle the powder directly on the skin and use the palms to blend over the skin, or you can use a large make-up brush and dust it lightly over the skin. The skin tones blend perfectly into the skin with no sparkles or make-up like shimmer. The blend is lightweight, talc and paraben-free. While it will help absorb moisture and/or just freshen the skin, how long the effects last are directly related to what activities follow application. Anything that results in sweating will cause it to fade quickly.

This isn't just for use when you don't feel like showering, but those times when a bit of exertion has left you feeling less than fresh. Just tuck this into your purse and use after work, work-outs, or dancing at the club. If using and planning to jump right in between the sheets, consider that the colored powder may rub onto light colors if not left on the skin at least 15-20 minutes to absorb a bit first.

You'll love how clean and natural smelling this leaves the skin. The coloring is a deep caramel, which should suit those with olive complexions or deep tans, or even oriental tones. It may be too light for those with deeper skin tones.

Depending on how this is used, it may be long-lasting or quickly consumed. If the primary use is just as a dry shampoo, it should go a long way. If consistently used as a body powder, much larger amounts will be depleted at a time. Either way, it's probably realistic to expect at least a couple dozen uses from one bottle.

Packaging:

Satin Sugar comes in a brown and pink 1.7 oz container, similar to ready-to-use salt/pepper shakers. It has a non-removable twist lid on top that offers one of two openings, one with six small holes that release only a small, dispersed amount at a time. The other opening is a large circle that allows for larger amounts of the powder to be removed.

The lid does not keep the powder well contained if the container is tipped and being jostled around- such as during travel. If you will be putting this in your purse, you might want to put a small piece of saran wrap over the top and secure with a rubber band, and then place in a Ziploc bag.

Volume:

1.7 fl.oz.

Weight:

0.2 lb

Other

Safety features:

No Triclosan / Parabens free