It works like a charm! But goodness gracious!!!! ACHOOOOOOOO!
What is it with today's products or in fact all these Cake-line products? Do they think everyone wants to smell like an 7yro party princess with an Easy Bake Oven? This stuff actually does work and I like it the product just honky dory- but I have a nose. And this stuff is just so ranky raunchy headache causing sickeningly sweet smell that- well let me just say. Good luck getting the scent off your brush, pillow, shirt, hat, scarf... what ever your hair or the product touches.
Published:
Pros:
leaves your hair feeling funny but looking GREAT and shiney!
Cons:
THAT SICKENING SMELL!!!! Odd to use/ dispenser could have been better, price
Ok. Let me start off on a rant. What on god's/God's green earth are you paying for? Flecks of gold? This item is so very much not worth the price for what you get.
And now... on with the review since I've got that off my chest!!!
Please note: I have never used any sort of dry shampoo product other than cornstarch.
Ingredients: Zea Mays (Corn) Starch, Silica, Parfum (Fragrance), Caprylyl Glycol, Proylene Glycol, Aqua (Water), Chamomilla Recutita (Matricaria) Flower Extract, Calendula Officinalis Flower Extract, Benzyl Benzoate, Limonene, Eugenol, Coumarin, Citral
Bottle: brown cardboard cylinder with plastic lid and base. It is 50g or 1.7oz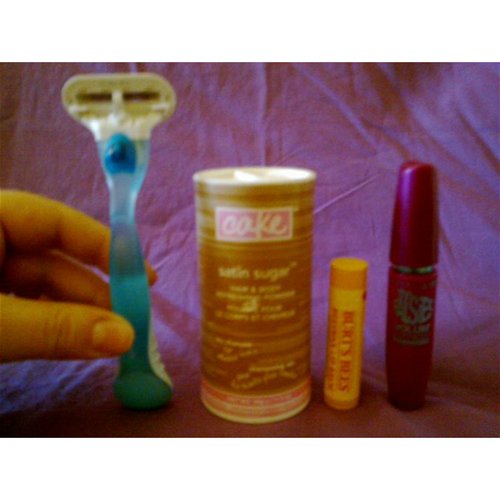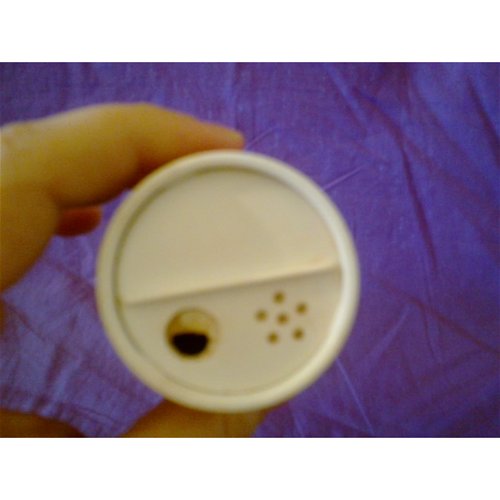 When you look on the review page, you think it might actually be a fairly decent size for something that has a price tag of almost twenty dollars. Nope. This thing is tiny. It is a pain in the arse trying to poke a hole in this thing to open it. Quite seriously a pain in the arse. I ended up taking my knitting needles, poking a hole, then taking scissors to trim the edges. But now that it is open, I find that the swivel opening moves to easily, and spills the powder all over the place.
Texture: it is a powder that is not as fine as baby powder, but fine enough to spread easily on your skin or in your hair without seeing it (as long as you don't go over board that is). I find it to be a little bigger than loose bronzer.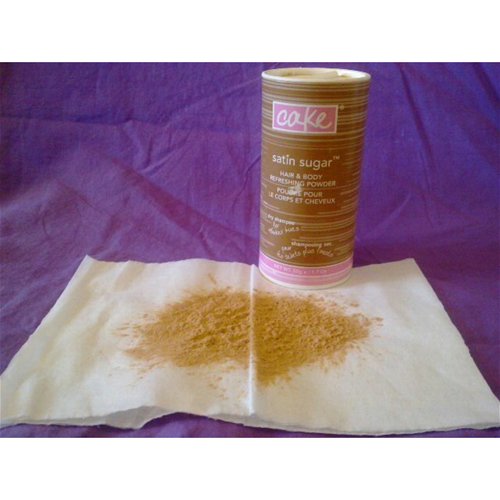 Scent: Someone! Please hand me a clothes pin and some Vicks Vapour Rub for under my nose!!! I have no idea how to describe this scent. The product page here at EF says that it is a sugary lemon (but then again, the product page also talks about how this is a five vroom and a one bee so... you never know), it is sickeningly sweet (so much so that my cast iron stomach started to feel like I was on sailing on bad water). To me, it smelt chemically and fake, and at times reminded me of my little cousins easy bake oven with that sweet scent. The scent sticks around for days and days no matter how many times you wash your hair brush (I even gave my hair brush a vinegar bath!). The scent stays on your pillow cases and I found they needed to be washed twice.
Would I recommend this to someone:
Well... see? This is the question. If this is someone that spends time around me... I would say no. But if it was someone who lived on the other side of the world who does not mind smelling overly sweet, this could be a product you'd like.
How would I change this product:
Remove the scent, or at least, reduce the scent, or make the scent more natural or adult friendly. Change the opening to make it easier to open, and make the holes a little smaller so you do not get so much in one shake. I would also change what ever chemical they used to make the brown colouring to a non-staining formula.
Experience
Does it do it's job?
On the product bottle, it talks about sprinkling this all over your body and rubbing it in. It is supposed to make you feel clean and dry, smelling fresh, and looking polished. Well... it does and it doesn't. My hair is odd, where it is dark and light where the sun hits it. It blends in smoothly (just do not go over board! Otherwise you get gross chunkies), and you cannot see that it has been applied. It left my hair looking shiny (like I just got sprinkled with Pixie Dust) and yes it worked on my hair, but I'd suggest not running your hands through your hair when you have applied this. Your hair feels... strange. It doesn't feel clean, it feels like you've put something in your hair. So when you use this in your hair; apply the powder, make sure it is evenly applied, don't touch the hair.

But that is where it stopped.

I figured this is something to put on your body to make you feel fresh... you know. Like baby powder in the summer. So I tried using this as a "freshener" under my arms. Good lord. I think something died in my axillae glands of my arm pits. Then I tried to use it under my breasts as boob sweat is just not very comfortable or attractive. Can we say, what a giant clumpy mess that stained one of my favourite nude coloured bras? By then I was onto it. I tried it as a foot powder, which let me just state for the record? I'd not suggest. It got all clumpy between my toes, where it mixed with my sweat (I was at the gym) and got really yicky and resulted in a strange case of something or other that made in between my toes all itchy. Then as a last resort, I took my big fat make-up brush and applied to my chest and between my boobs to get a shimmer (summer time, high heat in the desert).

What a mistake that was.

My sweat pooled and made such a terrible mess- you could actually see the sweat lines through the powder.

Grade: for the price of this product... it is just not worth it in my opinion (-1). The scent is just too much over the top (think those women who bathe in perfume this is what it is like -2). I am going to give this product 2/5.
Follow-up commentary
2 months after original review
I ended up tossing this out yesterday as the scent was just way too much to even be in my home anymore. There was no one I know who enjoyed the scent so I couldn't give it away to someone who might find use of it.


This content is the opinion of the submitting contributor and is not endorsed by EdenFantasys.com

Forum
| Discussion | Posts | Last Update |
| --- | --- | --- |
| CAKE | 10 | |
Thank you for viewing
Satin sugar hair and body powder for darker hues
review page!