Sugar and spice, and everything nice - that's what shiny hair is made of.
Can't keep your fingers out of your hair? Always want to touch your lovely lady locks, and end up with oily strands, instead? Piece of Cake if you keep this baby in your beauty arsenal. A little bit goes a long way in battling oily hair and keeping your do looking divine. That being said, I'm not entirely sure the sweet smell and lingering residue is worth the whopping price tag.
Published:
Pros:
Great smell,
Travel-friendly(ish),
Paraben free,
Glycerin free
Cons:
Expensive,
Small amount,
Doesn't work on very dark/black hair.
I love my hair. I
reallyreallyreallyreally
love my hair. I love my hair so much that I am constantly touching my hair, and I do and re-do my hair often. I also have very long hair, and a naturally oily scalp, so the combination of the length, the natural oils, and me touching it constantly means that between morning when I wash my hair, to the evening when I'm getting ready for bed, means that I can have some greasy hair if I'm not careful. And that's where cake comes in, because this product actually means I can fondle my hair until my little heart is content, and it's not a big deal!
When I was a little girl, my grandmother always had a huge array of random bathroom things that I could never ever understand. Dry shampoo was one of those things, and until very recently, the concept of that product was beyond me. Why would you want to take a shower without water? And how would powder actually clean your hair? Wouldn't it just look like I rolled around in baby powder? Nope. Not cake! This stuff is awesome, and once you get the hang of it, dry shampoo is actually a really nice product to add to your arsenal of hair froufrou's.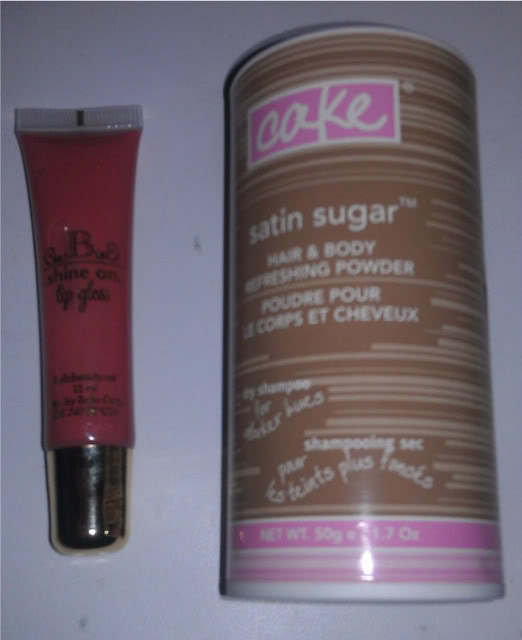 Cake's Satin Sugar comes in a small-ish cardboard tube with a twist-top cap that you align the openings over the holes to shake out the powder. There are actually two openings, one that is star shaped with six small holes, and the other is a full hole (think a spice package, and how there's two different ways of pouring). I tend to pour mine out of the smaller holes and dust it into my hands, as a little goes a long way, and I hate to waste things like this. While this product looks nice and expensive, the packaging is actually a bit of a let-down for the cost. Yes, the cardboard is thick and has a layer of plastic film over it, and the papering is pretty, but I feel it could have been a bit more travel-friendly if it came in an actual plastic container, or had some safety mechanisms in place to prevent the spin-top from spilling your (rather expensive) product all over the place.
I am pretty convinced that I have a 1.7 ounce container of Swiss Miss hot cocoa mix, that I am putting on my hair. Textually, it feels exactly like cocoa powder; it's light and fluffy, and moves around on my hands without being sticky. Scent wise, it feels exactly like chocolate, too, with a small hint of cinnamon or nutmeg. When rubbed into your hair, the scent lingers without being overpowering, and masks any bodily odors very nicely. As this product isn't meant to be consumed, I didn't, so I'll just pretend it tastes like delicious chocolate, and not a bunch of chemicals.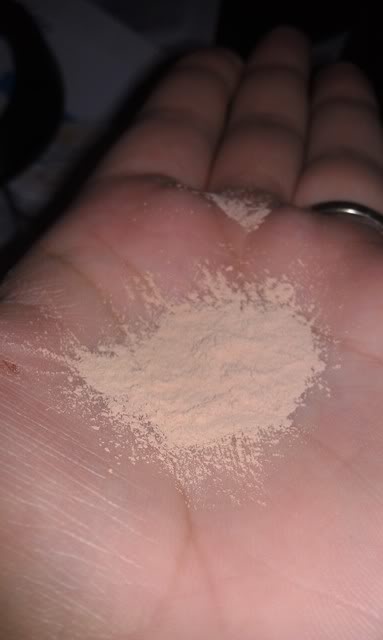 Aside from the cost of this product, the only thing that I didn't like at all, was that even though it's advertised as being for "darker hues", I found that it didn't work at all on my hair when it was black. My natural shade is a medium brown, and it blends in perfectly with that, but when I put it on the parts of my hair that are black (I'm two-toned!), it's noticeable, and leaves that part of my head looking dusty if I don't rub it in very well (which in turn tends to make me oily again).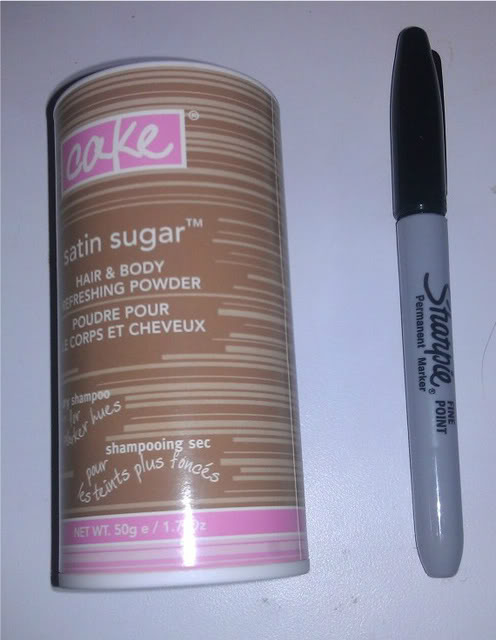 Experience
As I said earlier, I have long hair that is prone to becoming oily. When that happens, I part my hair down the center, shake a small bit of powder into the palm of my hands, and then run my hands through my hair, from root to about mid-length, since that's as far as the oil will have traveled (let's be real, if you have greasy hair down to the tips, you just need a shower). Then I part the hair a few inches to the left or right, and repeat the process until it's no longer dirty looking. If you've ever dyed your hair, the process is pretty similar. I have also tried applying the powder directly to my hair, and while it's great for my hair this way, and much faster, it left my scalp looking brown and dirty, so I won't do it that way again (though if you have a dark scalp, that may work just fine). Once applied, there is a residue left behind, but it appears as though your hair is freshly washed (and dried, obviously), even though texturally, it's a bit different.

While I have tried it on my skin, I didn't like the feel of it much since I could tell there was a layer of something on me that didn't belong, so it left me feeling the opposite as it should, like I needed a shower instead of having had one. Because of this, I can't really speak from too much experience on how it works for a body powder, since I'm weird about things being on my skin (even some lotions really annoy me to the point that I can't use them, since they leave a funky residue).

I also need to make sure I emphasize, this product is to be used on dry skin and dry hair - if you try to apply it to your skin if you're damp from a shower, sweaty, or anything else, it's going to turn into mud on your skin, and mud in your hair, and it's very unpleasant to work with.
This product was provided at a discounted price in exchange for an unbiased review. This review is in compliance with the FTC guidelines.

Forum
| Discussion | Posts | Last Update |
| --- | --- | --- |
| CAKE | 10 | |
Thank you for viewing
Satin sugar hair and body powder for darker hues
review page!