Sugary Sweet Scent
As a dry shampoo, Satin Sugar works great. It removes excess oil quickly and leaves hair feeling soft and looking full. It does not weigh hair down and actually helps give hair a bit more body. My hair feels and looks nice for about 5 to 6 hours. Unfortunately, this stuff feels really gross and heavy if it gets wet while it is in hair.
Published:
Pros:
Absorbs excess oil in hair, leaves hair soft and light, gives hair some body, long lasting
Cons:
Bottle was really hard to open, feels gross if it gets wet while in hair
I like to be able to go out after work. However, I always feel like my hair is kind of dirty looking and feeling after work and I don't always have time to shower before going out again. I decided to see if Cake's Satin Sugar hair and body refreshing powder would help me out at all. I have deep red hair, so I decided to go with the version for darker hair.
Satin Sugar is packaged in a small bottle similar to that of regular talc powder. The top spins to allow you to shake out some powder or pour out quite a bit of it. I had a bit of difficulty getting the disks underneath the lid opened to get the powder out. I had to pop out both lids and push the plastic tabs on the bottom lid out before putting the whole thing back together. I was expecting a larger bottle than what I received, especially considering the price. The bottle is 4 inches tall and 2 inches diameter and contains 1.7 ounces of powder. Since this powder can be used for both your hair and body, there are instructions included on the back of the bottle for both. For hair, sprinkle it in your hands and run your fingers through your hair, concentrating on the root area. Excess oil will be absorbed by the powder and hair will be left feeling clean and soft. For your body, sprinkle it all over skin and rub it in. This product is made in Canada.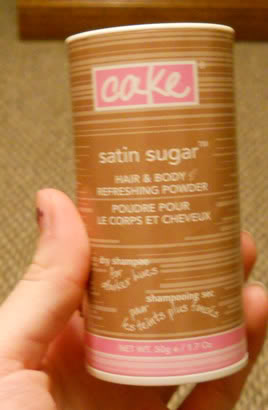 Ingredients:
Corn Starch, Silica, Parfum, Caprylyl Glycol, Propylene Glycol, Aqua (Water), Chamomilla Recutita (Matricaria) Flower Extract, Calendula Officinalis Flower Extract, Benzyl Benzoate, Limonene, Eugenol, Coumarin, Citral
May Contain: Iron oxides (CI 77492, CI 77491, CI 77499)
This product is talc free. Instead, the powder is based with corn starch. Talc is typically used in dry powders like these, however it can clog pores and some users may have sensitivities. However, many people may also have sensitivities to corn starch. I suggest testing this product or some simple corn starch on a patch of skin before deciding if you want to use this. This product also contains silica, which appears as little bits of shimmer in the powder. It adds extra shimmer to hair and skin. I did not have any reactions to using this product on my body.
When you open the bottle of Satin Sugar up, the powder looks exactly like cinnamon. It's a clump-free loose powder with a light brown color to it. I suggest keeping the bottle closed, especially in humid weather, as the powder may start to clump together if it gets damp. It has a light, sugary scent to it which is really pleasant. Unfortunately, I am unable to really smell it once I get it in my hair. I can still lightly smell it if I apply it to my skin. There is no flavor to this.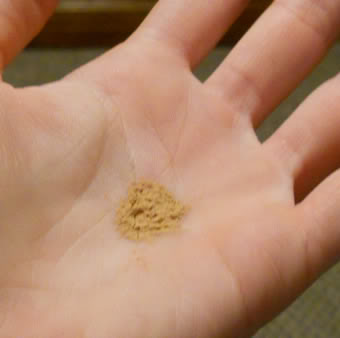 Satin Sugar can be used for both the skin and hair. Unfortunately, the shade that works for your hair may not work for your skin. I have deep red hair and very pale skin. This shade blends in perfectly with my hair, however on my skin it sometimes takes quite a bit of rubbing to get it to even out without appearing brown and blotchy on my skin. I use maybe a quarter to half of a teaspoon of powder on my shoulder-length hair. The amount I use on my body depends on how much skin I want to cover. Once I've worked it in with my fingers, I go through and brush my hair again. My hair ends up feeling soft and much cleaner. I didn't notice any difference in color or any additional shimmer to my hair. My hair did appear a bit fuller than it did before the powder. I did notice a bit of the added shimmer on my skin.
How this appears in hair may really depend on your hair type and how you style it. I have a lot of fine, straight hair. I wash it and condition it every day. I don't use any styling products or a blow dryer on it, so it's pretty easy for me to work this in and brush my hair again. If your hair is styled or has a lot of hairspray, it may be more difficult to work the powder into hair and get it back into its style. It may also be more difficult to work into thick or curly hair.
Continued in experience..
Experience
I did notice one thing about this powder that I did not like at all. It started raining one day after I had used some powder in my hair and had gotten ready to go out. Once my hair got wet, it got really flat and pretty stiff once it began to dry. It also felt very heavy. I recommend avoiding using this if it's raining.
This powder is great when it's hot out as it absorbs excess moisture on skin. You can use it in areas that chafe easily to provide a bit of relief, too. While this adds some shimmer, it does not add enough to really be noticeable. If you're looking for super visible shimmer, I suggest trying out
Gold Dust
.
Showering will completely remove all traces of the powder from hair and skin. If any gets on clothing, it's simple to brush off. I did not notice any issue with this staining my clothing.
I give this powder 4 out of 5 stars. It works well with my hair, blending in fully and leaving it soft and clean looking without weighing it down. However, this feels gross and heavy in hair once hair gets wet. I also had a hard time getting the bottle open.
Follow-up commentary
8 days after original review
While I still like using this powder in my hair, I noticed it did stain one item of my clothing after my initial review. It got really cold out this week, so I had to pull out my dark grey wool peacoat again. It now has a nasty brown stain around the collar from this powder. It's a dry-clean only coat and spot cleaning did nothing for it. Every other fabric this has come in contact with has not had any stains on them. Usually this just brushes right off fabrics like cotton and polyester without leaving anything behind. I recommend avoiding this if you are wearing any dry-clean only clothing.
This content is the opinion of the submitting contributor and is not endorsed by EdenFantasys.com

Forum
| Discussion | Posts | Last Update |
| --- | --- | --- |
| CAKE | 10 | |
Thank you for viewing
Satin sugar hair and body powder for darker hues
review page!