Cake Beauty Satin sugar hair and body powder for lighter hues - Powder from Cake Beauty

Product Details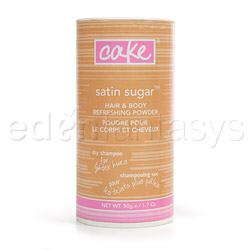 Summary:
This is a powder designed to freshen a person on the go. If you are running around and don't have the time to shower and freshen up your body and hair, this all over body powder and dry shampoo will give you the pick-me-up that you need to keep going. Its sweet fresh scent lasts for hours, allowing you to feel comfortable with your appearance until you have the time to shower.
Pros:
Nice smell, refreshing
Cons:
Takes a while to absorb and disappear
Best use:
This powder from Cake Beauty is a lightweight, talc-free, 100% paraben free, body and hair powder designed to freshen you up when you are on the go. It can be used as a body powder or a dry shampoo when you only have time to freshen up a little before you hit the road. The sweet smell will leave you looking and smelling great for hours. This is mainly designed for hair that is blonde to a medium brown hue.
Texture / Consistency / Thickness / Viscosity:

It is a white powder that when applied leaves a whitish coating to your skin and in your hair. After about 15 minutes though, it is totally absorbed into your skin or hair. It leaves a soft, satin feel to your skin and is light on your scalp.

It pours easily out of one larger hole in the top; however, there are a group of smaller holes to help control the amount that is applied. A quarter sized amount will cover your scalp, concentrating on the roots. Within about 15 minutes it is absorbed, removing that greasy, dirty look that you get without shampooing on a regular basis.

Ingredients:

Zea Mays (Corn) Starch, Silica, Parfum (Fragrance), Caprylyl Glycol, Proylene Glycol, Aqua (Water), Chamomilla Recutita (Matricaria) Flower Extract, Calendula Officinalis Flower Extract, Benzyl Benzoate, Limonene, Eugenol, Coumarin, Citral. May contain: Iron oxides (CI 77492, CI77491, CI77499)

Taste / Aroma:

The scent of this powder is very sweet. It reminds me of carrot cake, sweet but not sickeningly so. It leaves you smelling like you have been in a bakery for hours. The scent lingers for about 4 hours and is not overwhelming, more like a sweet hint of something special to come.

Performance:

Doing the scientific thing, I refrained from washing my hair for 2 days. Taking and pouring a small amount into the palm of my hand and sprinkling in onto the roots of my hair. I brushed it through the entire length of my hair. After about 15 minutes the powder was absorbed into my hair where it was unnoticable and did make it look cleaner and definately smell better.

Rubbing the powder onto your skin, it leaves a white residue for a while before absorbing into your skin. Once it absorbs it is soft and silky leaving a sweet smell that lingers for hours.

Packaging:

The refreshing powder comes in a plastic container that is shaped like a regular powder dispenser. It contains .50g or 1.7oz of powder. The container is 6 1/2" in circumference and 4" tall. It is tan and pink, depicting the name and basic application instructions.



Ingredients include: Zea Mays (Corn) Starch, Silica, Parfum (Fragrance), Caprylyl Glycol, Propolyne Glycol, Aqua (Water), Chamomilla Recutita (Matricaria), Flower Extract, Calendula Officinalis Flower Extract, Benzyl Benzonate, Lemonine, Eugenol, Coumarin, Citral

May contain: (+/-) Iron Oxides

Volume:

1.7 fl.oz.

Weight:

0.2 lb

Other

Safety features:

No Triclosan / Parabens free