Evolved Cock cologne - Male intimate lotion from Evolved

Product Details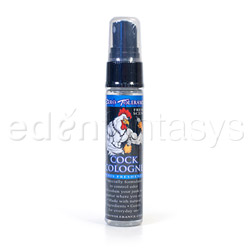 Summary:
Don't let the cheap packaging and cheesy name fool you - this is actually a pretty nice little product that will probably be quite useful in the average man's collection of toiletries. It won't replace soap and water; but it is an effective and sex-safe way of instantly freshening up prior to getting down.
Pros:
A very pleasant smelling spray for freshening up your privates, effective and safe.
Cons:
Cheap and tacky packaging, Will not EVER replace a shower or bath.
Best use:
For years now, there's been a market for products that freshen up a woman's private bits. It plays into many women's insecurity - that they smell less than fragrant between their legs (and also ignores one of the truths of sex and sexuality - that most men or women don't really care.)

Now the conceit has come full-circle, with a product especially designed to help men's private parts smell better. Cock Cologne is a neat little spray that promises to freshen up a man's skunky sex parts with just a few squirts.

Listen, I'm not going to lie to you - I kind of have issues with the concept behind this product. It strikes me that funky-smelling privates - which are the curse of both men and women - require something slightly more proactive to freshen up than a few spritzes from a squirt bottle. Yet I gave it a try none-the-less.

Application is easy. Much like a regular cologne, you just depress the lid and a few squirts of fragrant water come spurting out. The ingredients are mostly water, with a little fragrance, aloe and caster oil. It does the trick, certainly - but only in the same way that a spray with an Ax deodorant serves as replacement for a shower.
Texture / Consistency / Thickness / Viscosity:

Cock Cologne is a mixture of water and fragrance, and has a light, fragrant feel to it with a slight slickness. The closest equivalent is a woman's body spray - and the effect is largely the same. A few sprays leave your privates slick and smelly; but it won't replace a scrub with soap or water. There's a slightly slick sensation afterward - like rubbing yourself down with baby oil after a shower - but that's actually quite pleasant.

Ingredients:

Purified Water (Aqua), Aloe Barbadensis Leaf, Fragrance, PPG-26, Buteth-26, Hydrogenated Castor Oil, Sodium Benzoate, Potassium Sorbate

Taste / Aroma:

Cock Cologne actually has a REALLY nice smell to it - musk and sandalwood with a fresh lightness to it. Perhaps the most astonishing thing about this unusual product is that it is actually nice enough to use as regular cologne.

As for taste - one of my concerns was that it would be overpowering; like using real cologne on your privates. In fact, it's very subtle, almost tasteless and certainly not enough to make anybody turn their nose up at getting nostril-deep into the spray zone.

Performance:

Cock Cologne is actually surprisingly effective at what it does; but you need to be sensible about how and when to use it. If you're sweaty and stinky and unwashed, this product will not replace a shower or bath (although a generous spritz and a wipe down with a towel is certainly effective.) This is more of a toy to use after a shower or bath; to add a little pleasant fragrance and a smooth sensation that will make sex more enjoyable and sensuous for all involved. Think of it, in fact, exactly like cologne; albeit one with a few cleverly considered differences to make it cock-compatible.

Packaging:

Cock Cologne comes in a plastic spray bottle with a gigantic picture of a cock (the chicken kind, not a penis) on the front. It's classless, tacky and kind of undermines what this product actually is. Based on appearances alone, I had very low expectations for Cock Cologne and the actual product was much, much better than expected.