Like Axe for Dicks
Your true opinion on this product really comes down to your scent preference, which is very arbitrary. It can make a good gag gift or be something fun to try, but those who don't like Axe body spray should stay away form this.
Published:
Pros:
Affordable, Standard Performance
Cons:
Scent opinion depends on your preference
Axe for Dicks, huh?
Well, take my words as you will, but I think the best way to sum up this Cock Cologne is that you'll either love it or hate it. I guess the same goes with many scents: you'll either like it or not. The Cock Cologne is from the Zero Tolerance line by Evolved Novelties. Zero Tolerance products tend to be liquids whether they are toy cleaners, candy sprays or sensual colognes. They also tend to have somewhat in-your-face cover art which shows some questionable taste.
The Cock Cologne has a picture of a rooster on it (cock, yes, we get it Evolved) showing his muscles. You can get the bottle in a couple of sizes, but it doesn't hurt to get the sample to make sure you like the stuff (and that, if you have a partner, they like it to). It has a simple spray nozzle similar to hair spray bottles. The mechanics make it easy to use.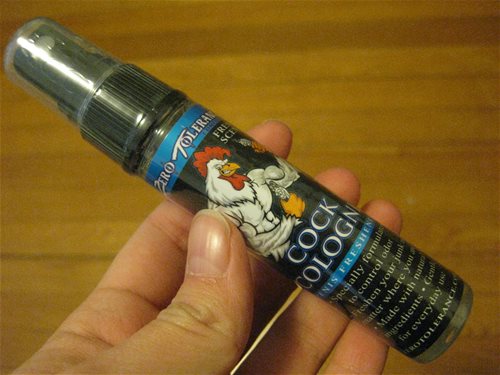 The bottle is in no way discreet with the word cock clearly on it. None of the Zero Tolerance sprays really are. If anything, the cover art is so odd in some cases that is makes people
have
to get a second look at the bottle. In terms of ingredients, this cologne doesn't have anything dissimilar to other standard body products. Still, before putting it on the family jewels I would recommend doing a spray on a test location like the forearm. See how that skin reacts before putting your cologne on more, ahem, precious areas.
I get that it's Cock Cologne, but are there places I shouldn't spray it? How does it smell?
Cock Cologne reminds me of Axe... but for a penis. There are some ladies and men who love the smell of Axe. If you do, you'll most likely like this scent. If you don't like Axe, do not get this one. It has that stereotypical musky male scent present in many colognes. It has some type of powder undertone with some aftershave notes. Still, it's like cock axe. Take it from there.
If you are male and are using this to impress a partner, be careful with your application. It would be very helpful to know how sensitive your partner is to scents and how their sense of smell is overall. If you have a lot of pubic hair down there the smell will be stronger since the scent has more surface area to cling to (it will also have more of a different smell when mixed with your pheromones too). Don't use multiple sprays right before your partner sees your bits either. The smell, if used in too high a quantity, can be that kind of smell you taste and gets in your throat (like lysol can).
If you use a lot, you also chance your partner tasting it if you receive oral sex. It has a taste similar to perfumes (chemical with a property that makes your tongue tangy and dry. I tested this by having my partner spray it on, wait until it dried, and then licked). The ingredients in the bottle do not make it a substitute for a proper scrub or wash. Good hygiene and washes is the ultimate pleaser for many a partner.
What else should I know?
The ingredients are easy to find on the back of the bottle. There is also a warning on the back to keep the bottle away from minors (because of the cock reference? Or perhaps because it is considered an adult novelty). The bottle is secure and does not leak or spill if it is secured. It can jostle around in a drawer and it will not spill.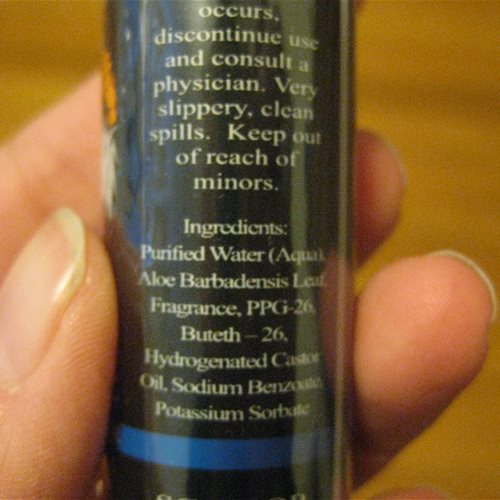 Again, your opinion of this product depends on what kind of scents you like since this product performs fine when considering how long the scent lasts and the fact that it isn't a danger to most man parts.If you tend to like more fresh scents, this might be a little heavy for you. It also doesn't hurt to see if the scents you use to shower and the scent of the cologne are compatible either. This could make an interesting conversation piece and gag gift.
Experience
I got this to toss in on a sale because it seemed interesting. My partner was not too keen on adding anything to his jewels, but I did get him to try it a bit. We both didn't like it. Despite that, we can imagine that the average user who does like the scent would be pleased that it lasts a decent amount of time and isn't overbearing with smart usage.
This content is the opinion of the submitting contributor and is not endorsed by EdenFantasys.com

Thank you for viewing
Cock cologne
– male intimate lotion review page!