Principessa Beauty Bacio me lip balm - Lip balm from Principessa Beauty

Product Details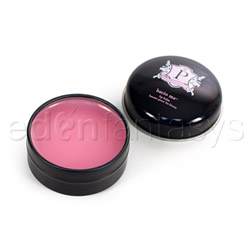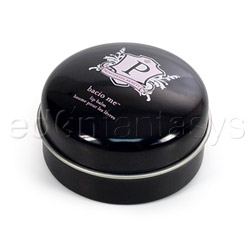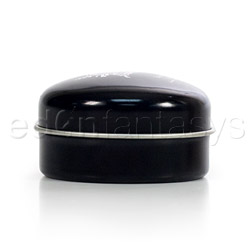 Summary:
If you have dry, cracked, or chapped lips, this lip balm will help! It absorbs immediately, leaving your lips feeling soft, hydrated and almost plumper. There is no residue after soaking into your lips and the results last for a long time. Ever get the red nose with a cold? Sooth your chafed skin on the end of your nose and above your lip with this balm. It does not leave your skin looking greasy or oily like other products do and helps diminish the pain and redness immediately.
Pros:
Nourishes & moisturizes, protects lips, absorbs immediately.
Cons:
Finger application, tin gets scratches in purse.
Best use:
Bacio Me by Principessa Beauty is best used as a lip nourisher and protectant. It helps to heal and protect chapped and dry lips and works great as a moisturizer under your lipstick. Bacio Me also works well to re-moisturize the skin on and under your nose from dryness and chafing during or after a cold. It rubs in very well and does not leave your skin shiny or greasy. This product line is targeted at women, however men could benefit from the use of this lip balm as well.

The balm penetrates your lips and helps clear up chapping and dry skin immediately. The effects last for about an hour or more, depending on the amount of damage to your lips. I would recommend using a lip scrub prior to application to remove the dry skin: this will allow the balm to penetrate the healthy skin to receive the full moisturizing benefits. The balm does work very well even if you do not use a scrub, but does take a couple more applications to make your lips healthy and smooth.
Texture / Consistency / Thickness / Viscosity:

The Bacio Me balm is soft, lightly waxy and easy to put on. There is no greasy or oily feeling after application and it stays in place very well. There is no flavor, and it does not feel sticky and does not smear off with kisses or eating.

The softness is long lasting: the scent lasts about 15 minutes or so and the feeling is very full, sensual and soft lips. It is great for chapped or dry lip prevention and helps keep your lipstick smooth and crease free.

It is pale pink in color, does not add any color or gloss to your lips, and will wash off with a damp washcloth if you so desire. It is very smooth and your finger glides on the top of the balm instead of scooping like other brands of balm.

Ingredients:

Polyisobutene, Oetyldodecyl Stearoyl Stearate, Beeswax (Cera Alba), Simmondsia Chinensis (Jojoba) Seed Oil, Copernicia Cerifera (Carnauba) Wax, (Cera Carnauba), Ozokerite, Butyrospermum Parkii (Shea Butter), Ricinus Communis (Castor) Seed Oil, Tocopheryl Acetate, Phenoxyethanol, Flavor (Aroma), Red 7 Lake (CI 15850:1)

Color:

Black

Taste / Aroma:

Bacio Me smells like a light Carmex. It is sweeter smelling, not as strong, and has a faint vanilla aroma. I really like the smell and was pleased that it was light and not overpowering. I know with other lip balms the aroma can be very prevalent: however, this one dissipates after about 10-15 minutes.

There is no taste to the lip balm. This actually works very well for me, as I will lick the flavor off and end up with severely chapped lips when I do. I do notice a bit of a waxy residue in my mouth when I lick my lips, but it does not transfer to my food or drink.

Performance:

I have worn Bacio Me lip balm for the last 3 days and noticed that with the better nourishment for my lips there is far less need for re-applications. My lips are very soft, moist and have no dryness or chapping. I am very pleased with the performance of this balm.

I washed the first application off with soap and water just to try it and it was fairly easy to remove. It comes right off your finger as well. I love the scent, packaging and gift worthiness of this product as well as the performance.

Packaging:

Bacio Me lip balm arrives in a small, round tin with the product inside. There is no box or packaging for this item. The tin measures 1 3/4" across, is 7/8" deep and holds 0.5 ounce of lip balm. It has the Super pale pink, almost light white, Prinicipessa crest on the top of the black tin.

The bottom of the tin has a small blurb about product, the ingredients and manufacturer information in very small pink print. It is perfect as a gift for all ages, fits nicely in a purse or make up bag and is very discreet. There is no sexual reference or adult information of any type. This is a lip balm and is sold and packaged as such.

Volume:

0.5 fl.oz.

Weight:

0.8 oz

Special Features:

Ingredients: Polyisobutene, Oetyldodecyl Stearoyl Stearate, Beeswax (Cera Alba), Simmondsia Chinensis (Jojoba) Seed Oil, Copernicia Cerifera (Carnauba) Wax, (Cera Carnauba), Ozokerite, Butyrospermum Parkii (Shea Butter), Ricinus Communis (Castor) Seed Oil, Tocopheryl Acetate, Phenoxyethanol, Flavor (Aroma), Red 7 Lake (CI 15850:1)

Experience:

I knew I was receiving this to review and stopped using my other lip treatment for two full days prior to the arrival of my new lip balm. My lips were very dry, cracked, and painful. I used this immediately upon opening and had good results within a couple of minutes. My lips were already softer - no new cracking and the dryness was going away. I reapplied after half an hour and almost felt my lips getting plumper from the hydration and moisturizing effects of the oils. The second day, reapplication only became necessary every couple of hours and today, the third day, I have reapplied only once. I put it on this morning around 6:00 am and it is now 1:00 pm. I definitely recommend this product as a high quality, classy and nourishing lip protectant.

Other

Safety features:

No Phthalates / No Sulfates / No Triclosan / Parabens free